Deshaun Watson Should Be Houston's Starting Quarterback in 2017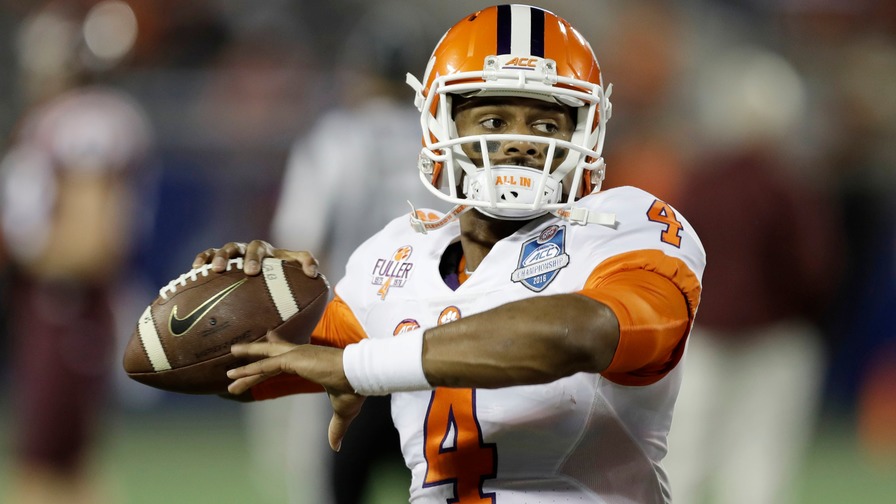 Deshaun Watson may have been the third quarterback off the board Thursday night, but he lands with the Houston Texans where he'll only need to beat out Tom Savage and Brandon Weeden to be a Week 1 starter on a team that advanced to the second round of the playoffs in 2016.
In a first round full of trades through the first 12 picks, the Texans traded with the Cleveland Browns to move up from 25 to 12 to draft Watson, who enters the NFL following a stellar career at Clemson, which included two consecutive National Championship appearances.
The 6'2", 220-pound Watson started 35 games over three years at Clemson, memorably leading the Tigers to a come-from-behind victory over Alabama in the National Championship just a few months ago.
This past season, Watson set ACC records in passing yards (4,593) and passing touchdowns (41) before opting to forego his senior year and enter the draft.
Here at numberFire, our combine tool uses combine data and other player metrics to compare prospects to previous draft classes. The tool matches Watson with Donovan McNabb as the most similar prospect among all quarterbacks drafted since 1999.
| Comparable | Year | Draft Slot | Similarity |
| --- | --- | --- | --- |
| Donovan McNabb | 1999 | Round 1, Pick 2 | 96.69% |
| Jimmy Clausen | 2010 | Round 2, Pick 16 | 96.21% |
| J.P. Losman | 2004 | Round 1, Pick 22 | 95.61% |

Mockdraftable.com has also compared Watson to McNabb, while PlayerProfiler.com lists Tyrod Taylor as Watson's closest comparable.
Like McNabb and Taylor, Watson adds an extra threat in the running game. He ran 165 times for 629 yards and 9 touchdowns this past season. In the year prior, Watson had 207 carries for 1,105 yards and 12 scores.
Although Watson is viewed as a dual-threat quarterback, there are some concerns about his accuracy and decision-making: he threw 32 interceptions over his career at Clemson, including 30 in the past two seasons combined. Our own Jim Sannes took a more in-depth look at Watson's turnover prone ways in a previous article, which compared each quarterback in this draft statistically.
Finally, another question surrounding Watson is how can transition from Clemson's shotgun, spread formation offense to the NFL, where he'll need to be able to play under center and in the pocket.
But in a year without a clear cut top quarterback prospect, Watson has been lauded as a proven winner with leadership qualities that team's desire in their quarterback. Watson owns a 32-3 career record as a starter, which is the best winning percentage in ACC history.
How Watson Fits in Houston
Houston was a team who entered the draft with an obvious need at quarterback after giving up on Brock Osweiler and trading him to the Browns in March in what was essentially a salary dump.
Watson appears to have a chance to start right away for a team that went 9-7 with dismal quarterback play.
Osweiler went 8-6 as a starter, but fared poorly, according to numberFire's Net Expected Points (NEP) metric. NEP, an efficiency metric, measures how many points a player added to his team's total based upon historical expectation.
Out of the 34 quarterbacks to drop back at least 200 times last season, Osweiler ranked 33rd in Passing NEP per drop back (-0.04), better only than Jared Goff (-0.28).
Overall, the Texans' passing game ranked as the second worst, according to our schedule-adjusted metrics. Only the Los Angeles Rams' passing game was more futile than the Texans'.
Meanwhile, among the current Texans quarterbacks, Savage played in three games, starting two. He threw for only 461 yards, no touchdowns and no interceptions. Weeden, on the other hand, didn't even play in a game last season.

Despite the poor offensive performance from a year ago, Watson lands in an exciting spot with a number of offensive weapons in place, including Lamar Miller, DeAndre Hopkins, and Will Fuller.
Since arriving at Clemson, all Watson did was win. Now with the Texans pairing him with some exciting offensive playmakers, Watson appears to have a great opportunity to continue his winning ways in the NFL.