How Can Leonard Fournette Help the Jacksonville Jaguars?
The Dallas Cowboys used the fourth overall pick last season on a running back in Ezekiel Elliott, who in turn, led the NFL with 1,631 rushing yards.
We've talked about in the past why choosing a running back with the fourth overall pick isn't a good strategy, but apparently, not all NFL general managers agree.
The Jacksonville Jaguars chose to go the same route by selecting a running back of their own with the fourth overall pick in Leonard Fournette.
Who Is Fournette?
Heading into last season, Fournette was one of the country's most hyped college football players. Unfortunately, an ankle injury kept him from seeing the field in all but seven games.
As a sophomore in 2015, though, Fournette's 1,953 rushing yards were third most in the FBS, behind only Derrick Henry and Christian McCaffrey. Fournette found the end zone 22 times, which was the fourth-best mark in the nation, and reached those rushing numbers by averaging 6.5 yards per carry -- neither guy ahead of him averaged more than 6.0.
At a menacing 6'0" and 240 pounds, the former LSU Tiger consistently used his size and strength to overpower opposing defenders.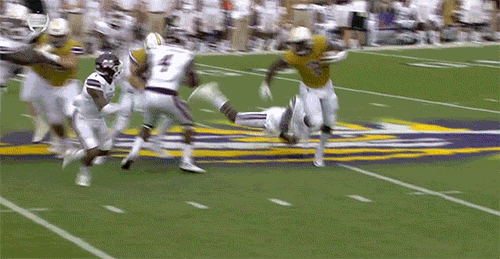 In fact, he led the nation by forcing 85 missed tackles in 2015, trailing only Henry in yards after contact. Rather than trying to juke defenders in the open field, Fournette often used his massive size to go right through them.
Why the Jaguars?
One of our signature metrics here at numberFire is Net Expected Points (NEP), which measures the value added or lost on each play relative to league-average expectation. A 10-yard run on 3rd-and-8 should mean more to a player or team's statistics than a 10-yard run on 3rd-and-20, and NEP accounts for that.

Relying on T.J. Yeldon, and Chris Ivory to lead their rushing attack did not go well -- Jacksonville ranked 27th in the NFL last season with -0.05 Adjusted Rushing NEP per carry. Among the 42 running backs with 100 or more carries in 2016, Yeldon and Ivory ranked 35th and 42nd, respectively, in Rushing NEP per carry.
Their struggles on the ground, along with questionable play calling, led the Jaguars to lean on Blake Bortles to attempt the third-most passes (625) of any quarterback. That also did not go well, as Bortles' 0.00 Passing NEP per drop back ranked 30th among the 39 quarterbacks to drop back at least 100 times, and his 16 interceptions were tied for the fourth-most in the league.
Can Fournette Help?
If healthy, Fournette will take over as the early-down back for the Jaguars, providing an immediate improvement over Yeldon and Ivory in that department.
The issue here is that he caught only 41 passes in college, along with dropping another eight targets. Yeldon led Jacksonville's running backs with 50 receptions last season, but of the 53 running backs to see 25 or more targets, his 0.18 reception NEP per target ranked 43rd.
It is not a wise strategy to take a running back this early. Choosing one who has not proven to have the ability to stay on the field for third down and whose play declined over his senior season, adds to the risk.
Fournette is an excellent early-down running back and provides an instant improvement over the Jaguars' current rushing situation, but it still would've been wise to look at another position at fourth overall.