Tom Brady's Super Bowl LI Performance Was His Best Ever in the Big Game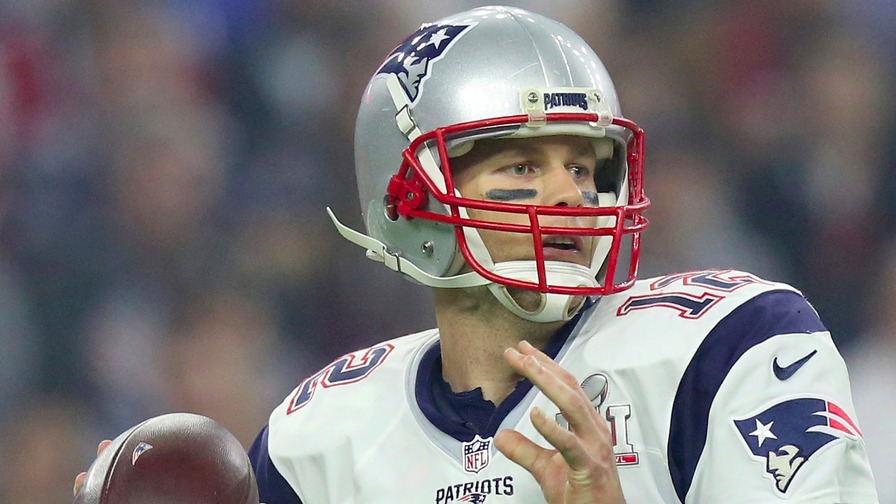 When the fourth quarter of Super Bowl LI began, the New England Patriots were staring at a 19-point deficit. Quarterback Tom Brady took the field with just a 3.23 percent chance of winning the game, according to numberFire Live, so you could say it wasn't looking good.
Once that fourth quarter came to a close, it was a tie game and the Patriots' odds of winning increased to 58.29 percent. Once they won the coin toss to begin overtime, the rest was history.
This all seemed impossible at halftime, when Brady and the Patriots couldn't get much going on offense and were limited to just three points. After racking up 127 passing yards in the first half, the signal-caller flipped a switch and torched the Atlanta Falcons defense for 339 yards and 2 touchdowns the rest of the way.
Erasing a deficit on Super Sunday isn't anything new to the Patriots, though -- just two years ago, they beat the Seattle Seahawks in Super Bowl XLIX after being down 10 points. That was the largest comeback ever in the Super Bowl before the craziness that just happened.
No matter how you slice it, this game was full of records being broken. While Brady led the way to an improbable comeback, he broke a number of records himself.
Record Breaker
The Patriots ran a ton of plays in Super Bowl LI -- 93, to be exact -- and a lot of them involved Brady tossing the pigskin. The quarterback completed 43 of 62 pass attempts, both of which are new records. Of course, it can be argued that this only happened because the Patriots put themselves in such a deep hole, but it also showed the kind of resolve New England had to keep converting to stay on the field and give themselves a chance.
Prior to Brady's 466 passing yards, Kurt Warner held the record by collecting 414 yards in Super Bowl XXXIV. Brady shattered this record with his usual array of underneath routes. That was evidenced by James White's 14 receptions for 110 yards and 1 receiving touchdown on a healthy 16 targets, which gave him a unique MVP case.
Although he's suited up for 34 postseason games during his surefire Hall-of-Fame career, Brady had never surpassed the 400-yard mark in the playoffs. Before this performance, the most he ever accumulated in the postseason was 384 yards, which came two weeks prior against the Pittsburgh Steelers in the AFC title game.
Perhaps the most significant record broken by Brady on Sunday was that he became the first quarterback ever to win five Lombardi trophies, which broke a tie between him, Joe Montana and Terry Bradshaw. He should be in a club all by himself for a while, too -- Eli Manning and Ben Roethlisberger have the second-most titles among active quarterbacks with two each.
Efficiency and Volume
Despite all the things he accomplished during this historic Super Bowl, Brady actually wasn't the most efficient quarterback in the game. Here's the comparison between Brady and Matt Ryan with regard to their passer rating and how they rated according to our Passing Net Expected Points (NEP) metric.
| Super Bowl LI | Pass Attempts | Passer Rating | Pass NEP per drop back |
| --- | --- | --- | --- |
| Tom Brady | 62 | 95.2 | 0.19 |
| Matt Ryan | 23 | 144.1 | 0.23 |

While Ryan shows as the more efficient passer, it's rather impressive that Brady was able to be nearly as efficient -- at least NEP per drop back, which includes the five drop backs both Ryan and Brady had that resulted in sacks -- despite attempting nearly 40 more passes than his counterpart.
This again stems from the Patriots fighting an uphill battle the entire game, but Brady just about doubled Ryan's Passing NEP (11.71 to 5.29) because New England controlled the ball -- the Patriots offense was on the field for more than 40 minutes, compared to just under 24 for the Falcons.
Compared to Previous Super Bowl Performances
Brady has now appeared in seven Super Bowls, but just two of them can be compared to what he just accomplished.
Against the Carolina Panthers in Super Bowl XXXVIII, he completed 32 of 48 passes for 354 yards, 3 touchdowns and 1 interception en route to a 32-29 victory. While this is a really good stat line, his drive with one minute left to set up an Adam Vinatieri game-winning field goal is what makes this performance memorable.
When New England defeated the Seahawks in Super Bowl XLIX, Brady completed 37 of 50 passes for 328 yards, 4 touchdowns and 1 interception, but he did have a full operational battleship, so to speak. Rob Gronkowski, Julian Edelman, Shane Vereen, Brandon LaFell and company gave him all the weapons necessary to attack the Legion of Boom.
Brady didn't have the luxury of a fully healthy offense around him in Super Bowl LI -- Gronkowski was watching from the sidelines, as was Dion Lewis during overtime. He was also sacked five times, which we saw was a winning formula for the New York Giants in Super Bowl XLII. However, in the face of extreme adversity, Brady helped the Pats erase that fourth-quarter deficit and climb all the way from a 3.23 percent chance of winning to an improbable victory.
All things considered, Super Bowl LI is the best comeback win in Super Bowl history, and it was fueled by Brady's record-breaking play in the fourth quarter and overtime, a stretch when the Patriots scored 31 unanswered points while Brady racked up 246 passing yards. This mark may never be broken, and it's a performance nobody will forget.