Dion Lewis Is a Scary Addition to the New England Patriots' Offense
For 17 weeks, he sat waiting. An injury had taken him out of the public eye, allowing them to forget the special talents he possessed. He had made his mark on the league in 2015, but could he bounce back from a pair of surgeries on the same knee?
Once Saturday came, the New England Patriots released their beast into the wild, and he made sure everybody remembered just how stupidly good he is.
Dion Lewis finally had his rebirthing in the divisional round of the playoffs, scoring three touchdowns as the Patriots toppled the Houston Texans, 34-16. Those three scores all came in different manners with one on a rush, one on a reception, and the other on a kick return, featuring the versatility that made Lewis indispensable before tearing his ACL.
Let's dig a bit deeper into what exactly Lewis did Saturday night to show the value he brought to the team. Then, we'll look back at what he did last year to illustrate the kind of value a fully-healthy Lewis could bring to the Patriots going forward.
What He Did
All in all, Lewis touched the ball only 18 times for the Patriots. He made them all count, though.
As a rusher, eight of Lewis' 13 carries increased the team's expected points for the drive, something we can track with numberFire's Net Expected Points (NEP), the metric that calculates the expected points a player adds or subtracts each time he touches the ball. The league-average Success Rate for running backs this year was 40.50%, so Lewis' mark of 61.54% on Saturday is pretty snazzy.
It becomes a bit more obvious how solid Lewis was when we compare him to his backfield mate, LeGarrette Blount. Blount had eight carries, and even though he averaged more yards per carry, only one of his eight totes increased their expected points for the drive. Lewis was brimming efficiency despite facing the league's seventh-ranked rush defense, according to numberFire's schedule-adjusted metrics. Simply put, dude balled out.
Lewis' output in the receiving game was a bit more moderate, though part of that may have been due to Tom Brady's aggressiveness in pushing the ball down the field. Lewis caught just two of seven targets with one of them went for a 13-yard touchdown. And, oh baby, was that a thing of beauty.
.@Patriots strike first!

TB12 finds the speedy @dionlewisRB for the TD. #HOUvsNE #NFLPlayoffs https://t.co/BxSp7VmLQW
— NFL (@NFL) January 15, 2017
Brady's desire to go deep was certainly a positive (he added 11.83 Passing NEP on 14 attempts at least 16 yards beyond the line of scrimmage), but it does taint Lewis' output as a receiver a bit. Two of Lewis' seven targets were deep, and Lewis wasn't able to catch either, resulting in -1.14 NEP. Given the value added on the touchdown, though, the Patriots will likely accept some minor negatives in this department.
Finally, we get to the kickoff return. Rumble, little man, rumble.
Pretty good postseason debut for @dionlewisRB.

98 yards and a TOUCHDOWN. https://t.co/ikte7vkGV4
— New England Patriots (@Patriots) January 15, 2017
That one play added 6.51 NEP for the Patriots and increased their win odds to 91.10% from 83.26%. This followed a field goal by the Texans that had made it a 7-3 game in the first quarter. A 98-yard kickoff return is at least a decent response.
Overall, this was just a small sample of what Lewis can do for the Patriots. That said, even when we expand the sample to include what he did last year, it's obvious he's a guy the Patriots should lean on in the conference championship and potentially beyond.
What He Can Do
Given how well Blount has performed this year, the initial thought on the Patriots' backfield would be that they don't need an upgrade at the position. While they may not need a boost, Lewis certainly provides one.
Let's go back through the past two seasons -- including the playoffs -- to see how Blount and Lewis compare to each other. Although the sample on Lewis is smaller, he is just basking in efficiency.
| Rusher | Carries | Rushing NEP | Rushing NEP per Carry | Success Rate |
| --- | --- | --- | --- | --- |
| LeGarrette Blount | 472 | 0.51 | 0.00 | 37.92% |
| Dion Lewis | 126 | 15.91 | 0.13 | 51.59% |

Blount has been fine with a Rushing NEP per carry that's slightly above average and a Success Rate slightly below it, but Lewis has been other-worldly. That's before we factor in what he brings as a receiver.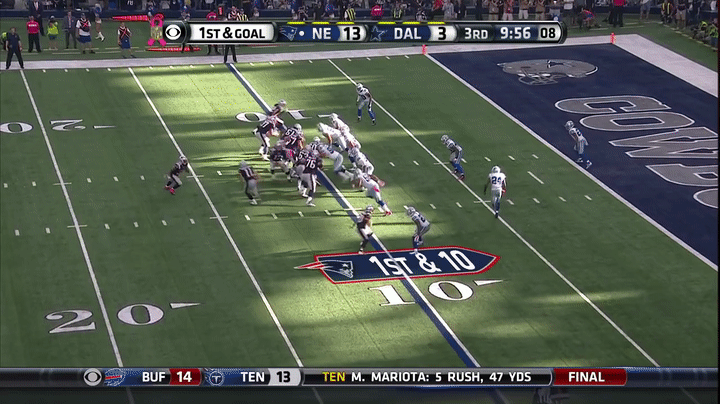 By having Lewis on the field, the Patriots have the option of unleashing his Gucciness either as a rusher or a receiver. That's not a luxury they have with either Blount or James White. Getting Lewis back gives this team more flexibility in what they can do on a given play, and it's hard to quantify the value in that.
A Scary Addition
The Patriots were already good enough without Lewis, finishing the regular season as numberFire's fourth-most efficient offense. With Rob Gronkowski out, though, they needed somebody to fill that void, and Lewis is the perfect candidate.
Lewis brings versatility with his abilities as both a receiver and a returner, giving the offense a multi-dimensional weapon. At the same time, he has also been more efficient as a runner than Blount the past two years, providing another addition there. The importance of his health really can't be overstated.
With a matchup against the Pittsburgh Steelers on hand, the Patriots are going to need all the help they can get. Now that Lewis is back and healthy, it would seem as if they have all the assets they need, both to battle the Steelers and whomever they could potentially face if they were to advance.