All-32: NFL Power Rankings Heading Into Week 16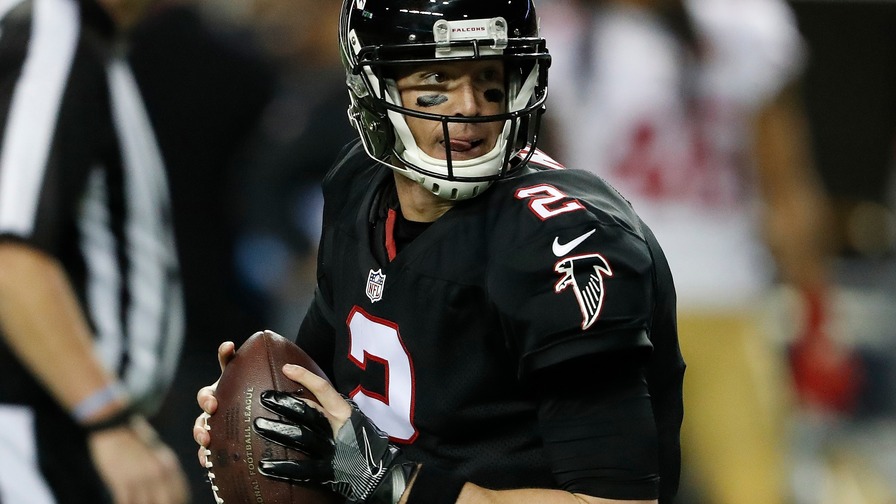 Two weeks remain in the 2016 regular season. It's hard to believe we got here so soon, but we're nearing the start of the playoffs. At this point, four teams have clinched a playoff berth while three others have playoff odds of 95 percent odds or greater.
As some of the playoff races tighten, there's still a lot to be figured out in terms of seeding. In a few cases, the current frontrunner to host a home playoff game as a division winner is the lowest ranked team in the race -- looking at you, Houston Texans and Detroit Lions.
A weekly reminder, our power rankings aren't subjective, they're based off our nERD scores put together by people much smarter than me. For those unfamiliar, nERD is our calculation of how good a team really is, based on expected point differential against a league average team. If the team's nERD rating is 10, they would be expected to win by 10 points against a league-average opponent. All individually noted rankings are based off our Net Expected Points metric, which measures the value of each play on the field based on how an average team would be expected to perform, according to historical data.
Each week, we'll list all 32 teams from worst to best with a more detailed breakdown of four different teams. The highlighted teams will rotate each week, which will lead to each team being featured two to three times during the course of the season.
32. Cleveland Browns (nERD: -10.89, Record: 0-14, Last Week: 32)
31. San Francisco 49ers (nERD: -10.65, Record: 1-13, Last Week: 31)
30. Los Angeles Rams (nERD: -10.24, Record: 4-10, Last Week: 30)
29. New York Jets (nERD: -7.72, Record: 4-10, Last Week: 29)
28. Jacksonville Jaguars (nERD: -5.85, Record: 2-12, Last Week: 28)
Last week the Los Angeles Rams gave us the inevitable firing of Jeff Fisher. This week the Jacksonville Jaguars cut ties with Gus Bradley. If you've been on the internet over the past week, you've seen something related to Bradley's record as head coach of the Jaguars. But if you missed it, here's the thing related to Bradley's record as head coach of the Jaguars.
Bill Belichick could go 0-16 for 41 consecutive seasons and still have a better winning percentage than Gus Bradley.
— JJ Zachariason (@LateRoundQB) December 14, 2016


Unlike the Rams job, though, there's a lot of upside in Jacksonville. Despite the season-long bottom-three ranking in nERD, there's a lot to like on this roster, starting on the defensive side of the ball. The Jags rank 19th in Adjusted Defensive NEP and sport a budding superstar at cornerback in rookie Jalen Ramsey. Per Sports Info Solutions charting from Football Outsiders, Ramsey ranks 26th in yards allowed per pass among 94 corners targeted 30 or more times. That rank is third among rookie cornerbacks while Ramsey usually shadows the opposing top receiver. The defense also has young players like Telvin Smith, Yannick Ngakoue, and Myles Jack.
There's talent on offense too. Allen Robinson and Allen Hurns both have seen a drop in production after incredible 2015 seasons -- they rank 74th and 80th in Reception NEP per target among 85 wide receivers with 50 or more targets -- but some of that could be placed on the quarterback. While those two have been disappointing, last year's disappointment, Marqise Lee, has emerged. He ranks 30th among the aforementioned subset in Reception NEP per target. At full production, that could be one of the better wide receiver trios in the league.
A new coach also won't be tied down to Blake Bortles long term. Bortles has regressed this season. He currently ranks 32nd in Passing NEP per drop back among 38 quarterbacks with 100 or more drop backs. He has just one more year on his rookie contract at $6.6 million and at this rate, he could become the highest draft pick to not have his fifth-year option picked up. That would give a new head coach a year to figure out the quarterback situation for the future, if needed. A cap hit of just over $6 million is low-end starter, or really high-end backup money if the new man in charge wanted to move on immediately. With almost $68 million in projected cap space for 2017, keeping Bortles on the bench wouldn't be a financial burden.
27. Chicago Bears (nERD: -4.05, Record: 3-11, Last Week: 27)
26. Houston Texans (nERD: -1.90, Record: 8-6, Last Week: 24)
25. Miami Dolphins (nERD: -1.56, Record: 9-5, Last Week: 25)
24. Detroit Lions (nERD: -1.41, Record: 9-5, Last Week: 21)
23. Indianapolis Colts (nERD: -0.80, Record: 7-7, Last Week: 26)
22. Tennessee Titans (nERD: -0.74, Record: 8-6, Last Week: 22)
21. Carolina Panthers (nERD: -0.55, Record: 6-8, Last Week: 23)
If the season started in Week 14, the Carolina Panthers would be viewed as one of the most dominant teams in the league. In the past two weeks, Carolina has defeated the San Diego Chargers 28-16 and the Washington Redskins 26-15, both of whom are top-13 teams by these rankings. Of course, the season doesn't start in Week 14; it just took the Panthers that long to start to look like the team many expected heading into 2016.
The Panthers were never going to repeat their 15-1 record from last season, but not many could have expected the disappointment that came to start the year. Even though the Panthers shouldn't have been a 15-win team last year, they still led the league in point differential, so they still could have been a playoff team even when factoring for regression. But to this point, the Panthers have pretty much been who they are -- they're just 0.6 wins below their current pythagorean win expectation.
With all that's gone wrong during the season, there are a few things going well for the Panthers. One is the cornerback brought in to replace Josh Norman. Replacing Norman wasn't going to be an easy task, especially for a rookie, but James Bradberry has done quite well developing in his first season. He ranks 19th among corners in yards allowed per attempt -- first among rookies -- though he is just 42nd in Success Rate.
Carolina's defense as a whole is starting to look more like it did last season, even with Luke Kuechly on the sideline. The defense now ranks ninth in Adjusted Defensive NEP per play and with both the Atlanta Falcons and Tampa Bay Buccaneers on the schedule to end the season, the Panthers could use that defense to play spoiler against two division rivals fighting for playoff position.
20. Philadelphia Eagles (nERD: 0.03, Record: 5-9, Last Week: 20)
19. Baltimore Ravens (nERD: 0.21, Record: 8-6, Last Week: 19)
18. Cincinnati Bengals (nERD: 0.28, Record: 5-8-1, Last Week: 18)
17. Tampa Bay Buccaneers (nERD: 0.79, Record: 8-6, Last Week: 15)
16. Kansas City Chiefs (nERD: 0.81, Record: 10-4, Last Week: 17)
15. Minnesota Vikings (nERD: 0.91, Record: 7-7, Last Week: 7)
14. New York Giants (nERD: 1.34, Record: 10-4, Last Week: 16)
The New York Giants are going to the playoffs. There's a 99.8 percent chance that's going to happen, and 98.6 percent of that comes from winning the wild card, which would send the Giants on the road in the first round, likely against the NFC North winner. But, there's still an incredibly slim chance -- 1.2 percent -- that the Giants end up as the No. 1 overall seed in the NFC. That would take two Giants wins and two Dallas Cowboys losses to end the season. It's unlikely, but even a 1.2 percent chance of that seems a little nuts since the Giants No. 14 ranking in nERD this week is their season peak, which they hit once before heading into Week 12.
New York has gotten here by the way of its defense. The Giants currently rank third in Adjusted Defensive NEP per play while still ranking just 24th by Adjusted NEP per play on offense. The defensive success is not only surprising because free agent spending sprees like the ones the Giants made do not often pay off, but also because the Giants were so poor on defense last season. In 2015, the Giants ranked 25th in Adjusted Defensive NEP per play, which represents a 22-spot jump.
That type of leap isn't as unprecedented as it would seem. Since 2000, the 2016 Giants only have the 12th biggest year-to-year jump in defensive rank. The biggest leap came from the 2007 Redskins, who went from 32nd in 2006 to third in 2007, though they were also third in 2005, which marks a 29-spot drop from '05 to '06.
Right now, the biggest concern for the Giants is the health of Janoris Jenkins, who left last week's game against Detroit with a back injury. Jenkins has said he feels good, but he has yet to run in practice and likely won't play against the Philadelphia Eagles on Thursday night. Jenkins has been one of the league's best corners, ranking 10th in yards allowed per pass and third in Success Rate.
13. San Diego Chargers (nERD: 1.40, Record: 5-9, Last Week: 12)
12. Buffalo Bills (nERD: 1.57, Record: 7-7, Last Week: 14)
11. Arizona Cardinals (nERD: 1.67, Record: 5-8-1, Last Week: 10)
10. Pittsburgh Steelers (nERD: 1.74, Record: 9-5, Last Week: 13)
9. Oakland Raiders (nERD: 1.84, Record: 11-3, Last Week: 11)
8. Washington Redskins (nERD: 1.86, Record: 7-6-1, Last Week: 6)
With the Monday night loss to Carolina, Washington drastically decreased its playoff odds -- now at 28.3 percent -- heading into the final two weeks of the season. While those aren't impossible odds, there are a lot of things Washington needs to have happen to slide into the final playoff spot. They all involve beating both the Bears and Giants, and most involve at least one Tampa Bay loss before getting into the different combinations of Green Bay and Detroit outcomes.
The Carolina loss didn't just put Washington outside of the playoff race, it potentially reopened the question of what to do with Kirk Cousins, who is playing 2016 on the franchise tag. Statistically, Cousins is again among the top quarterbacks in the league. He ranks third in Passing NEP per drop back and yards per attempt.
But he's in one of the most quarterback-friendly environments, and he still makes some mistakes he shouldn't be making at this point in his career, though the volume of those has been cut down. His interception against the Panthers was one. Cousins either misread the defense, didn't account for Kurt Coleman, or thought he could fit the ball in the window. Whichever reason it was, it was wrong.
If Washington had made the playoffs again, it would be hard to justify moving on from Cousins, but missing out could give them an opening, should they want it. General manager Scot McCloughan has never really seemed all that sold on Cousins, which could make this upcoming decision another interesting one to watch.
7. New Orleans Saints (nERD: 3.08, Record: 6-8, Last Week: 9)
6. Green Bay Packers (nERD: 3.38, Record: 8-6, Last Week: 5)
5. Seattle Seahawks (nERD: 3.69, Record: 9-4-1, Last Week: 8)
4. Denver Broncos (nERD: 4.56, Record: 8-6, Last Week: 4)
3. Atlanta Falcons (nERD: 6.42, Record: 9-5, Last Week: 3)
Matt Ryan should be the 2016 NFL MVP. At this point in the season, he's the easiest player to make a case for and the hardest to make a case against -- unless you're into the "other quarterbacks have won more" argument.
Ryan currently has a 9.32 yards-per-attempt average, which would be the third-highest in a single season since the merger. He's also 1.1 yards over the second-place quarterback this season, which would be the biggest gap between first and second place since the 2001 season. The all-time single-season leader, Kurt Warner, was that year's MVP.
Ryan also has a 150 YPA+ per Pro-Football-Reference, which means his YPA this season is 50 percent better than the league average. There have been three quarterbacks to have a YPA+ of 145 or better with at least 350 attempts. The other two -- Joe Montana in 1989 and Boomer Esiason in 1988 -- both won MVP in that season. Bump the attempts cutoff to 400 attempts, and Ryan is the lone player on the list.
He's also now first in Passing NEP per drop back and second in Success Rate -- the percentage of plays positively impacting NEP -- behind Drew Brees by just 0.25 percent. Ryan also leads the league in touchdown rate -- 0.9 percent over Aaron Rodgers -- Adjusted Yards per Attempt, and Adjusted Net Yards per Attempt.
As a team, Atlanta has the top overall offense by Adjusted NEP per play and the top passing offense by Adjusted Passing NEP per play. All of this also comes while overcoming a defense that ranks 27th in Adjusted Defensive NEP per play.
But for as good as Ryan has been, he's not getting enough credit as an MVP favorite. Per ESPN Stats and Info, Ryan has just the fourth-highest odds of being named MVP behind Ezekiel Elliott, Tom Brady, and Derek Carr.
Best Odds to Win NFL MVP
Ezekiel Elliott 15-8
Tom Brady 2-1
Derek Carr 6-1
Matt Ryan 7-1
Aaron Rodgers 14-1 pic.twitter.com/ePVtz3lNk8
— ESPN Stats & Info (@ESPNStatsInfo) December 21, 2016

At this point, Ryan shouldn't just be a top-five candidate, he should be the favorite.
2. Dallas Cowboys (nERD: 6.78, Record: 12-2, Last Week: 2)
1. New England Patriots (nERD: 7.43, Record: 12-2, Last Week: 1)