3 Week 10 Storylines to Watch: Multiple Marquee Matchups
In Week 9, we saw the Oakland Raiders get a huge divisional win against the Denver Broncos, the Pittsburgh Steelers turn in an embarrassing offensive effort against the Baltimore Ravens, and the Indianapolis Colts travel to Lambeau Field and defeat the Green Bay Packers.
This week, we get a pair of amazing matchups, highlighted by some real "unstoppable force meets an immovable object" type stuff, as well as a diminutive wide receiver making a claim as one of the most efficient pass-catchers in the NFL.
Onto Week 10.
Patriots' Offense vs. Seahawks' Defense
In a rematch of the Super Bowl 49, the Seattle Seahawks square off against the New England Patriots on Sunday night, a matchup between an extremely-efficient offense and a highly-efficient defense.
New England currently ranks fifth in overall offensive Net Expected Points (NEP) when adjusted for strength of schedule, while Seattle currently boasts the seventh-best overall defense on a per play basis according to our metrics.
Tom Brady has had two weeks to prepare and is currently leading all starting quarterbacks in terms of Passing NEP per drop back, while Rob Gronkowski is tops in terms of Reception NEP per target among tight ends with 30 or more targets.
The matchup on the ground for the Patriots' looks dicey, with LeGarrette Blount – the 29th most efficient running back in terms of Rushing NEP per play among 32 running backs with 75 or more carries – set to face a Seahawks' run defense ranking fifth according to our numbers.
Since 2013, in games where Tom Brady has played, the Patriots have been deadly at home:
Vegas seems to agree with recent history, currently pegging the Patriots as 7.5 point favorites. As far as entertainment value goes, this type of matchup, in a nationally-televised island spot, is about as good as it gets.
Saints' Offense vs. Broncos' Defense
In another matchup of a high-end offense against a tremendous defense, the Denver Broncos travel to New Orleans this week to face the Saints.
New Orleans currently ranks third in overall offensive NEP per play while Denver ranks first in overall defensive efficiency, according to our metrics. What makes this matchup even more enticing is how efficient Drew Brees has been historically in home games.
Despite bouncing back last week, Mark Ingram has still been woefully inefficient this season, ranking 29th in Rushing NEP per carry among 32 running backs with 75 or more carries. It's fair to consider the Broncos' run defense as their soft spot, however, currently ranking 24th according to our schedule-adjusted metrics, which could end up being key.
New Orleans is the 10th most pass-heavy team in the league, and if Aqib Talib sits out again this week, Brees could be in for his normal strong showing in the Superdome. But expect New Orleans to probe Denver's leaky run defense and avoiding targeting the league's top-ranked secondary – per our numbers – whether Talib plays or not.
Both the spread and game total have increased since opening, signaling good things for the Saints, but nothing is assured when an excellent offense matches up against an excellent defense.
Cole Beasley Stepping Up
While rookies Dak Prescott and Ezekiel Elliott have been garnering the majority of praise for the Dallas Cowboys' success on offensive this season, Cole Beasley has earned the right to mentioned as well.
Beasley currently leads the Cowboys in receptions, receiving yards and touchdowns, and among the 87 wide receivers with 30 or more targets this season, Beasley ranks second in both Reception NEP per target (1.00) and catch rate (82.7%). Dez Bryant, who has played in just five games, ranks 40th and 87th in those categories, respectively.
I am in no way comparing Beasley to a healthy Bryant in terms of pure athletic talent, but it's impossible to ignore the fact that Beasley has been a major contributing factor to the success of Prescott in his first eight NFL starts: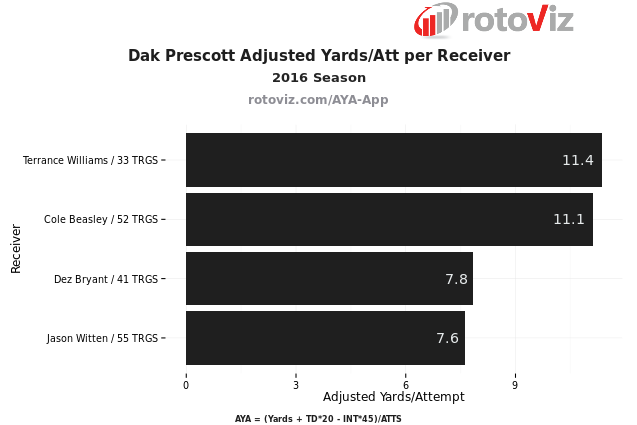 Dallas is the most run-heavy team in the league and the only team to call more run plays than pass plays so far this season. Elliott and their dominant offensive line have been the focal points of their offense, and should continue to be so moving forward.
But it should be reassuring for Dallas to know that, despite their franchise wide receiver having one of his worst seasons of his career, they still have a highly-efficient pass-catcher to compliment Jason Witten as go-to options for their young quarterback.
We could see Beasley continue to shine this week with a matchup against the Pittsburgh Steelers, currently sporting the 25th-ranked pass defense according to our metrics.