College Basketball Betting Guide: Friday 3/10/23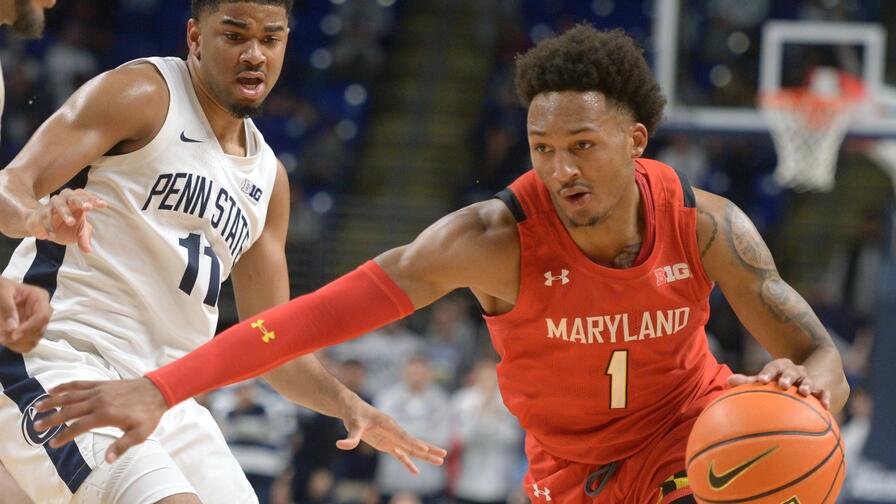 College basketball is one of the more entertaining sports to bet on due to the sheer volume of games that take place each day. Conference tournaments are in full swing, and this is a great time to hone your betting prowess before March Madness.
Using our projections as a guide, which bets should you make via the college basketball odds at FanDuel Sportsbook?
Please note that lines are subject to change throughout the day after this article is published. Please check here to make sure you're seeing the most updated information.
Maryland +2.5 (-120)
The Maryland Terrapins are the underdog against the No. 19 Indiana Hoosiers, but there's evidence to suggest that they should actually be the favorite.
BartTorvik sees these two teams fairly evenly, but the Terrapins get the slight nod at 29th over the 31st-ranked Hoosiers. KenPom sees an even bigger gap between the teams, leaving Indiana in the same spot BartTorvik did while bumping Maryland up to 18th.
Both squads are balanced teams that are inside the top 50 in both adjusted offense and adjusted defense, per BartTorvik. However, Maryland carries the edge on defense, ranking 38th in adjusted defensive efficiency, compared to 48th for Indiana.
It's essentially a tie between the two teams offensively, but the good news for Maryland is they have a good chance of winning the turnover battle. Not only do they rank 52nd in turnover rate, but Indiana's defense doesn't do a great job of forcing turnovers, ranking 277th in defensive turnover rate.
When these teams played at the end of January, the Terrapins earned an 11-point win at home.
While the margins are slim between these Big Ten foes, there's enough here to consider Maryland the slightly better team, and the added points make them a solid value to cover as a slim 'dog.
Sam Houston -2.5 (-120)
The Sam Houston State Bearkats are narrow favorites over the Grand Canyon Antelopes in this WAC tournament semifinal, but there are reasons to think they should be favored by even more.
According to both BartTorvik and KenPom, Sam Houston State cracks the country's top 65 overall, whereas Grand Canyon is roughly a top-120 squad.
More specifically, the Bearkats are lethal on defense, ranking 12th in adjusted defensive efficiency, per BartTorvik. This includes being 47th in effective field goal defense, 12th in defensive turnover rate, and 56th in defensive rebounding rate.
If that wasn't enough, despite Sam Houston State being more of an average offense, they're incredibly efficient from long range, ranking sixth in three-point shooting percentage.
The Antelopes have a solid adjusted offense (73rd), but this will be a tall order against one of the nation's best defenses. Additionally, Grand Canyon's own defense could let them down, as they're just 221st in adjusted defensive efficiency.
While Grand Canyon got the win in the lone regular season matchup between these two, Sam Houston State has gone 14-2 since that one and is currently on an 8-game win streak.
BartTorvik projects the Bearkats as 5.4-point favorites, further suggesting that we should back them at this line.
Over 132.5 (-115)
One of the last games of the day, a matchup between the UC Riverside Highlanders and UC Santa Barbara Gauchos probably won't draw a ton of eyeballs. That shouldn't stop us from considering the over tonight, though.
For starters, both teams are respectable on offense. Santa Barbara is the better of the two, ranking 77th in adjusted offense, but Riverside is still above average at 156th. The Gauchos own an impressive effective field goal percentage, ranking 32nd in the metric, while the Highlanders can get hot from beyond the arc, sitting 103rd in three-point shooting percentage.
Additionally, both teams are mediocre on defense, ranking outside the top 170 in adjusted defensive efficiency.
These teams exceeded this total in their most recent matchup (137), and while they didn't in their first game (129), they came awfully close in that one even with Santa Barbara shooting an abysmal 13.3% from three.
BartTorvik sees these teams combining for 139 points tonight, which would comfortably sail over this line.