College Basketball Preview: Which of the National Title Favorites Are a Good Bet to Win It All?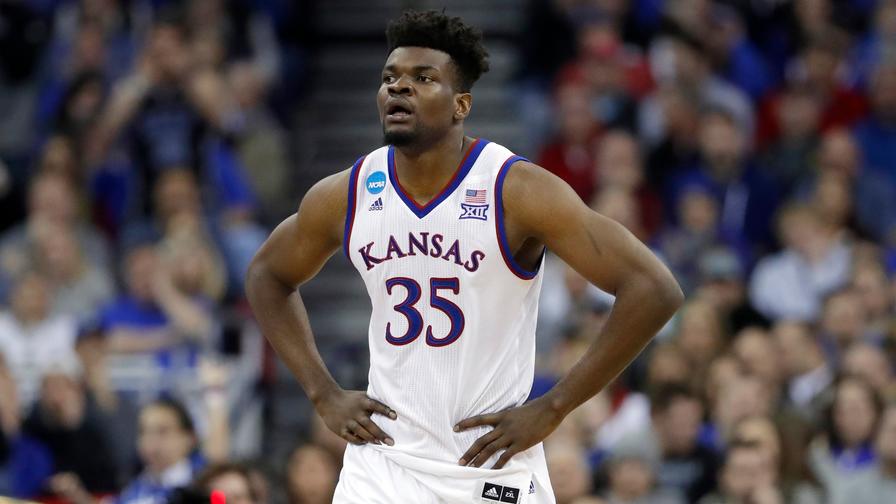 College basketball season is once again upon us, and it should not come as a surprise that the typical favorites once again top the list of teams most likely to cut down the nets in April.
Among FanDuel Sportsbook's top five favorites is three teams -- Duke, Kansas, and Kentucky -- playing during the Champions Classic in Indianapolis on Tuesday night as part of the most high-profile opening night in the history of college hoops.
With the season on the horizon, it is always fun to see which teams present championship value from a bettor's perspective. Obviously, this can be done at any point in the season, but if you play a hunch before anybody has seen the teams on the court, it could be an opportunity to capitalize on it.
So, without further ado, let's take a look at the top five teams with the best odds to win the title to see if any come as a value in today's betting market.
Duke Blue Devils
Odds: +500
For the second straight year, Duke Blue Devils enters the season as the favorite to win the national championship -- and, at that, after losing their five leading scorers from a season ago. But fear not, Duke has once again secured ESPN's top-ranked recruiting class and is primed to make a strong push toward their first title since 2015.
Coach Mike Krzyzewski's group is headed up by the top three recruits in the 2018 ESPN Top 100, forwards R.J Barrett, Cameron Reddish, and Zion Williamson. While Barrett and Reddish are more perimeter-oriented players on the offensive end, Williamson has made a name for himself nationally by being an athletic, above-the-rim type of player. Joining those three is fellow five-star recruit and McDonald's All American Tre Jones, the 17th-ranked recruit and second-ranked point guard in this class.
A class with such high recruits naturally brings high expectations, but history is not on the side of the Blue Devils' formula for this season. Recently, teams loaded with freshmen have not had the type of success that Duke is looking for with this group. Duke and Kentucky have been bringing in top recruits year after year, mostly because those top recruits leave after one season, and while those teams have had impressive moments and made some healthy tournament runs, none of them have won it all without a little upperclassmen leadership.
The Blue Devils are fairly sizable favorites when you look at how close the next few teams' odds are packed together, but they are relatively far behind Kansas' adjusted efficiency considering the fact that they are ranked third. Given the high price associated with the Duke this season, especially when taking the lack of experience into consideration, Duke does not appear to be a good value play.
Kansas Jayhawks
Odds: +850
Following coach Bill Self's third career Final Four appearance, Kansas has built another team with national title aspirations. The Jayhawks are in the midst of a remarkable 14-year streak of winning their conference, but this group made up of returning starters, high recruits, and key transfers is in a favorable position to push for the program's first championship since 2008.
In addition to returning two starters from last season, Udoka Azubuike and LaGerald Vick, Kansas accumulated ESPN's sixth-ranked recruiting class, thanks to two five-star guards in Quentin Grimes and Devon Dotson. Likely the most important addition in Lawrence comes via transfer with the arrival of the Lawson brothers, Dedric and K.J, from Memphis. While Dedric is the more dynamic player -- having averaged 19.0 points and 10.0 rebounds in his sophomore season -- K.J also averaged 11.5 points and 7.0 rebounds prior to transferring.
One of the best cases for Kansas as a value play is their outstanding adjusted efficiency marks, according to Kenpom.com. The Jayhawks are Kenpom's top team entering the season and are nearly four full points clear of second ranked Duke. At 17/2, Kansas seems like the best bet of this group, as long as you are not worried about any off-court distractions caused by the ongoing FBI investigation.
Gonzaga Bulldogs
Odds: +875
Gonzaga is once again back among the National Championship contenders, and they are doing so with a mostly familiar cast of characters leading the group in Spokane. The Bulldogs return four of their top five leading scorers from a season ago and should be tested early with a strong non-conference schedule.
The Zags are in position to blow through the West Coast Conference once again, with only BYU and Saint Mary's ranking in the top 100 of Kenpom's preseason rankings. They have, however, gone out of their way to schedule some tough non-conference opponents, which will give us a good indication of how Gonzaga will fare come tournament time. One thing to keep an eye on for the Bulldogs is how they handle the injury to last season's second leading scorer and rebounder Killian Tillie, who will miss nearly the entire non-conference slate. If Gonzaga can hang tough against some of the country's best teams, it will go a long way to build confidence in the Zags. If not, it may improve their odds in the sportsbooks and make them an interesting team once they get fully healthy.
For the time being, it is hard to trust Gonzaga at this price. The Bulldogs are ninth in Kenpom's rankings entering the season, so getting them at nearly the same odds as Kansas is not good value.
Kentucky Wildcats
Odds: +900
It is no surprise that coach John Calipari has once again secured a top-two recruiting class in Lexington, but this is not the Kentucky team that we have become accustomed to seeing. Instead of just replacing last year's stud recruits, this year's batch of five-star recruits is teaming up with some holdovers from last season and an impactful transfer that is ready to produce immediately.
Last season, Kentucky had a tough time meshing and got pushed around a bit in a much improved SEC. The conference is still going to be tough, but the lack of relative success in Kentucky led to the return of guard Quade Green and forwards PJ Washington and Nick Richards, all five-star recruits from the 2017 class. Now add four of the top 25 ESPN recruits from this year and you have something that looks more like the Kentucky squad that won the National Championship in 2012.
Going a step further, the Wildcats were able to reign in one of the top transfers in ex-Stanford forward Reid Travis, who averaged 18.5 points and 9 rebounds over the past two seasons -- creating a recipe that could make Kentucky a more complete contender from the first game of the season forward.
With Kentucky being 9/1, they appear to be properly rated, and therefore there really is no outstanding value, but betting on them isn't out of the question. Kenpom currently has the Wildcats ranked sixth in its preseason rankings, but after Kansas, everyone is very closely bunched together. Given their state as a public team, any type of success early, including a win over Duke on opening night, would likely move them up the list of favorites, so at this point Kentucky looks to have some value.
Villanova Wildcats
Odds: +1000
The two-time defending national champion Villanova Wildcats are once again near the top of the list of favorites to cut down the nets in April, and it has become a habit over the past few years for coach Jay Wright to find a new lead dog from the group of solid returning starters. The difference this time around is that Nova is trying to replace four major contributors from last year's squad -- all of whom were drafted in the top 33 of June's NBA Draft.
The Wildcats are joining a very special class of programs that are expected to be a title contender regardless of what they have lost from the prior season. However, just like every other year, when they lose two or three of their leading scorers, we are not totally sure who is going to step up, but they have a few candidates.
Seniors Phil Booth and Eric Paschall are obvious choices, with Booth being the only holdover from the 2016 title team due to an injury plagued 2017. Paschall averaged 10.6 points and had a handful of impactful games last year. Additionally, they return three sophomores who were role players from a season ago, a transfer in Joe Cremo who averaged 18 points per game on 46 percent shooting from three at Albany, and added ESPN's 12th-ranked recruiting class -- including five-star guard and McDonald's All American Jahvon Quinerly.
Similar to Kentucky, Villanova appears to be properly valued this season, but it depends how you personally feel about how they will develop. Replacing that many major players is not something we are as accustomed to seeing out of Villanova, as they typically only lose seniors, not underclassmen as well. Given Kenpom's ranking fifth-place ranking of the Wildcats, there would appear to be a bit of value in them at 10/1.