2016-17 NBA Midseason Awards: Kevin Durant Leads the Way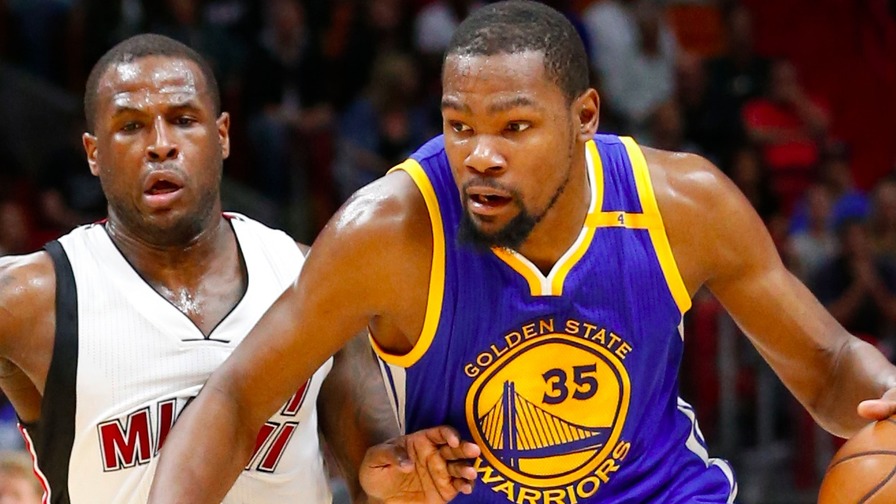 As we wrap up the month of January, the NBA season is just past the literal halfway point. All-Star rosters have been announced, meaning the ceremonial midseason point is nearly upon us, as well. As we reach both of those benchmarks, there is no better time than now to look at the leading candidates for the league's six major awards that will be handed out at season's end.
As a reader of numberFire, you know we do things a bit different than most. We won't be giving our picks for these awards based on popularity or even a subjective opinion; we are leaving it up to our algorithms. We will be using our in-house nERD metric to find out the winner in each category.
Let's see who would be taking home some hardware in the NBA if the season ended right now.
Most Valuable Player
Kevin Durant, Golden State Warriors
Let's tackle the controversy from the start. Consensus choices around the league have narrowed down the popular MVP choices to triple-double machines James Harden and Russell Westbrook, but the advanced metrics suggest another player, Kevin Durant. Our runaway leader in nERD, with a 14.5 rating, KD has been perched at the top of our MVP ranks for two months as he is in the midst of a season for the ages.
His shift from the Oklahoma City Thunder to the Golden State Warriors has forced KD to take a smaller role offensively -- career-low shots per game and usage rate -- but his all-around game is working at peak efficiency.
He is averaging career highs in rebounds (8.4) and blocks (1.7) per game, while ranking in the top seven in both offensive and defensive rating. That is not to say his offense has suffered -- quite the opposite actually. Durant is shooting 54.7% from the floor, which is ninth-best in the NBA. His 66.0 true shooting percentage is the second-highest all-time for anyone averaging at least 17.0 shots per game.
He ranks eighth in scoring (26.3) and is the only player with over 25.0 points and less than 2.3 turnovers per game. Durant ranks in the top five of player efficiency (PER), value over replacement player (VORP), and win shares per 48 minutes, per Basketball Reference.
Defensive Player of the Year
Rudy Gobert, Utah Jazz
The only award without a direct connection to nERD, the choice is still clear. The much-anticipated breakout season of Rudy Gobert puts him head-and-shoulders above the competition for Defensive Player of the Year.
Not only does the Utah Jazz big man lead the NBA in blocks per game (2.6), but he is also leading in nearly every advanced defensive metric: defensive rating (98.1), defensive win shares (3.7), and defensive real plus-minus (4.56). Gobert is also the anchor for one of the NBA's elite defensive units -- the Jazz rank second with a 101.6 defensive rating while allowing the least amount of points of any team (95.5 points per game).
Break it down even further and you see Gobert is the cream of the crop when it comes to rim protection. Besides his league lead in blocks, he ranks second with a 6.5 block percentage and allows opponents to shoot only 47.3% on the 7.9 field goal attempts per game they take six feet or less from the basket. That is nearly 14 percentage points better than the league expectation. That's not to mention his 8.8 defensive rebounds per game.
Rookie of the Year
Joel Embiid, Philadelphia 76ers
Joel Embiid has been worth the wait for the Philadelphia 76ers. After missing two seasons with injury, the big man has exploded to dominate a weak rookie crop. Despite playing limited minutes, Embiid leads all first-year players with a 1.1 nERD rating, plus 20.2 points, 7.8 rebounds, and 2.5 blocks in only 25.1 minutes per game.
The Process has also keyed a turnaround in Philly -- the 76ers going 13-18 (.419 winning percentage) with him on the floor and 4-11 (.267) when he is forced to sit out. He owns a 24.5 player efficiency rating, ranking him 15th out of all 456 NBA players.
If you take a look at his per-36 numbers, Embiid would rank not just at the top of rookies but in the top 10 of all players with 28.7 points, 11.1 rebounds, and 3.5 blocks.
Coach of the Year
Mike D'Antoni, Houston Rockets
When the Houston Rockets entered the 2016-17 season, we projected them for a 48.8 nERD rating and only a 40.6-41.4 record. After 51 games, D'Antoni has made the Rockets exceed all expectations with a 63.6 nERD rating (sixth best) and a 35-16 record. They are on pace for 56 wins, a 15-win improvement over 2015-16, and the third-best record in team history.
His decision to move superstar James Harden to point guard and act as the team's primary ball handler not only put the Beard near top of the MVP discussion, but it also transformed the offense to one of the NBA's best. They average 114.3 points per game and own an 111.4 offensive rating, both of which are top three marks in the NBA. Their 5.4 net rating is light years better than the -0.2 mark they owned last year, and they also currently own the third-best home record (17-5) and scoring margin the league (5.8).
D'Antoni's main competition for the award would be Steve Kerr, who's Warriors squad ranks first in the NBA with a 41-7 record and an 85.2 nERD rating. However, with all the preseason expectations -- we predicted an 88.7 nERD mark for the Dubs -- Kerr could be considered a disappointment, however ridiculous that sounds for the best team in the NBA.
Most Improved Player
Giannis Antetokounmpo, Milwaukee Bucks
After posting a 2.6 nERD rating last season, Giannis Antetokounmpo owns the biggest improvement from 2015-16 to 2016-17 with his 8.8 mark this year, which is ninth best in the NBA.
He is setting career-bests across the board, even while playing a tick fewer minutes per game (35.3 last year to 35.2 currently). His 23.4 points per game represent a 38.5% increase from last season, a usual hallmark for the recipient of this award. Antetokounmpo's overall shooting numbers have also risen, even with the added responsibility. He has taken 3.4 more shots per game and he owns a career-best 52.7% shooting percentage, all while watching his usage rate climb to 28.5%.
His other counting stats have also blossomed to career highs, as Antetokounmpo is averaging 8.9 rebounds, 5.5 assists, 1.8 steals, and 2.0 blocks per game. As if this wasn't all enough, the advanced metrics love him, as well.
He is the only player in the top 20 of steal percentage and block percentage. His 27.1 player efficiency rating is eighth, while he sits in the top 5 of VORP and box plus/minus. He is also in the top 15 of defensive rating and win shares (offensive, defensive, and total).
The massive improvement in Antetokounmpo's game is not going unrecognized, either -- he has been in part of the discussion for NBA MVP and was named a starter in this year's All-Star game.

Sixth Man of the Year
Enes Kanter, Oklahoma City Thunder
Even though he is out for the next six-to-eight weeks with a broken arm, Enes Kanter dominated all bench players over the first half. The Thunder center put up the best efficiency numbers (4.9 nERD) of any player not consistently in the starting lineup, also ranking 23rd overall. His win shares per 48 minutes (.204) ranks 15th in the NBA, while he owns the 14th-best player efficiency mark (24.6).
While Kanter's defense is lacking -- his -.80 real plus/minus is 68th out of 70 for centers, he is averaging 14.4 points -- third-best on the Thunder -- and 6.9 rebounds per game while shooting 56.3% from the floor in only 21.6 minutes per game. Extrapolate his numbers to per-36 averages (24.0 points and 11.2 rebounds) and you start to see how dominating Kanter has been offensively in limited minutes.
His closest competition for the award is Marreese Speights, who owns a 3.9 nERD rating with 10.1 points and 4.7 rebounds per game.