3 Daily Fantasy Basketball Players to Avoid on 10/26/16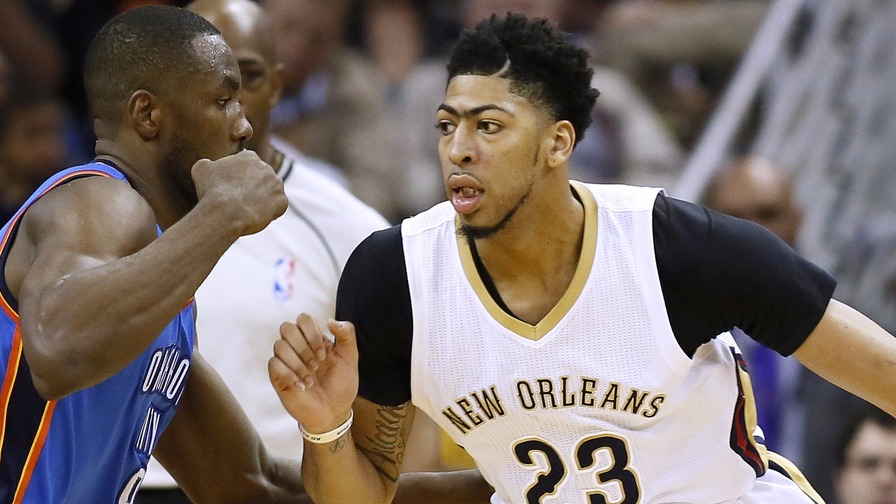 Welcome back to another season of daily fantasy basketball! In DFS, finding players you want to roster is a lot easier than finding players to avoid. You can find a ton of great information and research on guys you might want to include tonight in your DFS NBA lineups, but what about some guys you may want to lessen your exposure to, or even fade altogether?
Avoiding players whose matchups or situations aren't as great as they seem can often be just as important as finding the best targets each night. After all, it takes only one player to sink a lineup.
With a huge slate of NBA games on tonight, searching for the landmines could mean the difference from winning or losing your contests.
Anthony Davis, PF, New Orleans Pelicans
FanDuel Price: $10,200
With the New Orleans Pelicans down a couple of starters to begin the season, Anthony Davis' usage rate is probably going to be through the roof. However, while that may give him an advantage in some matchups, he is avoidable tonight for several reasons. Even leaving out completely the fact that he has been known to get banged up mid-game and not return, Davis faces a tough matchup tonight.
With the Denver Nuggets likely starting both Jusuf Nurkic and Nikola Jokic, Davis is going to have to work a lot harder to get baskets and rebounds in the paint. Neither of the Nuggets' big men are great defenders, but both of them in the game at the same time is going to clog up the middle, likely forcing Davis to take more jumpers. If he isn't hitting those jumpers, it might be a long night and one where he can't reach value with a $10,200 price tag.
Last season, the Nuggets couldn't defend power forwards, but they were solid against centers. They allowed less than a fantasy point per minute to opposing centers and with Terrence Jones expected to play a lot of power forward, that likely means Davis is going to be playing the five more often this season. Last year, players being defended by Jokic had a 46.5% field goal percentage and only shot 53.2% from within 6 feet.
Jeremy Lin, PG, Brooklyn Nets
FanDuel Price: $6,300
Jeremy Lin has returned to New York and now that he is with the Brooklyn Nets, he is expected to have a big season. However, in the Nets' opener he is up against a Boston Celtics team that not only shut down opposing point guards last season, but they are also a huge 13-point favorite in tonight's game.
The blowout factor is one thing, but without another guard that can get his own shot, the Celtics' defense may be able to key in on Lin when he has the ball. Even worse, we can expect to see Avery Bradley playing defense on Lin at times, and Bradley is a lockdown defender. Even if the undersized Isaiah Thomas is on Lin, Thomas isn't a bad defender. Last season, Thomas held players he was guarding to less than 30% from beyond the arc while Bradley held players he was defending to a 41.6% field goal percentage.
While Lin is expected to be heavily involved in the offense, the bad matchup, combined with blowout potential and his over-inflated price makes him a player to avoid. Lin probably shouldn't be $200 more than D'Angelo Russell on FanDuel. Play Russell instead if that is the price point you're looking at for point guards tonight.
Tobias Harris, PF, Detroit Pistons
FanDuel Price: $6,300
Tobias Harris is one of those players who will go off in a bad matchup or completely bomb in a good one. On some nights, there is no telling on how to play him, but tonight he is avoidable for several reasons.
First, his price is a little high. Despite being without Reggie Jackson to start the season, the Pistons are still a very balanced team on offense. They are going to move the ball around and get a good shot from whomever is open and while Harris might find himself open some, the matchup against the Toronto Raptors and being without Jackson hurts him the most tonight.
Last season, the Raptors help opposing forwards to only 0.80 FanDuel points per minute, and even more important for tonight is the fact that Harris' numbers went down last season when Jackson was off the court. Harris averaged 1.15 points per shot attempt and posted a 52.2% effective field goal percentage (eFG%) with Jackson on the court, according to NBA Wowy. However, without Jackson, Harris' numbers dropped to 1.10 points per shot and his eFG% fell to 49.0%.