Daily Fantasy NASCAR Track Preview: Drydene 400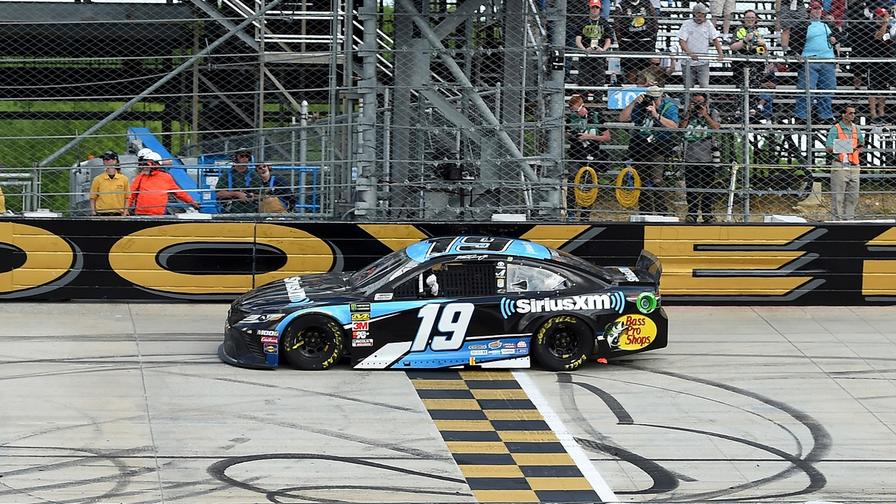 One of the unique challenges with daily fantasy NASCAR is that every track is different. Not only does this mean that certain drivers will perform better at one place than another, but each track will have different scoring tendencies than the previous one. That means we need to alter our strategies pretty drastically.
Each week here on numberFire, we're going to dig into the track that's hosting the upcoming weekend's race to see what all we need to know when we're setting our lineups. We'll have a separate piece that looks at drivers who have excelled there in the past; here, we just want to know about the track itself. Once qualifying has been completed, we'll also have a primer detailing which drivers fit this strategy and should be in your lineup for that week.
This week, the Monster Energy NASCAR Cup Series starts the second round of the playoffs with the Drydene 400 at Dover. What do we need to know about the track before filling out our NASCAR DFS lineups? Let's check it out.
Track Overview
After a week where we had to give major consideration to playoff implications in our daily fantasy lineups, we're back to normal this week. Dover is the first race in the second round, meaning nobody has clinched a spot in the next round, and nobody is gunning for a cutline this week. So it's business as usual once again.
That's not the only difference between the Charlotte roval and Dover. Last week's race was scheduled to be just 109 laps, but this week, they'll run 400. That's 40.0 points available for laps led on FanDuel, which clearly leads to a recalibration in our strategy.
In the past five Dover races, nine drivers have led 100 or more laps, and three of those drivers topped the 200-laps-led barrier. That's 20 FanDuel points from laps led alone, which is just scorching hot.
Only one race in that time had just one driver who led 100 laps. That was last year's fall race when Kevin Harvick led 286 laps, but even then, Aric Almirola managed to run out front for 64 circuits. Basically, we're going to get two drivers who lead a difference-making number of laps, and if there's only one, he's going to be a must-have driver for DFS.
This makes it pretty critical that we identify who those drivers are before the race. The chart below shows the starting position of the two drivers who led the most in each of the past five races at Dover.
| Race | Most Laps Led | Second-Most Laps Led |
| --- | --- | --- |
| 2019 Spring | 1st | 13th |
| 2018 Fall | 2nd | 11th |
| 2018 Spring | 2nd | 8th |
| 2017 Fall | 12th | 3rd |
| 2017 Spring | 5th | 2nd |

In each race, a driver who started within the first two rows led either the most laps or the second-most. And in all but one, the other driver stated eighth or lower, including in this year's spring race.
This lends itself well to a strategy we've discussed at other long races where we target drivers in "waves." We want one driver at the front who can lead laps early in the race. That driver should likely start within the first couple of rows. Then we can target a second driver who will lead laps later in the race, and we've got a bit extra flexibility with where they start.
The waves approach means that even when we're prioritizing laps led, we don't have to cross a stud off our list just because they're starting in the teens. Martin Truex Jr. led 132 laps and won from the 13th spot this spring, and he would have fit perfectly with the waves approach as our second-wave driver.
That's how we should handle the studs. But what about the value plays and mid-range guys? Let's tackle them now and then discuss how to identify which drivers will be fast on Sunday.
Strategies and Roster Construction
One of the big issues we've had in 2019 at tracks shorter than 1.5 miles is that cars haven't been able to pass in the new rules package. This has pushed us toward targeting drivers closer to the front as upside for those starting further back was harder to obtain.
We didn't see that at Dover back in the spring. As mentioned, Truex won the race from 13th. His teammate, Erik Jones, made the perfect lineup after starting 15th and finishing 6th, and Chris Buescher also made it despite starting 30th. Passing wasn't necessarily easy, but the number of green-flag passes in the spring race was higher than the average for the two Dover races last year.
This gives us the flexibility to target drivers starting further back if they have the speed. But that's a pretty key caveat.
Dover is short, but it's also a super-fast track, especially relative to its size. As such, the fastest cars do tend to qualify closer to the front, meaning a lot of the drivers who start poorly are generally starting there for a reason.
Because of this, we're not going to have lineups similar to what we wanted at the Charlotte roval where we were actively seeking drivers starting further back. Instead, we'll want to be selective and look for drivers starting somewhere outside of the top 10 who can work their way forward, pick up some place-differential points, and notch a respectable finish.
FanDuel has offered contests for three Dover races now, giving us a good sample to draw from. In that time, 10 drivers with salaries between $10,500 and $6,500 (the mid-to-value tier) have made the perfect lineup. Here's where those drivers started the race.
| Driver | Race | Salary | Start | Finish |
| --- | --- | --- | --- | --- |
| Erik Jones | 2019 Spring | $9,100 | 15th | 6th |
| Alex Bowman | 2019 Spring | $7,800 | 5th | 2nd |
| Chris Buescher | 2019 Spring | $6,800 | 30th | 23rd |
| Denny Hamlin | 2018 Fall | $10,200 | 15th | 2nd |
| Erik Jones | 2018 Fall | $9,400 | 16th | 4th |
| Austin Dillon | 2018 Fall | $8,500 | 14th | 7th |
| Ricky Stenhouse Jr. | 2018 Fall | $7,000 | 21st | 9th |
| Clint Bowyer | 2018 Spring | $10,500 | 12th | 2nd |
| Daniel Suarez | 2018 Spring | $8,300 | 7th | 3rd |
| William Byron | 2018 Spring | $7,800 | 17th | 14th |

As you can see, seven of the 10 drivers started between 12th and 21st with two starting higher than that and one lower. This would seem to be our ideal range for these mid-tier plays.
The other thing that's apparent on the chart is that we still need these guys to finish well with only two of them finishing outside the top 10. So we can't just go rostering duds; we need to be a bit selective in this because finishing points still matter.
Thankfully, all data is in play when trying to determine which drivers can actually churn out a top-10 finish.
As mentioned before, the model I use each week can be broken into three different segments: practice, current form, and track history. In the spring race, all three were useful.
In fact, the practice and track history segments had the highest correlation to each driver's finish that they've had all year long. At some places, we want to throw track history right out the window. But at Dover, it does seem to be a little bit stickier, as long as you're not looking too far back.
This spring's race was fairly clean, meaning we can get really good data by looking at who was fast in that one. Average running position should be the method of evaluation there to account for any late-race flukiness, but drivers who fared well there should figure to be fast on Sunday, as well.
The other track you can look at is Bristol, and the series was there just six races ago. It's a short track while Dover is not, but both are fast, high-banked, and concrete, so there is a pretty heavy overlap between the two. Combined, we have three races of data between there and Dover in 2019, so we should have a good idea of who is competitive on this track type before the cars roll out of the garage on Friday.
Once you've sorted through all of that and looked at Friday's sessions, you should be able to determine whether a mid-tier driver in our target range has the juice to crank out a top-10 finish. If they had poor marks in practice or struggled to keep up at Bristol and the first race in Dover, it's likely wise to look elsewhere and try to scrounge out extra finishing upside.
The same process is in play for drivers starting deeper than our target range; we just shouldn't assume we'll get good options there. We very well could, in which case you'll want to use them, but the fast-track anecdote and historic data at the track says we're more likely to find good plays between about 12th and 25th.
The data mentioned above is the same data we should lean on when trying to identify which drivers we want to target with our waves approach. If there's only one driver starting near the front who put up blistering times in practice on Friday, then they would seem to be a pretty safe bet for our first-wave driver. But overall, we'll want to mix and match a bit, trying to hit the right combination with our drivers in each wave because if we do manage to gobble up all of that upside, we'll get quite a bit extra leeway with our value plays lower in the order.