Carlos Gomez's Struggles This Season Were on Full Display Monday Night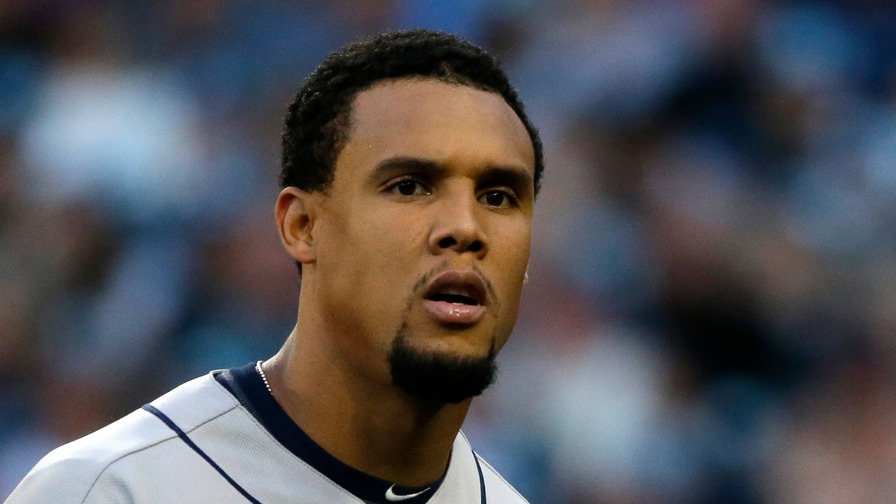 There's no way to sugarcoat this: Carlos Gomez has been one of baseball's worst players this season.
His struggles on Monday night -- on both sides of the ball -- potentially cost the Houston Astros a victory.
With just two wins in their last 13 games entering Monday's contest against the Minnesota Twins, a win was much needed for the Astros. Their offense had sputtered during this rough stretch, averaging just 1.85 runs per game, and if this trend were to continue on Monday, the Astros would need to prevent as many runs from scoring as possible.
That didn't happen.
With both teams scoreless through the top of the fifth inning, Astros starter Collin McHugh gave up a leadoff single to right field in the bottom of the inning. The next batter also singled, but this ball was hit to Gomez in center field and he misplayed it, allowing the ball to get by him. This scored a run and allowed the hitter to advance to third on the error.
Not an ideal start to the inning, but things got quickly got worse. Watch what happened on the very next play.
Carlos Gomez completely lost a fly ball and Collin McHugh's reaction is hilarious https://t.co/uOaNkFvuXa
— CJ Fogler (@cjzero) August 9, 2016

You don't need to be an expert lip reader to figure out how McHugh felt about the play.
Gomez appeared to misjudge the ball immediately, since he ran in on it and it was hit over his head, but then things got really bad when he couldn't find the ball in the lights. The play was ruled a run-scoring triple, and after the next batter singled, the score was 3-0 Twins, thanks in part to Gomez.
He's a former Gold Glove winner, but he isn't playing like one this season. His -3.6 UZR/150 ranks sixth-worst among center fielders this season -- the position Gomez has played exclusively in 2016 -- and although his 677 innings this season is a small sample size for fielding purposes, Gomez has never posted a UZR/150 in center field of below 5.1 for a single season.
He wasn't any help at the plate on Monday, either, grounding out twice -- one for a double play -- with a strikeout in his three at-bats. Unfortunately, it's what we've come to expect from Gomez this season.
Gomez's Struggles
Gomez is slashing just .210/.272/.322 in 323 plate appearances this season with a 31.0% strikeout rate, .260 wOBA and 58 wRC+. Minus his rookie season (2007) in which he had just 139 plate appearances, these are all career-worst totals.
These marks also rank him among the worst hitters in baseball this season. His OPS (.594), strikeout rate, wOBA, wRC+, and his wins above replacement (fWAR), according to FanGraphs, all rank within the top-10 worst totals this season.
Gomez has never had a fWAR of below 1.0 for a season in which he's played more than 100 games, yet his total in 84 games this season is -0.4.
His struggles this season are not tied to bad luck -- his batting average on balls in play is .300, and his hard-hit rate in just 29.3% -- but rather in part because of his inability to make consistent contact.
Contact Woes
Gomez has always been a free-swinger, as he has swung at pitches outside the strike zone (O-Swing%) 36.5% of the time for his career. This season is no different. His O-Swing% in 2016 is 36.6%, but the difference this year is how often -- or rather how little -- he's making contact.
Gomez is making contact with pitches he swings at just 66.9% of the time, significantly below the 75.8% career mark he had at the start of the season and well below the current league average (78.3%). Even more drastic is the percent of pitches he makes contact with that are outside the strike zone.
Last season, Gomez made contact with 64.5% of the pitches he swung at that were balls. This season, that number has dropped a whopping 15.1 points to just 49.4%. Yikes.
His swinging-strike percentage of 17.7% is not only the second-highest mark in baseball but is almost five points higher (4.8%) than what Gomez's career total was entering 2016.
Simply put, he's swinging just as often, but he's missing a whole lot more and it's led to a frustrating season for Gomez.


Unfortunately for Gomez, good things aren't happening even when he is making contact.
Batted Ball Profile
His hard-hit rate this season is 29.3%, which is his lowest mark since the 2010 season. Perhaps not coincidentally, the two best seasons by fWAR for Gomez came in 2013 and 2014, and his hard-hit rates these seasons (37.0% and 35.9%, respectively) are the two highest marks for his career.
Not only is Gomez not hitting the ball hard, but he's also seen a significant change in the types of balls he puts in play.
Entering the 2016 season, Gomez had a career ground-ball rate of 42.2% and a fly-ball rate of 39.3%. These totals have switched to 48.4% and 29.6%, respectively, this season.
Ground balls tend to go for hits more often than fly balls, but fly balls go for extra-base knocks more often than ground balls. This might help explain why Gomez only has 22 extra-base hits this season -- the same as Billy Hamilton -- and just a .112 ISO, which is Gomez's lowest mark since 2010.
Rest of Season Outlook
Our projections don't expect things to improve much over the remaining course of the campaign, forecasting a .228 average and .650 OPS. He turned 30 years-old in December, so perhaps Father Time is starting to call Gomez's name or maybe his struggles are tied to being banged up this season. (He's battled rib cage and hamstring issues.)
Regardless, Gomez's increase in swings and misses and decrease in hard-hit rate have led to a season that has been disappointing enough to be classified with the game's worst. It's quite a fall for a guy who was a 7-win player in 2013, and there doesn't appear to be any sign of an impending turnaround.