Albert Pujols' Recent Tear Shows He's Not Done Crushing Just Yet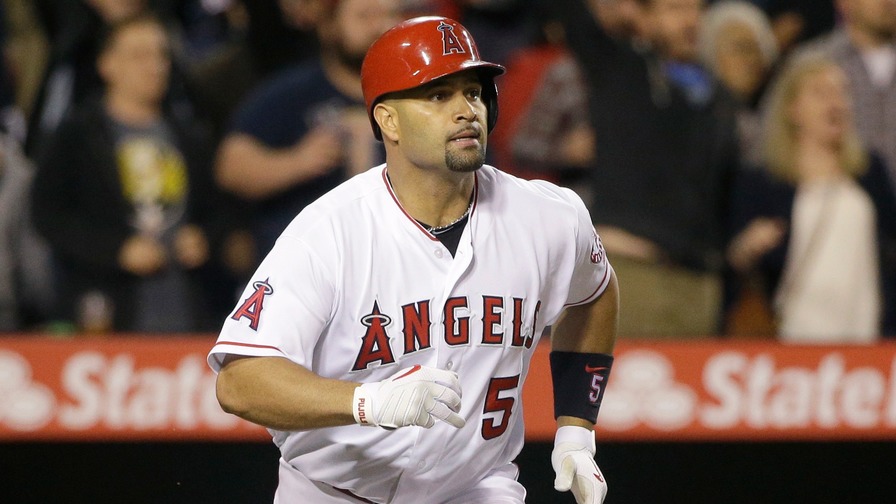 With all of the young superstars that Major League Baseball is flaunting right now, it's easy to forget that the old dudes can still slang it.
Albert Pujols is doing his best to remind us.
.@PujolsFive is twice as nice. #Angelshttps://t.co/2R7xTTb6aw
— Angels (@Angels) July 17, 2016

That was back on Sunday, when Pujols launched a pair of dingers to help the Los Angeles Angels knock off the Chicago White Sox, 8-1. Just in case that wasn't enough to convince us that he was still able to mash, Pujols unleashed a three-run tank last night.
#️⃣5️⃣7️⃣8️⃣ pic.twitter.com/9AbIrlOvdv
— Angels (@Angels) July 20, 2016

Three home runs in a three-game span? Not too shabby for the 36-year-old future Hall-of-Famer. But then he got his D.J. Khaled on.
Another one.
The vaunted double-double dong. That's how you announce your continued relevance.
Pujols has slammed 579 home runs in his career, and last night was his 54th multi-homer game, so this really shouldn't come as a surprise. But with Pujols' slash line sitting at a disappointing .244/.320/.409 prior to his other-worldly stretch, it's easy to see why it's noteworthy for the former MVP.
Don't dismiss this as just a fluke, though; in looking at Pujols' recent batted-ball stats, it starts to seem as if this scorching run may be just the start of a complete resurgence.
Universal Improvements
Nobody would blame you if you were a bit down on Pujols earlier in the year. On June 20th, he was hitting .234/.312/.396 with just 12 home runs in 298 plate appearances. He was dealing with hamstring and ankle injuries that forced him to miss a few games, and he had basically every red flag imaginable for an older power hitter.
Then, suddenly, everything changed.
Pujols returned from the injuries on June 23rd, and he has been obliterating baseballs ever since. His slash his past 98 plate appearances is a sickly .310/.388/.607, and he's got the peripherals to back that up.
| Time Frame | Walk Rate | Strikeout Rate | Hard-Hit Rate | Soft-Hit Rate | Fly-Ball Rate |
| --- | --- | --- | --- | --- | --- |
| Before Injury | 10.1% | 12.1% | 33.8% | 20.8% | 35.9% |
| Since | 11.2% | 9.2% | 39.0% | 14.3% | 40.3% |

Pujols has improved in every important, quickly-stabilizing category, sometimes even dramatically so. This is where we would look to see if his recent success was sustainable, and it really seems like it might be.
In viewing the past 30 days, Pujols is in pretty elite company. He's one of only nine batters with a strikeout rate below 10.0%, and that list includes a bunch of slap hitters who won't do much when they put the ball in play. Pujols and David Ortiz are the only ones of the group who are simultaneously rocking a hard-hit rate of at least 40.0% over that span. Their combined age is 76 years old.
Don't hand over the reins to the youngsters just yet.
Pujols' pop has given the Angels' offense new life that it didn't have earlier in the year. They lead the league in wRC+ over the past 30 days and have struck out a jaw-dropping 13.5% of the time. For context, the league-wide strikeout rate in those 30 days is 20.7%. Gross.
All of that may not matter much given the hole the Angels dug themselves earlier in the year. They're 42-52 with just 0.6% odds of making the postseason, according to numberFire's algorithms. Sitting fourth in the division, the playoffs are out of consideration.
That shouldn't stop us from appreciating the run that Pujols is on. There may not be many more years in which we can watch this all-time great swing the stick, so seeing him catch fire now just seems like a blessing. This isn't to say that the end is nigh, though. As Pujols has shown, even at his advanced age, he can still hang with baseball's new crop of talent.