4 Daily Fantasy Baseball Stacks for 4/5/16
Stacking can be a controversial topic in many daily fantasy sports, but you can count baseball as a glaring exception. Here, it's universal.
Using multiple players on the same team on a given day presents you with the opportunity to double dip. If one of your players hits an RBI double, there's a good chance he drove in another one of your guys. When you get the points for both the run and the RBI, you'll be climbing the leaderboards fast.
Each day here on numberFire, we'll go through four offenses ripe for the stacking. They could have a great matchup, be in a great park, or just have a lot of quality sticks in the lineup, but these are the offenses primed for big days that you may want a piece of.
Premium members can use our new stacking feature to customize their stacks within their optimal lineups for the day, choosing the team you want to stack and how many players you want to include. You can also check out our hitting heat map, which provides an illustration of which offenses have the best combination of matchup and potency.
Now, let's get to the stacks. As a note, these will only be relating to the main slate for the day with contests starting at 7 pm Eastern. If you're playing the early slate, a little tango with the New York Mets might not be a bad idea. Otherwise, here are the teams you should be targeting in daily fantasy baseball today.
Tampa Bay Rays
You may be wondering why we'd want to stack against Toronto Blue Jays starter Aaron Sanchez, a man who can unleash this nastiness on batters without notice.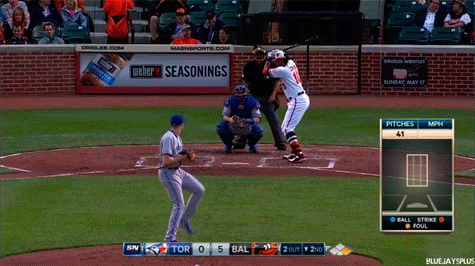 That ain't right, man.
While Sanchez has some filth in his arsenal, it hasn't translated into success as a starter yet. In his 11 starts last year before being sent to the bullpen, Sanchez had a 5.01 SIERA with a 15.0% strikeout rate and 13.2% walk rate. Even if the Tampa Bay Rays flopped as a stack yesterday (my bad, yo), I'll happily give it another shot when that's potentially on the table.
Sanchez's major malfunction comes against left-handed batters. He had a 5.27 xFIP against them last year with more walks than strikeouts. This means any person who can swing a bat from the left-hand side of the plate for the Rays should be on your radar. A middle-of-the-order stack involving Logan Morrison, Corey Dickerson, and Brad Miller -- despite going a combined 0-for-9 yesterday -- could be a fun one for your tournament entries.
Arizona Diamondbacks
This is a stack that could really go either way. I wouldn't blame you for stacking the Colorado Rockies against Shelby Miller, who had a mediocre 4.16 SIERA last year. Instead, we'll ride with Vegas as the Arizona Diamondbacks have the highest implied team total on the slate and stack against Rockies starter Chad Bettis.
Bettis' numbers are heavily inflated by pitching in Coors Field, as illustrated by his respectable 3.35 ERA last year on the road. However, he still has a below-average strikeout rate and above-average walk rate when he exits Colorado's thin air, making him a pitcher we can target in stacks, even if he's not as bad as his traditional stats make him look.
Bettis struggles a good amount against left-handed batters, meaning you need some exposure to David Peralta and Jake Lamb. Through his first 695 plate appearances against right-handed pitchers, Peralta is slashing .321/.369/.535 against righties with a 34.5% hard-hit rate and 17.7% strikeout rate. Lamb dealt with injuries all of last year, but he still posted a 37.6% hard-hit rate against righties. Their prices are well below where they should be on both FanDuel and DraftKings, allowing you to potentially afford Paul Goldschmidt if you so choose.
Seattle Mariners
There were two situations last year when it was abundantly fruitful to target the Seattle Mariners. Those were when they were on the road and when they were facing left-handed pitching. They're doing both of those today with Martin Perez starting for the Texas Rangers, so let's go back to the well.
Perez is able to cap the upside on opposing offenses a bit with an impressive 59.9% ground-ball rate, but the rest of his arsenal leaves a bit to be desired. His 14.2% strikeout rate is the lowest of any starter going today, and his 7.1% walk rate is merely a bit below average. He's not a bad pitcher by any means, but putting that in the sixth-ranked park factor against a team that was eighth in wRC+ against lefties is asking for trouble.
Your mind may tell you automatically to use Nelson Cruz and Franklin Gutierrez given how good they are against left-handed pitchers, and you are most definitely right in that. Just don't forget about Kyle Seager. Despite not having the advantage of batting from the right-hand side, he still maintains a below-average strikeout rate and a hard-hit rate that is consistently above average. In a tournament stack, you'd be fine starting with those three bats and going from there.
San Francisco Giants
Based on our one-game sample, we can definitively conclude that the San Francisco Giants have the best offense ever assembled, correct? I'm thinking yes.

Milwaukee Brewers starter Jimmy Nelson -- like Perez -- isn't a bad pitcher. He's just in a bad situation. He's facing the team that was second in the league in wRC+ against right-handed pitching last year in the park that is fourth in park factor. That's a tough environment for anybody.
The big question here is ownership. The Giants were a popular stack in DFS tournaments yesterday, and they pulled through in a big way, which could draw plenty of ownership back their way. However, Nelson's competence may push people elsewhere. If you're looking to avoid the crowd in a tourney, gravitating back to Brandon Crawford -- who wasn't one of the 30 Giants to hit a tank yesterday -- might not be a bad idea.