FanDuel Daily Fantasy Baseball Helper: Friday 9/2/22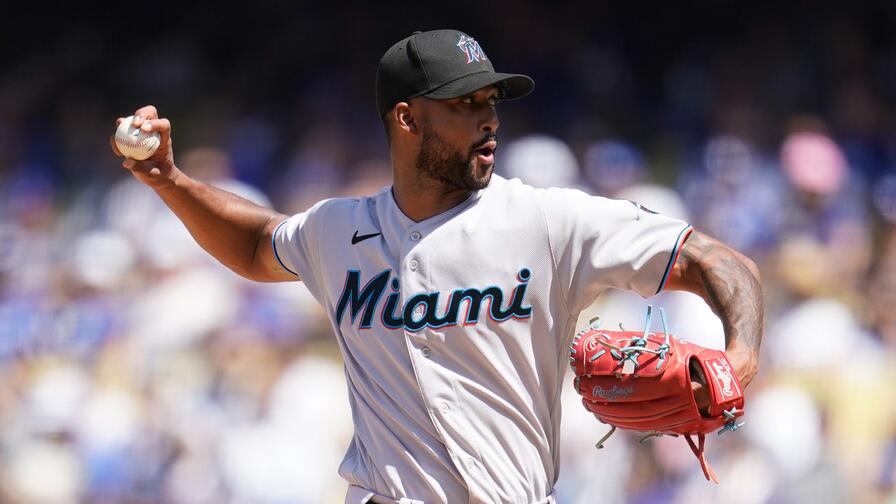 It's a 13-game Friday main slate, and it's one that has a plethora of options for both pitching and stacking. Which options stand out above the rest?
Our daily helper is available every day to analyze FanDuel's main slate and help give you a starting point when you're building lineups. Be sure to also incorporate our great tools into your research process. Whether you're looking for daily projections, the latest starting lineups and weather, or batting and pitching heat maps to find the best matchups -- we've got you covered!
Let's check out the top options on today's main slate.
Pitchers
Charlie Morton ($9,800): There have been some bumps along the way, but Morton has ultimately come away with a 3.41 SIERA, 28.6% strikeout rate, and 8.5% walk rate that's right around what we're used to seeing from him in recent years.
He's demonstrated a fantastic ceiling when he's on his game, notching at least eight strikeouts in nine starts and hitting double-digits five times.
Miami may be a mediocre matchup for strikeouts, but Morton should have an easier time getting through this lineup. The Marlins' active roster has a mere 93 wRC+ against right-handers, and they're displaying a slate-low 2.86 implied total.
Sandy Alcantara ($10,400): Alcantara continues to be the rare DFS hurler who can score boatloads of points despite a pedestrian strikeout rate.
On paper, a 3.50 SIERA, 23.2% strikeout rate, and 6.4% walk rate wouldn't be worthy of a salary over $10,000, but the ace right-hander is an innings machine, going at least seven innings in 18 of 26 starts. He's gone nine innings an unheard of five times, too.
Overall, Alcantara leads the league in innings pitched by 15 frames over the next highest player.

Despite his meh strikeout rate, he should be able to get his share of punchouts if he can put the clamps down on a tough Braves offense. Atlanta's active roster owns a 25.4% strikeout rate against right-handed pitching this season.
Perhaps Morton has the easier path to greatness in his matchup, but there's no question that Alcantara could pop for a big score.
David Peterson ($8,000): This is a fantastic value salary for a guy with a high strikeout rate and an advantageous matchup against the Nationals.

The Nats remain middle-of-the-pack in strikeout rate, but we can surely get on board with an opponent that has an 85 wRC+ versus lefties. Washington's 2.97 implied total is the night's second-lowest.
Despite bouncing around between Triple-A and the big leagues for parts of the season, Peterson has a profile that many teams would happily have in their rotation. While the walks could be better (10.5%), he otherwise has a 3.59 SIERA, 27.5% strikeout rate, and 51.1% walk rate.
Pitch counts aren't a problem, either, as he's hit triple digits in each of his last two starts.
Despite a plethora of intriguing options tonight, Peterson is a no-brainer value play if you need the cap space.
Stacks
Boston Red Sox
Dallas Keuchel has now made starts for three different ball clubs in 2022, and the end of the line is surely near.
The veteran left-hander has been crushed for an 8.84 ERA over 13 starts, and his underlying numbers show a 5.02 SIERA, 13.9% strikeout rate, and 10.0% walk rate. His once elite ground-ball rate is still solid at 50.2%, but it hasn't been anywhere close to enough to balance out all the bad.
Keuchel does have a higher ground-ball rate versus lefties over a limited sample (56.1%), but he's been otherwise poor against both sides of the plate.
While the Boston Red Sox have disappointed this season, even they should be able to take advantage of an over-the-hill pitcher. The Sox have a slate-best 5.06 implied total.
Boston's lineup should mostly feature right-handed hitters, and Xander Bogaerts ($3,800), Trevor Story ($3,700), Tommy Pham ($3,500), and J.D. Martinez ($3,200) should all be batting in the top two-thirds of the order.
Given how poorly Keuchel has pitched, lefty Rafael Devers ($3,900) is an easy inclusion, as well, and let's hope the lefty-lefty matchup prevents him from being as popular as he otherwise would be.
For some value, Bobby Dalbec ($2,300) is a logical choice if he starts. He's endured a lackluster season, but he should have an easier time connecting against someone like Keuchel.
New York Mets
Josiah Gray has flashed his strikeout potential at times, but more often than not, he finds himself fighting a losing battle with his walk and home run issues. Despite a promising 26.3% strikeout rate, Gray is allowing a 9.9% walk rate and giving up 2.34 home runs per nine innings off a sky-high 50.8% fly-ball rate.
The young righty's marks against lefties are particularly worrisome for him. In the split, he has a 5.50 xFIP, 15.3% walk rate, and 25.7% ground-ball rate.
The New York Mets should have plenty of batters who can exploit this weakness between Francisco Lindor ($3,700), Brandon Nimmo ($3,400), Dan Vogelbach ($2,500), Jeff McNeil ($2,600), and Tyler Naquin ($2,100).
And given Gray's overall home-run issues, righty slugger Pete Alonso ($3,700) is also a no-brainer.
Houston Astros

Left-hander Reid Detmers has enjoyed a fine 2022 campaign, but he also doesn't do anything exceptionally well, either, so we could see the Houston Astros doing some damage tonight. The Astros' 4.54 implied total is one of the night's better marks.
Detmers isn't nearly as extreme as Gray, but he has a solid 23.3% strikeout rate that's offset by a less appealing 9.2% walk rate, and while he isn't coughing up home runs in droves, his 37.4% ground-ball rate suggests that more balls should be leaving the park.
When checking out Demters' splits, we see that he gives up more fly balls in same-sided matchups (42.3%) while doling out fewer Ks to lefties (21.7%). He doesn't have a glaring weakness against either side of the plate, but there also isn't anything really scaring us off.
Just as importantly, the Angels' bullpen has the fourth-worst xFIP among active rosters, giving us another reason to put our faith in the Astros.
Similar to the previous two stacks, this feels like a spot where we don't need to be too picky with individual batters, and we know this Houston lineup is deep. Roster the usual studs, and then some top value plays include Jeremy Pena ($2,900), Trey Mancini ($2,900), and Yuli Gurriel ($2,600).