3 MLB Prop Bets to Target on 5/24/18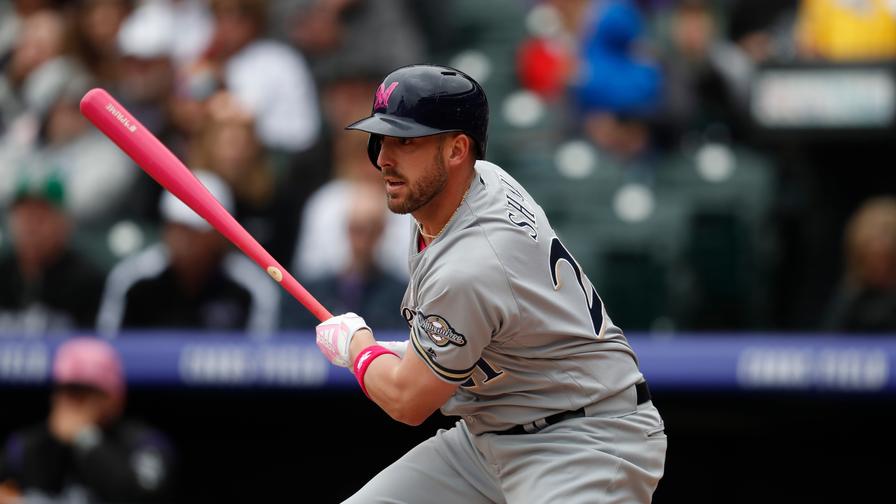 Prop betting odds can be useful in daily fantasy sports to help gauge the potential performance of a player on any given night in the MLB. Likewise, the same principles can be applied in the opposite direction -- by using our fantasy projections and models to help make more informed prop bets.
Using the odds available at Bovada Sportsbook, here are three prop bets available tonight that are good plays based on our daily MLB game projections.
Please note that Vegas lines and our game projections may change throughout the day after this article is published.
Travis Shaw OVER 2.0 Runs, Hits and RBI (+110)
Travis Shaw has tallied a solid .357 wOBA and .271 (ISO) to open 2018, despite his BABIP sitting at a very low .240. His .312 BABIP in 2017 and .297 career average are both strong indicators that we can expect his production to improve as the season goes on, even if the way he hits the ball doesn't change.
Tonight matchup against New York Mets souhtpaw Steven Matz puts him in a pretty good spot to produce. Matz has opened the year with a 4.21 SIERA, which isn't a whole lot better than the 4.71 SIERA he notched in 2017. He's also allowing a career-high 35.3% hard-hit rate with a career-low 12.7% soft-hit rate.
Our models like Shaw to absolutely crush this 2.0 line tonight, projecting him for 2.85, the fifth-most combined runs, hits and RBIs of players in action across all games today. Having the over priced as an underdog while getting an additional layer of safety from the possibility that this bet pushes at exactly 2, you get nice upside without much risk here.
Jorge Soler MORE Runs, Hits and RBI than Jurickson Profar (-130)
As slight favorites in this matchup, the Kansas City Royals' 5.14 implied total suggests that we can expect more offensive out of them than out of the Texas Rangers, who have a 4.86 implied total.
That gives Jorge Soler more potential for runs and RBI right off the bat, and the pitching matchups don't do anything to slant things in Jurickson Profar's favor, either.
Soler has opened the season with a very strong .374 wOBA on a 39.3% hard-hit rate. He'll be taking on Texas' 33-year-old righty Austin Bibens-Dirkx, who has played in just 24 Major League games, having struggled to the tune of a 5.20 SIERA as a rookie in 2017. He has allowed a 40.6% hard-hit and 12.5% soft-hit rate to right-handed bats.

Profar has managed a meager .314 wOBA this season, bringing his career average wOBA to an ugly .293. The switch-hitter also does his best work against right-handed pitching, with an especially-low .270 wOBA against southpaws over his career. Even with Danny Duffy's struggles, those numbers are brutal.

Our models don't expect this to be particularly close, projecting Soler for a combined 2.36 combined runs, hits and RBI, compared to only 1.83 for Profar.
Rick Porcello OVER 6.0 Strikeouts (+100)
Rick Porcello had a down year in 2017, but he has come out of the gate strong in 2018. His SIERA through 10 starts sits at 3.29, and his 10.1% swinging-strike rate and 24.4% strikeout rate are both on pace to be career-high marks.
The Tampa Bay Rays have a 22.0% strikeout rate against right-handed pitchers on the year, and while that's not an awful mark, it's certainly high enough that they're not a bad matchup for Porcello. On top of that, our models expect him to last a long time in this game, projecting him for 6.23 innings pitched.
We forecast him to turn that opportunity into 6.55 strikeouts -- the second-most for any pitcher in action today. With 6.0 being priced as an underdog, that projection leaves the over offering solid value.