The Nationals Need to Fix Their Bullpen Woes Now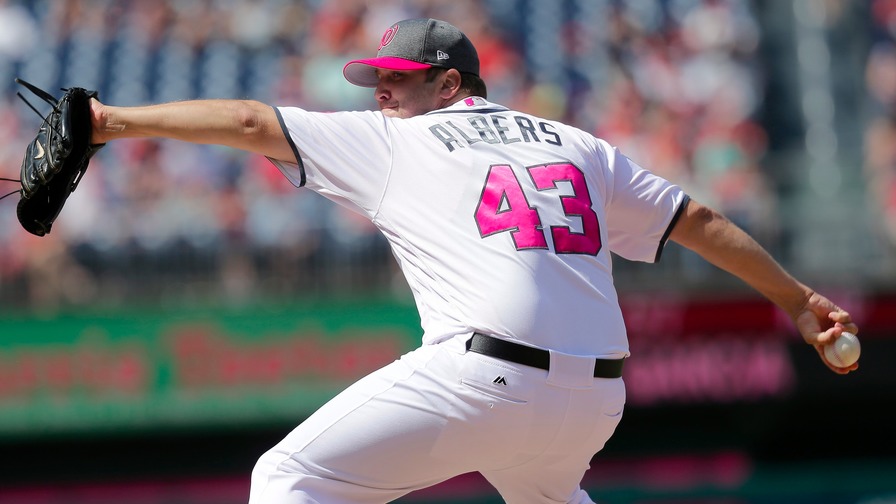 In a tight game, many MLB managers are loathe to let their starting pitchers go through a lineup more than twice, which means relief pitchers are entering games earlier, and more often. For teams with championship aspirations, having a lights-out -- or, at the very least, a competent -- bullpen is vital, especially in October.
The Washington Nationals have perhaps the best offensive lineup in baseball, as well as a solid starting rotation, but their relief corps could keep them from advancing far in the postseason.
In their doubleheader split against the Philadelphia Phillies on Sunday, the Nats gave up three runs in the top of the ninth inning and lost 4-3, blowing a 3-1 lead. In the nightcap, they held a 4-3 lead in the eighth inning before blowing that lead, giving up an RBI triple to Freddy Galvis to fall behind 5-4. Washington got away with it in the second game -- it turns out the Phils' bullpen is as iffy the Nats' -- and pulled out a 6-5 victory, thanks to a Michael Taylor two-run blast in the eighth inning.
Washington has blown eight saves this season, one behind the Phils, Seattle Mariners and Tampa Bay Rays for most in baseball. Their fWAR of -0.5 ranks 28th, and here is where they stand in relation to other 'pens around baseball.
| Category | Stat | Rank |
| --- | --- | --- |
| ERA | 5.33 | 28 |
| FIP | 4.83 | 28 |
| K% | 20.7 | 22 |
| BB% | 7.4 | 2 |
| AVG | 0.277 | 29 |
| WHIP | 1.45 | 23 |
| HR/9 | 1.72 | 28 |

On the plus side, at least the Nationals aren't killing themselves with walks.
The team came into the season with question marks in the bullpen, so none of what's happened is a surprise. Most assumed the team would address the issue over the winter, and rumors of a trade for David Robertson were loud and persistent, but nothing came about. Now, with the season a month-and-a-half old, there are still no established roles for this group.
In the series finale against the Phillies, it was Matt Albers' chance to pitch the ninth inning, which he did effectively. It wasn't the first chance he's gotten in 2017: He had already blown one save this year, but locked down two other games and has a 0.61 ERA to go along with a fielding independent pitching (FIP) of 2.74. He's not a prototypical closer, as evidenced by his 7.98 strikeouts per nine innings, which is just 6th-best out of the 10 relievers who have pitched for Washington this year.
The Nats tried Blake Treinen in the closer's role, but walking 5.40 batters per nine innings and posting an ERA of 8.10 isn't going to get the job done. Enny Romero (4.86 ERA) and Shawn Kelley (7.15 ERA) each have blown two saves this season, with Jacob Turner (2.61 ERA in 6 appearances) and Koda Glover (3.38 ERA in 13 games) each having blown one.
Treinen and Kelly lead the team with three saves apiece, followed by Albers and Glover with two each. While there is a school of thought around baseball that a team doesn't necessarily need defined roles in the 'pen in order to be successful (see Andrew Miller), it's clear the Nationals' issues are simply that none of their relief pitchers have been reliable.
Fortunately for them, there will be options in the trade market. The Chicago White Sox will likely keep Robertson available. The Kansas City Royals might listen if they're ready to start a rebuild, and Kelvin Herrera or Joakim Soria would work. The Oakland Athletics' Ryan Madson or Sean Doolittle (if healthy), the Pittsburgh Pirates' Tony Watson, the Cincinnati Reds Raisel Iglesias, or the Minnesota Twins' Brandon Kintzler are all potential options, as well.
Given the importance of relief pitching, all of these arms would come at a significant cost, most likely a hot prospect or two. But with one of the best collection of position players in baseball and an elite top of the rotation, the Nationals are ready to win now. They might just be willing to jump the market and look to make a deal immediately before the bidding wars officially begin in 6-8 weeks.