UFC Charlotte: Best Bets, Fight Previews, and Daily Fantasy Picks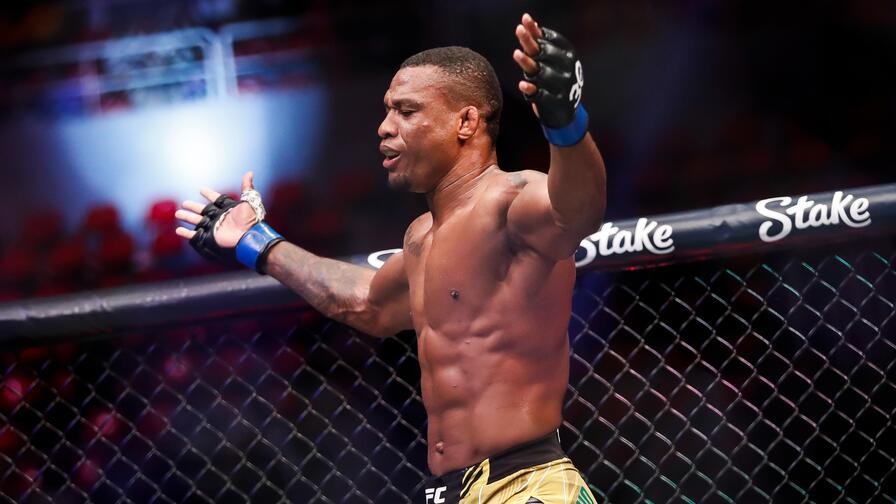 If you crave violence, artistry within the sports world, and competition in its purest form, the Ultimate Fighting Championship might be for you.
Colloquially known as "UFC," the world's largest mixed martial arts promotion holds around a dozen MMA fights a vast majority of the weekend throughout the year. The promotion has fathered some of the largest combat-sport stars of the 21st century, including Conor McGregor and Jon Jones.
There are plenty of ways to get in on the action each and every Saturday. FanDuel Sportsbook provides MMA odds including moneylines, round totals, and prop bets for each fight, and FanDuel Fantasy has several UFC daily fantasy contests with lucrative prizes. No matter your preferred way to play, we'll break down the environment, chances for each fighter to win, and matchup specifics for each bout here.
Without further delay, let's break down the 11 fights at UFC Charlotte: Rozenstruik vs. Almeida, taking place at the Spectrum Center in Charlotte, NC on Saturday.
Tainara Lisboa (-116) vs. Jessica-Rose Clark (-102)
Women's Bantamweight (135 pounds)
Fighter
FanDuel
Salary
Height
Reach
Striking
Success
Rate (SSR)
FanDuel
Points Per Minute
(excl. bonuses)
Tainara Lisboa
$16
5' 6"
--
0.00
0.00
Jessica-Rose Clark
$15
5' 5"
64"
0.43
3.22

If Jessica-Rose Clark can't win this fight, she'll have earned an exit from UFC.
Clark won four of her first six UFC bouts, with the defeats as well-fought decisions. However, she's shown a glaring weakness with consecutive losses by submission -- oddly both by armbar -- to Stephanie Egger and Julija Stoliarenko. Those two are just 2-8 against everyone else, thrusting Clark onto the chopping block.
I'm not the one to tell you why Tainara Lisboa is the one with the opportunity to send her out. Lisboa's 5-2 professional record is bloated with the five wins coming over fighters who are a combined 2-11 professionally -- none of whom, obviously, are close to UFC-level competition.
Lisboa, though, has two pro wins by submission, which is the element of drama here. If Clark's grappling is a lost cause, she could be in trouble, but she's also beaten multi-time UFC winners like Joselyne Edwards and Paige VanZant.
This betting line is indicative of the public selling Clark completely, but an upset would be a stunner, personally.

Betting Verdict: I really have no measuring stick for Lisboa, but placing her with below-average striking and grappling, I've got Clark pegged well over -300. This fight is wildly volatile, so bet wisely.
DFS Verdict: I see many turning to Lisboa with the line movement. However, Clark's skill and experience gap puts a massive ceiling on the table at $15. This fight is -205 to see over 2.5 rounds, though. Oddsmakers don't see that.
Gabe Green (-134) vs. Bryan Battle (+114)
Welterweight (170 pounds)
Fighter
FanDuel
Salary
Height
Reach
Striking
Success
Rate (SSR)
FanDuel
Points Per Minute
(excl. bonuses)
Gabe Green
$16
5' 10"
73"
-0.72
4.15
Bryan Battle
$15
6' 1"
77"
0.55
3.10

UFC would like Bryan Battle to emerge here, but that's far from a certainty.
Battle won the 29th season of The Ultimate Fighter, but his journey is just beginning. He's struggled defensively both striking (40% striking defense) and wrestling (38% takedown defense), and his two wins have come against foes who are 3-6 in UFC. It won't get easier from here.
Conversely, Gabe Green has had to scrap and claw since a hard-fought debut against the now-ranked Daniel Rodriguez. He's toppled prospects Yohan Lainesse and Phil Rowe, and he went the distance with Ireland's budding star, Ian Garry.
At 5'10", Green's defense has been the issue, too. He defends only 46% of significant strike attempts and 53% of takedown attempts. Those are better marks against inarguably tougher competition, though.
Personally, Green's best path here would be wrestling. He's got a 50% takedown accuracy and used it to dispatch Rowe. Green hasn't been finished by larger, more talented strikers, and Battle hasn't shown much in the submission department, so I don't see a finish on that side.
Green opened as an underdog at most books and now sits here. He's been counted out quite a bit, so I don't want to do so here. Battle's weight miss on Friday is also a concern.
Betting Verdict: This number has left the station on value, but perhaps movement toward Battle, as the larger fighter in his hometown, could push this toward the -125 range that I'd bet it.
DFS Verdict: In a similar dynamic as Clark, many will turn to Battle by default, but this fight environment isn't incredibly appealing. With -180 odds to sail over 2.5 rounds, the most FanDuel points either of them has scored in a decision is 103.0 FanDuel points. That was Green ($16).
Ji Yeon Kim (-230) vs. Mandy Bohm (+190)
Women's Flyweight (125 pounds)
Fighter
FanDuel
Salary
Height
Reach
Striking
Success
Rate (SSR)
FanDuel
Points Per Minute
(excl. bonuses)
Ji Yeon Kim
$17
5' 7"
72"
0.02
3.47
Mandy Bohm
$14
5' 7"
71"
-1.27
1.92

Though she isn't a household name, Ji Yeon Kim might be one of the unluckiest fighters in the UFC.
Her four-fight skid has passed through four multi-time UFC winners, including Alexa Grasso, the champion of this division. Still, Kim's +0.02 SSR is passable, and it's a product of a +20 striking differential in this stretch. Now, her 42% takedown defense is a disaster, but Mandy Bohm hasn't landed any of her five attempts on weaker foes.
Bohm, a native of Germany, has had an awful start to her career. She's 0-2 with a -38 striking differential. However, her striking accuracy (42%) and defense (58%) are both higher than Kim's.
With this fight a whopping -380 to see north of 2.5 rounds, Kim likely finds herself in another tight battle that heads to the cards. With the state of MMA judging in 2023, I wouldn't be surprised at another poor decision against her, but she's got significantly more high-level experience here.
Betting Verdict: Kim should be ahead here, but her lack of power can absolutely let Bohm hang around in this fight. I don't see any value in a fight that likely heads to a close decision.
DFS Verdict: There's a push and pull in DFS. The floor in this fight is high, and Kim's pace (16.1 significant strikes attempted per minute) should put points on the board. Given this bout also doesn't have much finishing juice, Bohm at $14 could end up a solid piece in a win or loss.
Carlos Ulberg (-420) vs. Ihor Potieria (+310)
Light Heavyweight (205 pounds)
Fighter
FanDuel
Salary
Height
Reach
Striking
Success
Rate (SSR)
FanDuel
Points Per Minute
(excl. bonuses)
Carlos Ulberg
$22
6' 4"
77"
4.74
5.36
Ihor Potieria
$8
6' 3"
75"
-0.73
2.83

I expected a tougher opponent for Carlos Ulberg by this point.
After defeating multi-time winners like Tafon Nchuwki and Nicolae Negumereanu, Ulberg sees a step back to Ihor Potieira here. Poteira was soundly defeated by Negumereanu in his debut, and Nicolae just suffered a swift loss to "Black Jag" Ulberg.
The City Kickboxing 205er is an elite striker, evidenced by a card-best +4.74 SSR. He's landed 62% of the significant strikes he's attempted. He's a handful, but that'll be especially true when considering Potieria's -0.73 SSR and poor 43% striking defense.
Unless "The Duelist" has a wrestling element we haven't seen, he's in big trouble against Ulberg here. Even if that was the case, Ulberg's 100% takedown defense has stood tall against better tests. Personally, he's the best pick on the card.
Betting Verdict: I've got Ulberg closer to -700, but rather than pick up pennies in front of a bulldozer, I'll back Ulberg by KO/TKO (-175) in this fight.
DFS Verdict: At $22, Ulberg's pace is an underrated part of his MVP case. Even in a potential decision, he's third on the card in FanDuel points per minute (excl. bonuses) at 5.36. He's the top MVP candidate for me.
Cody Stamann (-156) vs. Douglas Silva de Andrade (+132)
Men's Bantamweight (135 pounds)
Fighter
FanDuel
Salary
Height
Reach
Striking
Success
Rate (SSR)
FanDuel
Points Per Minute
(excl. bonuses)
Cody Stamann
$17
5' 6"
64"
0.88
3.67
Douglas Silva de Andrade
$14
5' 7"
68"
-0.42
2.50

This is a battle of bantamweight gatekeepers.
All five of Cody Stamann's UFC losses are either currently ranked or retired that way. Three of Douglas Silva de Andrade's five losses fit that description. They've handled the entry-level guys but struggled with ranked vets.
Still, Silva de Andrade's profile is one I'd prefer not to back. Averaging just 0.68 takedowns per 15, you'd call him a striker, but landing just 3.61 significant strikes per minute with poor 39% accuracy, he hasn't done that well, either. He's relied on his power (1.25% knockdown rate) to dispatch weaker foes.
However, Stamann has never been professionally knocked out behind an excellent 62% striking defense. He's a threat striking (+0.88 SSR) or wrestling (2.41 takedowns per 15), but he's a bit limited in the submission department. He's never offered one.

Still, I'll overlook that threat when he's got a defined offensive identity -- and Silva de Andrade just doesn't. There's also a decent age gap here between Stamann (33 years old) and DSDA (37).
Betting Verdict: I've got Stamann closer to -175, so there's a smidge of value here. Stamann by Points (+100) is the most likely prop.
DFS Verdict: This fight is -220 to go over 2.5 rounds, and that's a staple of a Stamann bout. Of his 12 career fights, 9 have gone the distance. It's not a dynamic DFS fight, but Stamann is my clear pick to win at $17.
Karl Williams (-390) vs. Chase Sherman (+310)
Heavyweight (265 pounds)
Fighter
FanDuel
Salary
Height
Reach
Striking
Success
Rate (SSR)
FanDuel
Points Per Minute
(excl. bonuses)
Karl Williams
$21
6' 3"
79"
1.17
3.44
Chase Sherman
$9
6' 4"
78"
-0.55
3.82

This fight was canceled in April, but it's not like we were clamoring for a re-booking.
Chase Sherman has been in huge trouble anytime he's been asked to wrestle in UFC. His 66% takedown defense is fine on paper, but he's lost all five fights in which he's been taken down. That includes ugly submission losses to Jake Collier and Alexandr Romanov, both of whom were out of shape and finished in their subsequent bouts.
From his debut, we know Karl Williams can wrestle. Infamously, I had a high opinion of Lukasz Breszki entering Williams' first bout, and Williams took Breszki's 100% takedown defense and squashed it. Williams landed 8 of his 13 takedown attempts, and most importantly, his cardio held well to dominate the fight for all 15 minutes.
Sherman is likely a better striker than Brzeski, but his 0.33% knockdown rate is tiny. Without a knockout blow, there's just minimal hope he can keep Williams off of him before the destruction that's come in previous fights against wrestlers.
Betting Verdict: Williams has zero pro wins via submission and zero attempts in UFC. I actually think +160 odds that he pounds Sherman out of there by KO/TKO are quite appealing without that threat.
DFS Verdict: In Sherman's five losses ceding a takedown, the opposing fighter averaged 114.1 FanDuel points and never fell below 80. Williams topped 100 FanDuel points in his debut. He's an MVP-caliber guy at $21.
Court McGee (-220) vs. Matt Brown (+184)
Welterweight (170 pounds)
Fighter
FanDuel
Salary
Height
Reach
Striking
Success
Rate (SSR)
FanDuel
Points Per Minute
(excl. bonuses)
Court McGee
$18
5' 11"
75"
0.99
3.72
Matt Brown
$13
6' 0"
75"
0.83
3.38

I call fights like these "sticker short fights" because most of the highlights shown on Saturday for these two came when UFC allowed sponsors on custom uniforms.

While 38-year-old Court McGee and 42-year-old Matt Brown are pioneers and legends from a different era, tread carefully on this one considering it's happening in 2023.
That said, I don't really understand this betting line. McGee was knocked out in his last fight by Jeremiah Wells, and his last win over a fighter still on the UFC roster came back in 2013, so you can't possibly have this much conviction he dispenses of the durable Brown.
Honestly, Brown has a lot to like. He's 3-6 in his last nine fights despite a +0.83 SSR overall, and he's still performing well. He knocked out Dhiego Lima in 2021 before a split decision with the viable Bryan Barbarena that just didn't go his way.
It's possible McGee grinds out a win with his primary approach, which is wrestling. However, he's had just a 25% takedown accuracy and has abandoned it at times. Brown has also defended 12 of the last 14 takedowns he's faced.
With that said, I see this fight as a total dog-or-pass scenario -- especially when Brown showed fight-ending power so recently.
Betting Verdict: As this line steams toward McGee, I'd only advise a small dart at Brown by KO/TKO (+400), and if it doesn't happen...move on.
DFS Verdict: McGee has eclipsed 65 FanDuel points just once in his last 14 fights. You're going out on a limb to expect better here. I'll use Brown at $13 for salary savings.
Alex Morono (-220) vs. Tim Means (+184)
Welterweight (170 pounds)
Fighter
FanDuel
Salary
Height
Reach
Striking
Success
Rate (SSR)
FanDuel
Points Per Minute
(excl. bonuses)
Alex Morono
$18
5' 11"
72"
1.13
3.35
Tim Means
$13
6' 2"
75"
1.33
3.46

A majority of this main card is at welterweight, including these next two sublime striking battles.
Alex Morono is a deserved favorite here. On top of a significant age gap, the best recent result either of these two has is Morono's win over Matt Semeslberger with a +33 striking differential. Morono is athletically limited, but he makes up for it with excellent pace (5.22 significant strikes per minute) and efficiency (+1.13 SSR).

However, he's not without his warts. His lack of athleticism shows heavily in a low knockdown rate (0.48%) and takedown defense (53%).
That takedown defense is an underrated part of handicapping this fight; I wouldn't have even guessed Tim Means averages 1.41 takedowns per 15 in UFC. I think of "The Dirty Bird" as a long, savvy striker behind his excellent 60% striking defense.
Means was knocked out by Kevin Holland, but he's otherwise been durable into his late 30s. However, given Morono's lack of power, this should be a close fight nearing the judge's scorecard, and if that's the case, Means is a value at this number. The wrestling element is something to watch, too.
Betting Verdict: I've already deployed a half-unit on Means as a value play, but it wouldn't be shocking at all to see Morono lead the dance and come out on top.
DFS Verdict: If there isn't going to be an explosive finish, Morono at $18 might be a touch overvalued. This fight -- and the next -- are viable for a stack. Both of these fighters average nearly five significant strikes per minute.
Ian Machado Garry (-310) vs. Daniel Rodriguez (+240)
Welterweight (170 pounds)
Fighter
FanDuel
Salary
Height
Reach
Striking
Success
Rate (SSR)
FanDuel
Points Per Minute
(excl. bonuses)
Ian Machado Garry
$20
6' 3"
74"
2.60
4.19
Daniel Rodriguez
$10
6' 1"
74"
2.20
4.74

I understand Morono's standing as a heavy favorite despite disagreeing with my assessment. I don't understand or agree with Ian Machado Garry as one given his resume. It seems to be all hype.
Against his significantly lesser competition, Garry (6.79) has landed fewer significant strikes per minute than Daniel Rodriguez (7.42), and Rodriguez's 56% striking defense is higher than Garry's (52%). Though this is a battle of strikers, Rodriguez is also the only one of these two with a win via submission in UFC.
Garry's four opponents are a combined 7-13 in UFC-affiliated bouts. Rodriguez has faced three straight fighters who have held a UFC ranking since the COVID break. It's not even the same galaxy of competition.
Even worse, Garry was knocked down and nearly finished in the first round of his last bout. He came back to win by KO himself, but it was a nerve-wracking sign set to face -- by far -- his toughest test with the promotion.
Though scary to be so far off from the books, I truly don't understand these odds other than contextualizing them with Garry's hype for holding the longest undefeated UFC streak for an Irishman since...Conor McGregor.
Betting Verdict: I've laid a unit on Rodriguez's ML (+240). He has a significant chance in all three outcome areas -- including a submission, which Garry has never faced. I'll likely just stick to that appealing line.
DFS Verdict: This is a striker's delight that should provide both guys with a high floor of points, but if it sees a full 15 minutes as expected, Rodriguez at $10 would be the valuable side -- win or lose.
Johnny Walker (-110) vs. Anthony Smith (-110)
Light Heavyweight (205 pounds)
Fighter
FanDuel
Salary
Height
Reach
Striking
Success
Rate (SSR)
FanDuel
Points Per Minute
(excl. bonuses)
Johnny Walker
$16
6' 6"
82"
0.78
2.59
Anthony Smith
$15
6' 4"
76"
-1.38
2.20

Johnny Walker and Anthony Smith are tied for the lowest striking defense (42%) in the light heavyweight rankings and are tasked to deal with each others' sizable power. What could go wrong?

Anyone looking at the reach, SSR, and activity here would favor Walker, which is why he's getting 64% of the tickets to win. However, the intangible gap in competition here is worth nothing. Walker's best performance when foraying into UFC's top-eight rankings was a fight with Ryan Spann where he was dropped twice before a miraculous come-from-behind knockout.
Smith has a longer sample at the top. He went the distance with Jon Jones in a 2019 title fight, and he's fought Spann. He dominated the fight with two knockdowns before a quick-and-easy submission. There's a gap in skill and competition level here.
To me, "Lionheart" Smith's best asset here will be his general durability. All eight of Walker's UFC wins came in the first round, and Smith hasn't been finished in the first since a 2013 submission.
With that known and a sizable experience edge, I'll sell the red-hot Walker and his winning skid. He hasn't shown a tangible skill improvement beyond just athletically overwhelming guys, and Smith has shown time and time again that if that's the plan, you're in trouble.
Betting Verdict: I've got one unit on Smith's moneyline (-110). The fact this is the first time since 2018 I've picked him to win a fight makes me comfortable that I'm not overlooking his concerns more than Walker's.
DFS Verdict: This is a wild fight with an explosive score on one side or another. Smith will be far less popular based on recent results in the box score and general perception. I'll take that at $15.
Jailton Almeida (-550) vs. Jairzinho Rosenstruik (+390)
Heavyweight (265 pounds; Five-Round Main Event)
Fighter
FanDuel
Salary
Height
Reach
Striking
Success
Rate (SSR)
FanDuel
Points Per Minute
(excl. bonuses)
Jailton Almeida
$23
6' 3"
79"
3.85
5.94
Jairzinho Rozenstruik
$12
6' 2"
78"
-0.30
1.76

This will be the simplest main event I'll handicap all year. Either Jairzinho Rosenstruik will get the early knockout, or he'll get dragged all over the canvas.
Rosenstruik's 2.71% knockdown rate is enormous. That leads all ranked heavyweights, so it's definitely worth the 20.4% implied odds on this moneyline that he wins. The problem is that his -0.30 SSR tells the tale; he hasn't been all too efficient in landing that seminal blow.
It's additionally possible because Jailton Almeida's striking defense is just 10% at this stage, but that's more indicative of a non-existent sample at distance.
Almeida has manhandled two different weight classes to the tune of 6.73 takedowns per 15 minutes with remarkable 70% accuracy thus far. He's also attempted 2.2 submission attempts per 15 minutes and finished all four UFC-affiliated appearances.
Rosenstruik's takedown defense is poor (58%), and his power will only be sapped by the intense grappling that the much faster, lighter Almeida will bring. He needs a quick finish or Almeida should win in dominant fashion -- likely by a fifth straight finish.
Betting Verdict: Considering Rosenstruik's power, Almeida's moneyline feels like picking up pennies in front of a bulldozer. There are better spots to bet this card, but he is a dicey parlay piece if you're as skeptical of Rosenstruik as I am.
DFS Verdict: $12 is a fair salary for the underdog, who would likely top 100 FanDuel points with an upset knockout. I just can't see it happening before Almeida gets to his dominant grappling. He's got upside for multiple takedowns in a quick finish as an MVP candidate.