Betting Guide for UFC Vegas 41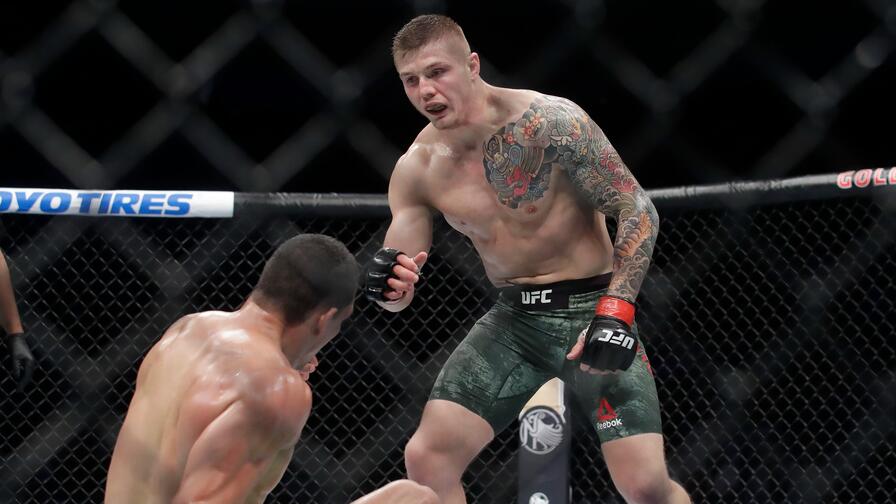 I tend to bet UFC at longer odds, taking educated guesses at fight environments and potential ending sequences. There are a lot of different outcomes that fights can end up within a vacuum -- including a poor decision from the judges. There aren't many even-money tickets worth placing this weekend, but there are a few spicy plus-money places to target.
UFC Vegas 41: Costa vs. Vettori takes place Saturday from the UFC Apex facility in Las Vegas. Where is the sharpest place to wager on Saturday's card using UFC odds?
Marvin Vettori by TKO or Submission (+165)
At the beginning of the week, I never would have expected to end up here. But what a week it has been.
Paulo Costa has made middleweight successfully for five UFC appearances, but this week, the Brazilian appears to just not care to cut weight. He showed up in Las Vegas at 211 pounds, with no real plan to make the 186-pound middleweight limit. This fight continues as an unspecified catchweight, but Marvin Vettori (-192) appears in for an easier night than expected.
I had already Vettori pegged as the projected winner in this fight. His 63% striking defense is tops amongst all ranked middleweights, and he has starched two ranked opponents in the last 10 months. Costa does not have a win over a fighter that remains with UFC.
In his last fight, Paulo Costa's wild pace came to a standstill. He only attempted 26 strikes in 9 minutes of fight time. Some may say that was due to middleweight champion Israel Adesanya's acumen, but Vettori has now given Adesanya two competitive fights that went the full distance. Vettori is not a significant step behind Adesanya.
Off a 13-month layoff and actively showing up overweight asking for a plea deal, Costa may be totally broken. Vettori's skill advantage in all three phases (Costa has never attempted to wrestle or grapple in the UFC) and customary tip-top physical shape should allow him to close the show before a full 25 minutes in this spot.
This number likely won't stay +165 for long; Vettori's moneyline odds have shifted on FanDuel Sportsbook from -142 to -192 in the past 24 hours.
Alex Caceras to Win (+235)
Usually, if I can't get a substantial argument for the other side beyond "he's really good," that hints I am on the correct side of a potential underdog play.
Seung-Woo Choi is a -300 favorite over Alex Caceras (+235) on Saturday, and for the life of me, I cannot figure out why. Coming off a knockout in June, the perception is Choi is a better striker than Caceras, but his peripherals say the opposite.
Choi only averages 3.31 significant strikes per minute with below-average marks in offensive (41% striking accuracy) and defensive (46% striking defensive) efficiency.
On the other side, Alex Caceras has a 25-fight UFC sample that demonstrates excellent striking. Caceras averages 4.10 significant strikes per minute on 50% accuracy, and he keeps a 65% striking defense with that mark.
Caceras has won four fights in a row and he's only 33; he's not washed. He's also only been knocked out once in those 25 fights.
The handicapping in this spot seems heavily influenced by recency and the underwhelming nature of Caceras' career. Caceras has struggled with submissions in his career (7 losses by tap out in 12 pro defeats), but Choi has never attempted one in UFC. In a striking match, the durable Caceras is historically much more efficient, and his +235 odds are insane value.
Dart Throw of the Week: Livia Renata Souza by Submission (+650)
One thing is certain in a Randa Markos fight recently -- she will be on the ground.
Markos has spent at least 37.4% in her opponent's control in each of her last five fights. Generally, that allows submission opportunities for skilled grapplers and provides points from the judges for wrestlers without that skill acumen. Either way, it ain't great, and that is how Markos has lost four of her last five UFC appearances.
I've backed Markos in some of those bouts, but she seems entirely incapable of preventing the large mental gaffes. Her opponents have nine fight-ending sequences (knockdowns plus submission attempts) in that same five-fight sample.
Even coming off a tough loss, Livia Renata Souza (-126) can find openings. Souza averages 1.2 submission attempts through her first five UFC fights, and her only two setbacks were to the ranked Amanda Lemos and top prospect Brianna Van Buren. A sliding veteran like Markos? Much easier to handle.
Souza struggles on the feet offensively, but she generally keeps herself safe from major damage with a 62% striking defense. That allows her to get to her excellent Brazilian jiu-jitsu, which she has used to lock up 8 of her 15 pro wins by submission.
At north of six-to-one odds, there is immense value on the "The Brazilian Gangster" using her best weapon to finish the fledgling Canadian Markos.