4 FanDuel Premier League Studs to Target for Matchweek 6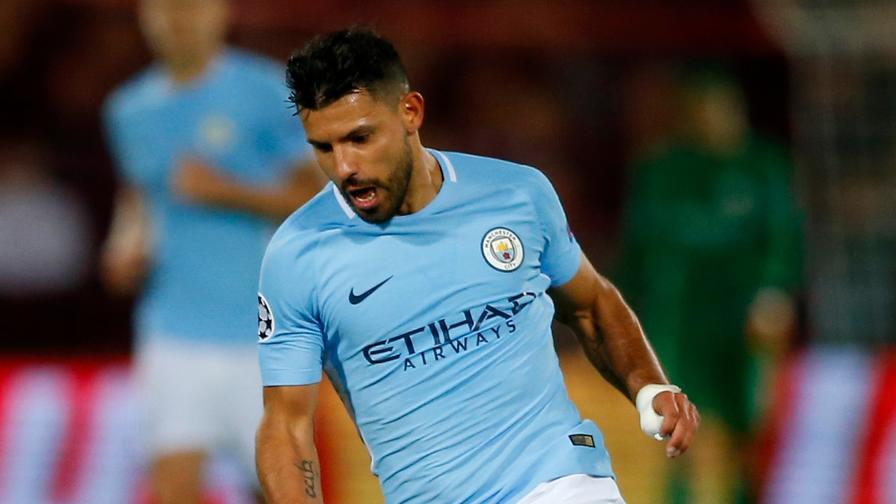 As is the case when playing any sport on FanDuel, it's imperative to hit on high-priced studs, the players in which you've made the biggest investment. This is especially true with strikers in soccer as goals are often the difference between winning and losing in DFS.
Let's take a look at some high-priced players -- all across the pitch -- who, despite costing a good chunk of change, are worth the investment.
This article is geared toward FanDuel's main slate, which begins at 10 a.m. EST Saturday and features seven matches.
Matchweek 6
Saturday, September 23rd
Huddersfield at Burnley
Watford at Swansea City
Chelsea at Stoke City
Bournemouth at Everton
Crystal Palace at Manchester City
Manchester United at Southampton
Liverpool at Leicester City

Let's get to it.
Forward
Sergio Aguero, Manchester City
FanDuel Price: $13,000
Manchester City is going to see an insane amount of ownership this weekend, and it's fully deserved. The Citizens are rolling, scoring a whopping 11 goals across their last two Premier League fixtures (which is to say nothing of the 5-0 beatdown they handed Feyenoord in the Champions League).
Manchester City is a commanding 2.5-goal favorite at home against Crystal Palace, and with the match boasting a 3.5-goal over/under, the Citizens have a mouth-watering 3.0-goal implied total. They are the slate's biggest favorite, have the highest implied total and are in excellent form -- yowza.
The only question is which forward to roster?
Sergio Aguero has five goals and two assists in four EPL starts and five total league appearances. Gabriel Jesus ($11,500), meanwhile, has four goals while starting all five league fixtures. Both guys are superb plays this week, but the edge goes to Aguero due to playing time.
Jesus has yet to play a full 90 minutes through the first four matchweeks, averaging 65.6 minutes per EPL match. Aguero, on the other hand, has only been subbed off once in his four starts, and he's averaging 35.8 FanDuel points per match.
The only concern here is Aguero's likely high ownership. With the Argentine coming off an 85-fantasy-point explosion (yes, 85) and with City in such a pristine spot, Aguero will probably be Regina George levels of popular this week. Jesus will be chalk, too, but he's unlikely to see as high of ownership as Aguero. If either Jesus or Aguero starts on the bench for some reason, the other would be a must-play.
Midfielder
Mohamed Salah, Liverpool
FanDuel Price: $10,500
Liverpool and Leicester City tangle in a match in which both teams offer a lot of intriguing options. Sadio Mane is still suspended for Liverpool, which locks in Mo Salah as a key cog in the Reds' high-powered attack.
In his first campaign on Merseyside, Salah has poured in three goals with one assist in four starts. He's racked up at least 47.5 FanDuel points in two of his last three matches. In the one league match Liverpool have played sans Mane, Salah scored a goal and created three chances in a 47.5-FanDuel-point outing against Burnley.
| Opponent | Goals | Assists | Chances Created | Shots on Goal | FanDuel Points |
| --- | --- | --- | --- | --- | --- |
| Arsenal | 1 | 1 | 1 | 5 | 53.75 |
| Manchester City | 0 | 0 | 1 | 1 | 9 |
| Burnley | 1 | 0 | 3 | 4 | 47.5 |

Leicester, even though they're at home, will likely set up similar to how Burnley did versus Liverpool -- packed in tight and willing to play on the counter. After all, Liverpool's road possession rate (46.2%) is actually higher than Leicester's home possession clip (44.8%).
The Reds are a 0.5-goal favorite in a match with a tasty 3.0-goal over/under, giving them a 1.75-goal implied total, the second-best of the slate. Salah and fellow midfielder Philippe Coutinho ($10,000) figure to be heavily involved if Liverpool are going to hit that implied total.
Defender
Ben Mee, Burnley
FanDuel Price: $7,000
A home clash against Huddersfield doesn't seem like a great matchup for Ben Mee, but the dude is proving to be a matchup-proof play at the back so far this season.
Through five fixtures, Mee is averaging a robust 24.8 FanDuel points per game, and he's scored at least 16.75 points in all five matches. Mee has done this almost purely on defensive actions as he's without a goal or assist while creating two total chances so far.
Don't be scared of the matchup with Huddersfield. Crystal Palace has been (by a wide margin) the Premier League's worst team this season, and in a testament to Mee's ability to produce in any matchup, he scored 16.75 FanDuel points -- all from defensive actions -- in a home match against Palace in Matchweek 4.
Mee can do this because Burnley take on a lot of pressure. The Clarets are allowing a league-high 22.6 shots per match, and Huddersfield, who sit 12th in shots per match (11.4), should be able to keep Mee busy, even if his ceiling is a bit lower than usual.
Goalie
David de Gea, Tottenham
FanDuel Price: $5,500
In a road match at Southampton, David de Gea gives us the clean sheet odds we crave while also providing a respectable floor due to expected save volume.
Manchester United have been outstanding defensively this season, allowing a mere two league goals in five matches. De Gea actually boasts four clean sheets as both of the goals he's allowed came in the same match, a road game at Stoke.
Southampton isn't a bad side by any means, but they have struggled to put the ball in the back of the net. The Saints rank seventh in shots per match (14.2) and are tied for 11th in per-game shots on target (3.0), but they've scored just four times in five outings.
De Gea should be called into action enough to give him a decent floor, and the clean sheet upside is there to make him the slate's premier keeper play.