7 FanDuel Premier League Studs to Target for Matchweek 2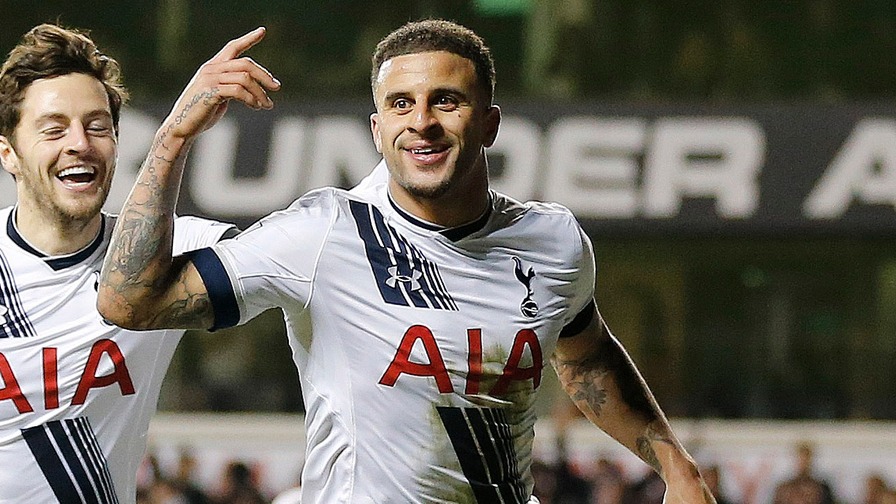 As is the case when playing any sport on FanDuel, it's imperative to hit on high-priced studs, the players in which you've made the biggest investment. This especially true with strikers in soccer as goals, which are 15 points apiece, are often the difference between winning and losing in DFS.
Here is the entire schedule for Matchweek 2, which features 10 games.
Matchweek 2 Schedule
Friday, August 19th
Southampton at Manchester United
Saturday, August 20th
Manchester City at Stoke City
Crystal Palace at Tottenham
Chelsea at Watford
Everton at West Brom
Hull City at Swansea City
Burnley at Liverpool
Arsenal at Leicester City
Sunday, August 21st
Middlesbrough at Sunderland
Bournemouth at West Ham

With a full slate on tap, there are no shortage of options. Let's take a look at some high-priced players -- all across the pitch -- who, despite costing a good chuck of change -- are worth the investment.
Forwards
Harry Kane, Tottenham
Price: £12.2 million
Kane turned in a clunker in what looked like, at least on paper, a nice matchup at Everton in Matchweek 1. He didn't get off a shot against the Toffees and totaled a disappointing 5.5 FanDuel points. Not to fret, though. This is the Premier League's reigning Golden Boot winner we're talking about here.
Tottenham returns home to face off with Crystal Palace, who allowed an offensively-challenged West Brom side to register 13 shots in their 2015-2016 opener. Spurs were a force at White Hart Lane a year ago, recording a league-best 7.6 shots on target per match in their home fixtures. Palace, on the other hand, allowed opponents to get off an average of 17.3 shots per game in their road matches, the most in the league. Tottenham is a favorite in a match with a solid over/under of 2.5 goals, giving Kane a good chance to bounce back.
Alexis Sanchez, Arsenal
£12.4 million
Like Kane, Sanchez was a landmine in his season debut. Despite Arsenal scoring three times, Sanchez amassed just 6.0 FanDuel points and didn't put a shot on goal. He'll have a good chance to rebound this week against Leicester City. The Foxes allowed newly-promoted Hull City to tally 14 shots last week as the defending champs suffered a shocking loss. It was just one match, but Leicester didn't look nearly as stout defensively with N'Golo Kante at Chelsea. The Gunners led the league in possession rate (56.9%) last season while Leicester was 18th (44.8%), so Arsenal should see the plenty of the ball.
Midfielders
Dimitri Payet, West Ham
£12.7 million
Payet and the Hammers were held in check at Chelsea in their opener, but they have a much easier matchup this week as they welcome Bournemouth for their opening match at their new stadium. Payet burst onto the scene last season, his first with West Ham, scoring 9 goals with 12 assists while posting a superb 7.74 rating, per WhoScored.com. He averaged 4.0 key passes, 2.2 successful dribbles, 42.3 passes, 2.3 shots, and 1.3 fouls drawn per match in 2015-16.
Add in the fact he is a free-kick maestro, takes corners, and played in 3.1 crosses per match last year, and Payet is truly an all-around force who can get fantasy points in any number of ways. As an added bonus, he plays for an offensive-minded West Ham side, who were fifth in goals scored a year ago, and they are hosting Bournemouth, who allowed the third-most goals. It's a dreamy scenario for Payet, which is why he's the third-most expensive midfielder.
It is certainly worth mentioning that Payet didn't start the opener, coming on in the second half. He also reportedly picked up a minor knock at training this week. Obviously, if he's not in the starting lineup, he's not worth rostering, so check the Hammers' team sheet prior to setting your lineup.
Philippe Coutinho, Liverpool
Price: £11.5 million
If there's a team in a better spot this week than West Ham, it's Liverpool. Jurgen Klopp's Reds have been the highest-scoring team in the Premier League since the calendar flipped to 2016, and they overpowered Arsenal, generating 13 total chances on their way to being Squawka.com's top-rated attack last week by a wide margin. Playing at Burnley, they should do unspeakable things to the Clarets, a newly-promoted club who allowed Swansea to get a week-high nine shots on goal in their season opener.
Coutinho was at his best in the Reds' thrilling 4-3 season-opening win against the Gunners, netting a pair of goals and looking all sorts of dangerous on his way to 54.75 FanDuel points. He did limp off with a cramp midway through the second half, but he's expected to be good to go this weekend. The only black eye in this matchup is it's not at Anfield, but Liverpool tied for the third-most shots on target per match in road fixtures last season with 4.9.
Defenders
Christian Fuchs, Leicester City
Price: £10 million
Fuchs was one Leicester player who showed well last week, finishing the loss at Hull City with 19.25 FanDuel points. His day could've been even bigger as he narrowly missed a goal in the first half. As we mentioned earlier, Arsenal should control possession. That's good for the Gunners' attackers, but it's also good for the Foxes' defenders as they'll get plenty of chances to rack up clearances, tackles, blocks and interceptions. Fuchs averaged 3.1 tackles and 3.1 interceptions per game a year ago, both of which ranked among the top 12 in the Premier League. Fuchs' combination of defensive skill, playing for a team which likes to sit back, and his penchant for going forward on counters will make him an attractive play on a weekly basis.
Kyle Walker, Tottenham
Price: £9 million
Walker is coming off a superb display in Tottenham's season-opening tie at Everton, a game in which he racked up 26.75 FanDuel points. He will have a chance for another big outing as Spurs host Crystal Palace. The Eagles tallied just a 44.4% possession rate in their travels last season, and Tottenham ranked third in the league with a 55.3% possession rate a year ago, meaning they should dominate the ball in this one. Doing so will allow Walker to roam up from his wingback spot and get involved in the attack. The speedy Walker did just that in Matchweek 1, completing 49 passes, creating 2 chances and registering the assist on Tottenham's lone goal. Walker had one goal and three assists in home matches last season, compared to no goals and one assist on the road. In matches where Tottenham is favored -- like this one -- Walker is going to have a great chance to put up some big numbers.
Goalie
Kasper Schmeichel, Leicester City
Price: £8.4 million
As we touched on last week, FanDuel's scoring settings tend to favor goalies who are being peppered with shots, even if they surrender a goal or two. Heurelho Gomes, our recommended keeper in Matchweek 1, was a perfect example of this. Despite allowing a goal, he scored 21 FanDuel points thanks to Southampton putting him under siege with 24 shots, 6 of which were on target. Swansea City's Lukasz Fabianski is in a better spot for a clean sheet, but Leicester's Kasper Schmeichel is this week's Gomes. Playing at home against an Arsenal side which ranked fourth in shots per game (15.1) a year ago, Schmeichel should be a busy man in goal. This was the case often during the Foxes run to the title, and Schmeichel kept 15 clean sheets and allowed 0.95 goals per match in 38 appearances in 2015-16.