NHL Stanley Cup Odds Update: Will the Bruins Take Care of Business?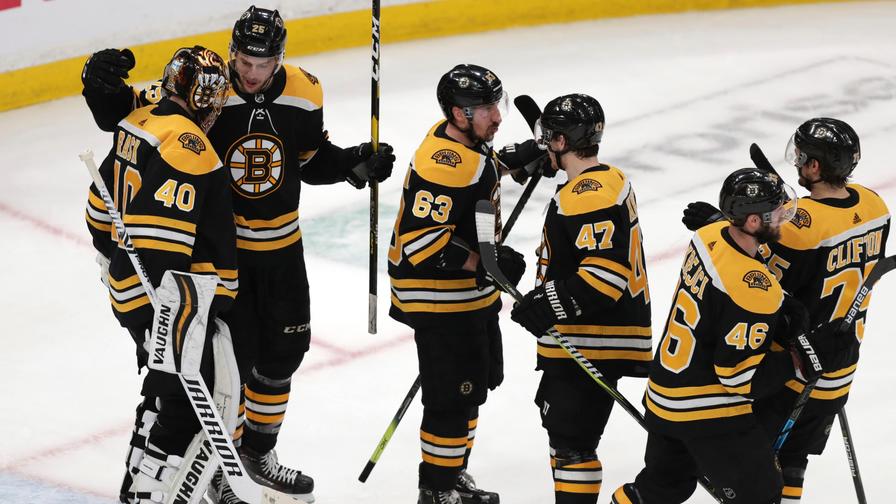 The Stanley Cup Finals have had more than their share of crazy moments this season.
The Tampa Bay Lightning and Calgary Flames combined to win one of nine first-round games, and we're down to an unlikely foursome in the conference finals. The Boston Bruins are up against the Carolina Hurricanes, a wild card team, in the East, and the San Jose Sharks face the St. Louis Blues in the West.
What does our algorithm have to say about the conference finals, and how do those numbers compare to their odds on FanDuel Sportsbook?
| Team | nERD | Stanley Cup Odds | FanDuel Sportsbook |
| --- | --- | --- | --- |
| Boston Bruins | 0.63 | 37.5% | +170 |
| San Jose Sharks | 0.29 | 22.9% | +230 |
| St. Louis Blues | 0.25 | 21.0% | +310 |
| Carolina Hurricanes | 0.26 | 18.6% | +350 |

The Bruins' nERD -- which indicates expected goal differential against a neutral opponent on neutral ice -- is twice that of any other remaining team. Understandably, they led this quartet in regular season points with 107 and are the favorite based on our algorithm's projections and FanDuel Sportsbook's win odds. However, they've performed below average in the playoffs, netting an expected goal plus/minus of -1.42 when adjusted for opponent. That ranks 12th among all 16 playoff teams.
The Sharks' adjusted expected goal plus/minus is actually much worse at -4.64, worst among all playoff teams, and they have a negative Corsi plus/minus. Our algorithm views them as the worst value bet of the remaining teams (-18.71).
The Blues (+60.56) and Hurricanes (+92.44) have the best Corsi plus/minus of all playoff teams, and Carolina's adjusted expected goal plus/minus is +4.80, highest in the playoffs.
Our algorithm still views Boston as the best bet to win, but there's a lot of value on St. Louis and Carolina to keep making waves.