Moving to the Wing Saved Claude Giroux's Career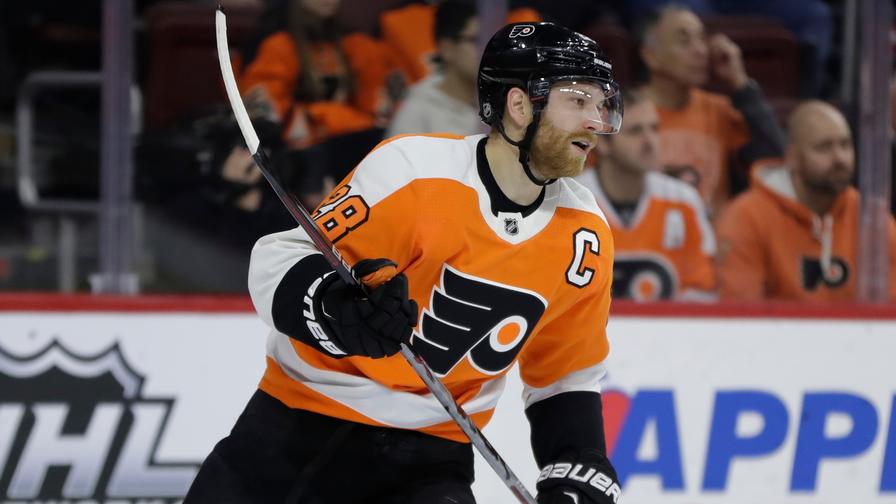 It's roughly halfway through the NHL season and Philadelphia Flyers captain Claude Giroux is tied for the second-most points in the league with 54 (14 goals, 40 assists). That might seem like a normal spot for the center -- he was arguably one of the league's best pivots from 2010-14 -- but at this time last year, he looked old, slow, and just about washed up.
He switched from center to left wing during the preseason, though, and never looked back. Now 43 games later, we can say that switch has made all the difference.

Head coach Dave Hakstol tried this switch in an effort to get his star more opportunities to make plays rather than just chipping the puck deep. "Entering the zone, he's got so many different options," Hakstol said in September. "He's a guy that can make plays on his backhand entering the zone, he can open up the top of the offensive zone by taking — if there's soft ice available inside of the line, he can delay and make plays back through the middle. He's got so many options there that he's able to create because of his skill set. And defensively, coming off that left side, it's a good spot for him — coming out of our zone and through the neutral zone."
While the move would theoretically free the veteran up from heavy lifting in the defensive zone, Giroux's even-strength possession numbers never really changed throughout his entire career; he's always been above 50% corsi, according to Corsica. However, his relative five-on-five corsi percentage is 6.43% as compared to last season's 1.24%, so there definitely has been some improvement on the wing, at least compared to the rest of his teammates.
His counting numbers have obviously increased, a trend that can also be seen in several of his other offensive metrics. Giroux's current goals for percentage (63.33%) is higher than it's ever been, and the same can be said for his expected goals for percentage (57.24%). His individual expected goal per 60 minutes (0.51) has improved from last season (0.41), but his shot rate is virtually identical (10.27 per 60 minutes this season, 10.32 last season). While we're only working with a sample size of a half-season, it's possible that those shifts and similarities are thanks to the new position.
Giroux isn't necessarily shooting more, but he's getting to more dangerous attacking areas without endangering his team's defensive stability at the other end of the ice.
Shooting numbers are tricky with Giroux, though. On one hand, taking more shots is never a bad thing and, in his prime, the center was attempting upwards of 13.5 shots per 60 minutes. But on the other, his bread and butter has never been scoring goals himself. He's currently on pace for one of his highest even-strength goal-scoring seasons in recent memory, albeit with a 16.98 shooting percentage. He'll probably come back to earth a bit, but that's not to say he'll stop scoring in the second half -- even if his shooting percentage fell off a cliff, his assist rates and the points he's already banked would still carry him to a strong season total.
Hockey is perhaps the ultimate team sport, so some credit also has to go to Giroux's current linemates, Travis Konecny and Sean Couturier.

Couturier has always been a good defensive and possession center, but playing with Giroux has brought more offense to his game. While his even-strength points per 60 (2.48) and primary points per 60 (2.1) are career highs, he's generating more shots and expected goals than ever before. He's also been an essential cover for Giroux, allowing the veteran more freedom in the offensive zone.
Konecny has a much smaller sample size, but his numbers -- other than pure corsi -- have all seen increases, too. Jakub Voracek and Wayne Simmonds have also gotten shifts with Giroux and Couturier when Hakstol wants to stack his stars onto one line, but the principle is the same: Let Giroux and his other winger go to work with Couturier providing offensive support and doing the defensive heavy lifting.
Despite a rough start to the season, a recent hot stretch has helped the Flyers climb back within striking distance of a playoff position. With Claude Giroux on pace for a 100-point season, it just might be possible for them to get there. And to think, it all started with a simple shift to the wing.