Can the Surprising Vegas Golden Knights Keep it Rolling?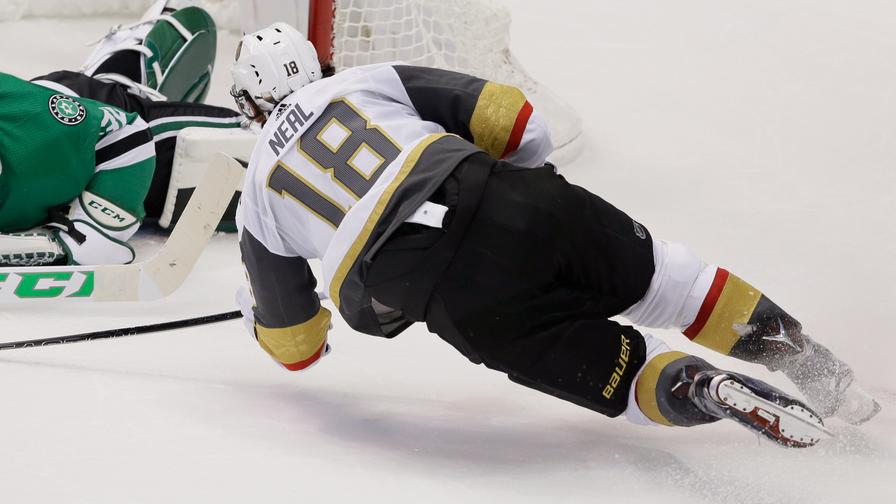 Building an NHL team capable of reaching the Stanley Cup is no easy feat. Doing it with rookies and players that other teams didn't want makes it even harder. Just ask the 1974-75 Washington Capitals, who went 8-67-5 in their inaugural season and surrendered 446 goals in the process.
But that's the situation that the Vegas Golden Knights and general manager George McPhee find themselves in this season. And despite not going all-in on this season -- think of the players passed over in the expansion draft like Petr Mrazek of the Detroit Red Wings and the deals they made, like taking on the salary of injured Mikhail Grabovski and drafting third string goalie Jean-Francois Berube from the New York Islanders -- they've been doing a pretty good job of it thus far.
Beyond their winning record, the most striking thing about thing about Vegas is their all situations expected goals for percentage, which currently sits at 57.31% according to Corsica. In layman's terms, they should be scoring 6 out of every 10 goals scored in a given game. And to put the scale of that advantage in context, last year's Pittsburgh Penguins had all situations expected goals for percentage of 51.48% prior to lifting the Stanley Cup, albeit in a much larger sample size.
Things do come back to earth, however, when you look at the standard five-on-five stats that are generally more indicative of a team's true play
In addition to the obvious issues of sample size and playing a weak schedule, the Knights are toeing the line of unsustainability on both ends of the ice. They're currently shooting 10.57% and getting a 93.53% save percentage from their goaltenders in five-on-five situations. While we'll have to see what plays out over a larger sample size, it's likely that both of those percentages will drop closer to the league averages as the season progresses. Given that Vegas is already being marginally outplayed at even strength, the results could change pretty quickly if some bad luck crops up.
Despite that, their five-on-five Corsi numbers do look encouraging. Through their first six games, Las Vegas has had just under half of the five-on-five shot attempts in their games (a 47.97 Corsi-for percentage). While you obviously want your team to be on the positive side of the shot margin, being that close to 50-50 is completely survivable even when their shooting and save percentages regress, provided they get some good goaltending and a little luck.
We've seen Marc-Andre Fleury carry a team in the past, so he could easily keep the Knights in the hunt, assuming he recovers in a timely manner from his current concussion.


So how did the Knights find themselves in this position? Surely there's some luck involved, but there also could be a team building theory at play.
As floated on Dimitri Filipovic's Hockey PDOCast prior to the expansion draft, building a roster from scratch gave the club a unique chance to avoid truly bad players. While McPhee couldn't select many top-end players, he also would be less likely to fall into stereotypical hockey traps like thinking his team wasn't tough enough and adding a Tanner Glass to the roster. That's allowed the Knights to be serviceable in most games and avoid having too many black holes in their roster. Even in their 6-3 defeat to the Detroit Red Wings, only three players fell below a tolerable 46.88% five-on-five Corsi.


All in all, the Vegas Golden Knights have had a good start to their life as a franchise, but it's just that: a start. They're going to come back to earth when they play teams that aren't the Arizona Coyotes, the Dallas Stars, or the Buffalo Sabres. They're going to come back to earth when they hit a shooting percentage slump or get speed-bagged by a team that can make the most of a marginal possession advantage. Fleury and Malcolm Subban are inevitably going to have bad stretches.
The Knights aren't going to be world beaters, but they won't be played off the ice too often, which is a success for any new franchise. And if things break right, they could be chasing a playoff spot down the stretch. That's a pretty good gamble to take if you're Vegas.