Mayhem in Motown: The Red Wings' Playoff Streak Is in Jeopardy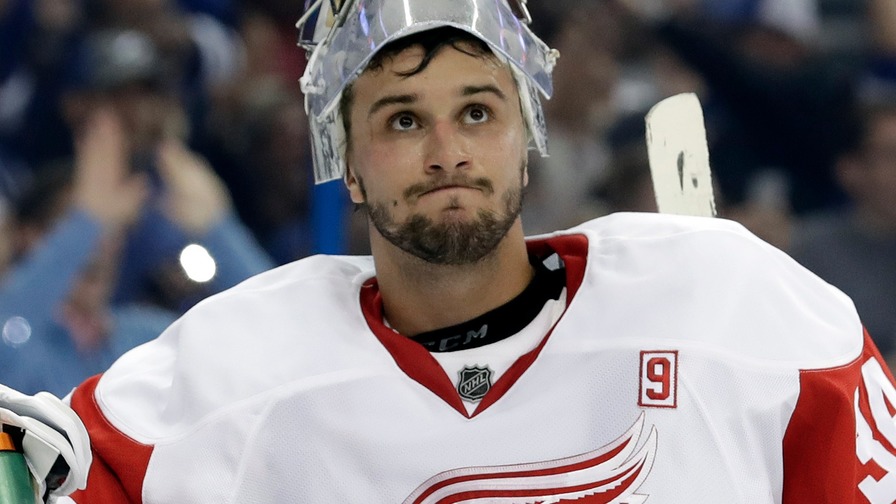 The Detroit Red Wings haven't missed the playoffs since the 1989-1990 season, marking one of the longest and most impressive consecutive playoff streaks in sports history -- and by far the longest in the NHL.
With names like Pavel Datsyuk, Nicklas Lidstrom, Henrik Zetterberg, and Dominik Hasek anchoring the Wings for more than a decade, it's no surprise that the team from downtown Detroit has had immense success.
But as we know, no player lasts forever (except Jaromir Jagr), and the Red Wings are not the team they once were.
Season Snapshot
According to our algorithm, the Red Wings have just an 8.56% chance to make the playoffs this season.
Per our metrics, the metrics of Puckalytics, and traditional stats, the low playoff odds are pretty justified based on their performance.
| Detroit Red Wings | Value | NHL Rank |
| --- | --- | --- |
| nERD | -0.31 | 21st |
| Goals For | 114 | 23rd |
| Goals Against | 135 | 22nd |
| Goals For per 60 Minutes | 2.43 | 23rd |
| Goals Against per 60 Minutes | 2.88 | 23rd |
| GF% | 45.78% | 26th |
| Shots For | 1,339 | 22nd |
| Shots Against | 1,400 | 14th |
| Shooting Percentage | 8.51% | 22nd |
| Save Percentage | 90.36% | 22nd |
| Corsi For | 2,440 | 25th |
| Corsi Against | 2,573 | 11th |
| Corsi For Percentage | 48.67 | 22nd |
| Corsi For per 60 Minutes | 52.06 | 26th |
| Corsi Against per 60 Minutes | 54.90 | 16th |
| Projected Points | 83.7 | T-21st |

These rankings have given the Red Wings a 20-19-8 record to this point, good for 13th in the Eastern Conference.
If trends continue, our algorithm shows the Red Wings amassing a record of 36-34-12.
The Future in Motown
Although Detroit's playoff status looks bleak for the 2016-2017 season, Red Wings fans should not fret, as players of recent drafts have seen lineup time and some have been productive -- as expected.
Dylan Larkin, the Michigan native who was selected 15th overall in the 2014 NHL Draft, put up great numbers in his rookie season. In 80 games, Larkin was able to post 23 goals and 22 assists, giving him a nod in the All-Star Game -- where he won the fastest skater competition.
As well as Larkin, Anthony Mantha has shown immense promise platooning through Detroit's top six.
In 32 games this season, Mantha has recorded 22 points (11 goals, 11 assists), on 75 shots. The 6'5" forward is projected to post 19.55 goals this season, per Corsica, and should pass that mark at some point this season, based on his current 9.47 scoring chances for recorded per 60 minutes of play.
Saving "The Streak"
The Red Wings have noticeable issues both in their forward and their defensive core, and the main way to find their way into the playoffs come the end of this season, although unlikely, is to sell at the trade deadline.
By sell, I don't mean destroy the farm but rather to find a piece who will allow their young stars to blossom -- quite like Dylan Larkin was able to under the wing of Pavel Datsyuk.
It is through experience that the best young stars will be able to flourish, making Detroit -- at some point -- likely to become the powerhouse that they once were.