College Football Betting Guide: Saturday 10/22/22, Presented by Twisted Tea
This Saturday's slate of games is like driving 40 miles per hour after getting off the highway. It's not exactly a bad lineup, but it can't compare to the thrill ride of last weekend.
Georgia has what feels like a second bye week in a row after crushing Vanderbilt 55-0, and Michigan has their bye ahead of their matchup with rival Michigan State. The Wolverines proved they belong in the contender conversation by giving Penn State "a butt-kicking in every which way a butt can be kicked," according to Jim Harbaugh, but the game of the week was Tennessee's victory over Alabama.
The Volunteers beat Alabama for the first time in Nick Saban's tenure as the Crimson Tide head coach and cemented themselves as a College Football Playoff contender. It's hard not to look forward to Tennessee's visit to Georgia in two weeks, but for now, there are several games that offer betting value according to our model.
While you're perusing lines and totals, be sure to check out Twisted Tea's College Football Picks, a betting-focused contest series that is entirely free to play and that gives you a chance to compete for a share of thousands of dollars in site credit.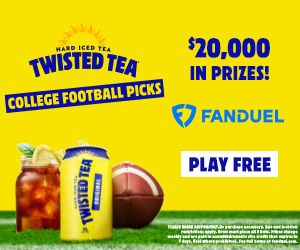 The contest is simple: each college football game will be assigned moneyline, spread, and total markets with assigned points to each market. All you have to do is make six selections based on those three markets and earn points for each correct selection you made. If your score ranks among the best in the contest, you'll be eligible for your share of site credit.
Make your picks today, and remember: please drink responsibly.
We'll start with an ACC matchup that features a surprisingly undefeated Syracuse team visiting the class of the conference, Clemson.
Note: All college football odds are from FanDuel Sportsbook. Lines are subject to change throughout the day after this article is published. All ratings are out of five stars. Please check numberFire's model to make sure you're seeing the most updated information.
Syracuse +13.5: 2 Stars
We typically want to highlight games with ratings higher than two stars, but this is arguably the most important game in the playoff race this week.
This isn't the same Clemson team that earned six straight berths to the College Football Playoffs between 2015 and 2020 and came away with two championships. Despite being ranked fifth in the AP Poll, the Tigers are outside of the top 10 in both ESPN's SP+ and Football Outsiders' FEI metrics.
Clemson's strength has been stopping the run, as they're ranked fourth in rushing yards allowed nationwide, but a closer look at the line stats for both teams reveals that this might not be the advantage it seems for the Tigers. Clemson's defensive line is 54th in average line yards and 101st in opportunity rate per Football Outsiders, whereas Syracuse's offensive line is 27th and 16th by those same metrics.
Orange running back Sean Tucker has accumulated the second-most rushing yards this season behind that line, and the Tigers could be in trouble if they don't get star performances from their NFL prospects on defense such as defensive lineman Bryan Breese and linebacker Trenton Simpson.
The Tigers are more talented than Syracuse, but given the Orange's advantage in the run game, the game might come down to how efficiently D.J. Uiagalelei leads Clemson's offense under center. He'll need to make quick decisions in order to keep the chains moving because Syracuse ranks 12th in sack rate.
Our model gives Syracuse a 60.36% likelihood to cover the spread, which is a smart bet based on the matchup advantages the Orange have over the Tigers.
Iowa +29.5: 5 Stars
The Hawkeyes have been unintentionally funny at times this season, like when they beat South Dakota State 7-3 by scoring a field goal and two safeties rather than a touchdown. Meanwhile, the Buckeyes have been taking care of business every week, marching on to their showdown with Michigan at the end of the season.
It's difficult to find weaknesses on the Ohio State roster. The Buckeyes have the current Heisman favorite, C.J. Stroud, at quarterback, they've had two different receivers named to midseason All-American teams (Marvin Harrison, Jr. and Emeka Egbuka), and their offensive line ranks first in both average line yards and opportunity rate -- and all of that is just on offense.
We don't really need to discuss Iowa's offense; anyone who has followed college football this season knows it's been abysmal. The Hawkeyes are actually dead last in yards gained per game nationally. It would be one of the most shocking upsets in college football history if they won, but the spread is so high that a cover is plausible if Iowa's defense turns in a great performance.
Ohio State is absolutely loaded at receiver. Their best receiver, arguably, is Jaxon Smith-Njigba, who hasn't played much this season due to an injury and could return to the field against Iowa, joining two potential All-Americans. And that's after having two receivers selected in the first round of the NFL Draft this year.
Iowa has the personnel to contain the Buckeyes at the very least. Jack Campbell has been named to several midseason All-American teams, and both Quinn Schulte and Cooper DeJean represent the Hawkeyes in Pro Football Focus's midseason All-American team.
Iowa has a 74.43% probability of covering against Ohio State, per our model, which is ridiculously high for a team that seemingly has no chance of winning.
Ultimately, since Iowa's offense is so bad and their defense is so good, it makes sense, but they'll need their defense to bring Ohio State back down to earth. However, they've proven capable of containing the nation's best offenses -- as they did against Michigan earlier this year -- and they're likely to do it again this week.