College Football Daily Fantasy Helper: Friday 12/31/21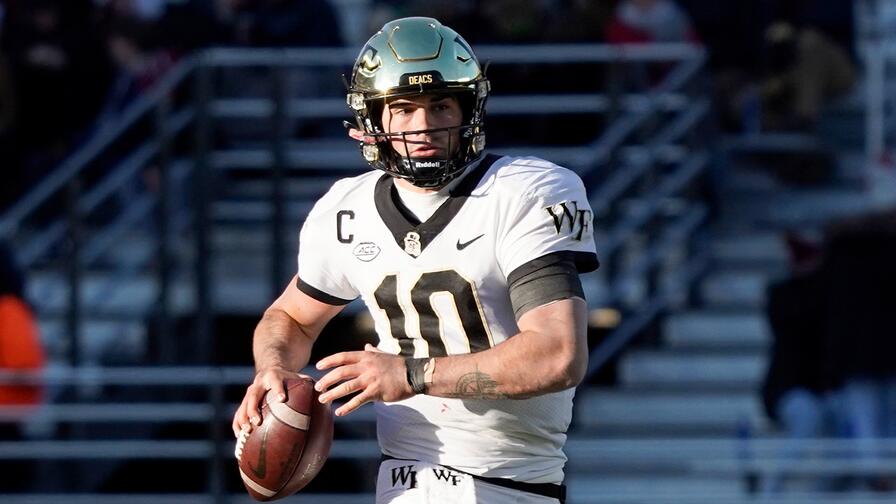 The College Football Bowl Playoffs kick off on Friday! FanDuel's college football DFS main slate on Friday includes four games.
In case you're unfamiliar with how it works, you can check out the rules and scoring on FanDuel, where you can hit the lobby each week to see the full array of slates and contests being offered.
As for the basics, your roster consists of a quarterback slot, two running backs, three wide receivers (which also includes tight ends), and one "Super FLEX". In the Super FLEX spot, you can insert one player from any position, including quarterbacks.
Here, our goal is to help you field a roster full of fantasy goodness, and in true numberFire fashion, we'll use our DFS projections, game projections, and market share report to tackle as many slates as possible in the lead-up to the College Football Playoff. In this piece, we are breaking down Saturday's main slate, which locks at 11:00 a.m. EST.
Let's look at which players are in great spots as well as identify some players with low salaries who will allow you to roster the high-salary players.
Quarterbacks
Sam Hartman, Wake Forest ($12,000) – There is a good chance that Hartman will be the most popular player on Friday's slate. The sophomore averaged an eye-opening 301.8 passing yards per game. He tossed 36 touchdown passes and recorded 11 rushing touchdowns in 13 games this season. We could see a ceiling performance against a rusty Rutgers Scarlet Knights team. The Scarlet Knights have only started practicing recently since they did not qualify for a bowl game originally.
Jayden de Laura, Washington State ($9,200) – de Laura and the Washington State Cougars enter the bowl game on a roll. The Cougars scored 44 and 40 points over their final two regular-season games, respectively. While de Laura will be without the services of his two tackles, he should be operating with usual wide receivers. The Central Michigan Chippewas secondary should provide little resistance; they allowed 8.28 yards per pass attempt this season.
Desmond Ridder, Cincinnati ($8,500) – If the Cincinnati Bearcats have any hope of upsetting the Alabama Crimson Tide, quarterback Desmond Ridder will need to have an incredible game. He's certainly capable of producing a monster game. The senior signal-caller accounted for 36 touchdowns this season. Moreover, Ridder's salary is down significantly for the matchup with Alabama. In last year's bowl game against the vaunted Georgia Bulldogs defense, Ridder threw for 206 yards and two touchdowns. He also accounted for three touchdowns in an early-season meeting with the Notre Dame Fighting Irish. Ridder is an excellent option if you need a salary saver at quarterback.
Running Backs
Lew Nichols III, Central Michigan ($10,500) – I am a little concerned about targeting Central Michigan and Rutgers on Friday. Both teams are replacements for other teams dealing with COVID-19and have had limited practice time since they were late additions to the bowl schedule. Consequently, conditioning and undisclosed player-opt-outs are a concern. With Nichols III, we probably don't have to worry about an opt-out. The nation's leading rusher is a freshman, so he won't be bolting to the NFL after this season. Nichols ran for 1,710 yards and scored 15 touchdowns via the ground. He also hauled in 38 passes and recorded 300 receiving yards (and two receiving touchdowns). His usage is incredible in the Chippewas' offense.
Brian Robinson Jr., Alabama ($9,500) – Efficiency is a semi-concern for Robinson. However, his workload is fantastic. The senior recorded 67 touches (rushing attempts/receptions) over his last three games. I do think that the Alabama Crimson Tide's offensive line will have an advantage against the Bearcats' defensive line. The Bearcats ranked 45th nationally in rushing yards allowed (137.5), but that was against AAC competition. Robinson Jr. could be in line for a big day.
Nakia Watson, Washington State ($5,500) – Max Borghi opted out of the bowl game and Deon McIntosh did not make the trip. Watson is expected to start at running back for the Cougars. Watson isn't an unknown either; he scored three rushing touchdowns at Wisconsin last season. Watson will be running behind an inexperienced offensive line, but his salary doesn't reflect his new role.
Aaron Young, Rutgers ($4,900) – Head coach Greg Schiano wasn't tipping his hand earlier this week on which players would suit up in the bowl game. I would not be surprised if running back Isaih Pacheco and wide receiver Bo Melton do not play on Friday. If Pacheco is out, Aaron Young would presumably start at running back, and in that scenario, he becomes very interesting. Rutgers' opponent, Wake Forest, has been carved up by opposing ball carriers. The Demon Deacons rank 114th nationally in rushing yards allowed per game (202.0).

Others to Consider:
Jerome Ford ($8,700), Hassan Haskins ($8,000), Christian Beal-Smith ($7,500), Zamir White ($6,700), Blake Corum ($6,500), James Cook ($5,800)

Wide Receivers
Jameson Williams ($10,000) - Williams is a great option. Cincinnati allowed nine receptions, 152 receiving yards, and one touchdown to the Houston Cougars' best wide receiver, Nathaniel Dell, in the AAC Championship game. Williams is fresh off torching the nation's top defense in the SEC title game (seven receptions, 184 receiving yards, and two touchdowns). With Sam Hartman-AT Perry likely to be the chalk stack, I do think a Bryce Young-Jameson Williams stack is very intriguing.

AT Perry, Wake Forest ($9,400) – Perry had an incredible season for the Demon Deacons playing alongside Jacquarri Roberson. With Roberson out of the bowl game, Perry should be heavily targeted by quarterback Sam Hartman. The big-bodied wide receiver drew 60 targets over Wake Forest's final five games -- and that was with Roberson in the lineup. Perry should have little trouble taking advantage of Rutgers' porous pass defense. The Scarlet Knights allowed 8.36 yards per pass attempt and surrendered 22 touchdown passes this season.
Calvin Jackson Jr., Washington State ($8,100) – The best way to attack Central Michigan is through the air. The Chippewas' ranked 117th nationally in passing yards allowed per game (266.3). Jackson Jr. should easily exploit Central Michigan's porous secondary. Jackson Jr. recorded at least four receptions in each of his final five games this season. Additionally, the senior racked up 50-plus receiving yards in seven consecutive games. His seven touchdown receptions this season trailed only Travell Harris -- a great option too -- amongst the Cougars.
Alec Pierce, Cincinnati ($7,000) – Pierce recorded 50 receptions on 78 targets this season. The Bearcats' speedster averaged 2.63 yards per route. That is impressive considering most of his targets were downfield (17.3 ADOT). With Cincinnati installed as two-touchdown underdogs, Cincinnati will likely be forced to pass significantly more than their seasonal average. Consequently, Pierce should have plenty of opportunities to make plays. We're also getting a salary discount on Pierce due to the matchup; he was routinely salaried above $7,500 this season.
Ke'Shawn Williams, Wake Forest ($5,000) - Williams is expected to take Jacquarri Roberson's spot at wide receiver. Williams impressed in limited action this season as he averaged 3.05 yards per route run. The sophomore is a great source of salary and provides exposure to Wake Forest's massive 40-point implied team total.
Others to Consider:
JaCorey Sullivan ($8,700 - make sure he's playing), Travell Harris ($8,600), Kalil Pimpleton ($8,400 - make sure he's playing) Brock Bowers ($7,700), Taylor Morin ($6,700), De'Zhaun Stribling ($6,100), Cornelius Johnson ($6,000), Donald Stewart ($5,300), Shameen Jones ($5,200 - better if Bo Melton is out), Jahleel Billingsley ($5,000)