Oklahoma vs. Ohio State: The Wrong Team Is Favored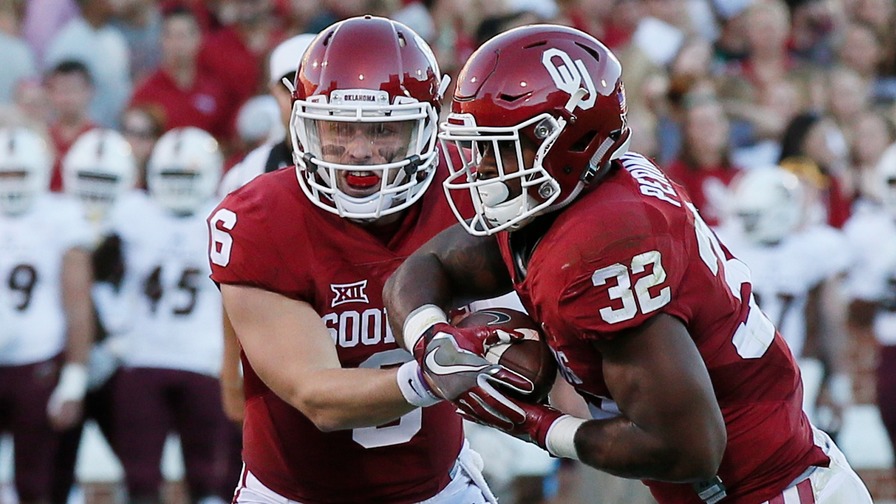 It was like Christmas in May, at least for rabid college football fans.
Chris Andrews, longtime Vegas bookmaker and one of the most respected professionals in the industry, released early lines for "games of the year" in college football.
Doing the Lord's work for degenerate gamblers everywhere. https://t.co/obtVYrpQQe
— Chris Andrews (@andrewssports) August 23, 2016

Andrews was widely praised for the bold move, but professional bettors didn't hesitate to jump on lines that appeared off.
Perhaps the single most debated spread was in Week 3's epic clash -- Ohio State at Oklahoma. The South Point opened the game as the Sooners -9, an unthinkable margin for a deeply talented Urban Meyer-led team.
At the time, Andrews power rated Oklahoma as the second-best team in the country. He told Covers.com, "I'm really looking forward to Oklahoma-Ohio State. I made Oklahoma -9. I think Ohio State will be good by the end of the season, but when you look at what the Buckeyes had to replace, I like Oklahoma. I think bettors are gonna take Ohio State, and I hope they do."
Andrews got his wish. The game got pounded down to under a touchdown before the 4th of July. Now just days before kickoff in Norman, Ohio State is favored in Vegas by a consensus 1.5 points and even opened on Sunday as high as -3.5.
Andrews has since offered a "mea culpa" and admitted that Ohio State has exceeded his expectations and Oklahoma "looks nowhere near as good as advertised."
But the game still poses an intriguing quandary for bettors: is this massive line move warranted, or are the Sooners a home underdog against a young Buckeyes squad an overreaction that can be exploited?
Ohio State
Over a long offseason, overly simple narratives develop about the nation's top teams and programs. After losing 12 players to the NFL Draft and 16 starters total, the Buckeyes were supposed to start slowly before gelling and excelling later in the season.
In just two weeks, Ohio State exposed the utility (or lack thereof) of both the returning starters statistic and paint-by-numbers analysis.
The Buckeyes have started a little slowly in both of their games but ultimately exploded to rip Bowling Green 77-10 in Week 1 and Tulsa 48-3 a week later.
Thanks to those two juggernaut performances, the Buckeyes have vaulted to the top of numberFire's nERD efficiency rankings.
| Efficiency Rankings | FEI | ESPN FPI | Power Rank | numberFire | S&P+ | Average |
| --- | --- | --- | --- | --- | --- | --- |
| Ohio St Preseason | 12 | 15 | 11 | n/a | 14 | 12.7 |
| Ohio St Week 3 | 11 | 9 | 8 | 1 | 7 | 7.2 |

The question remains: is that kind of efficiency sustainable, especially on offense against a quality defense?
The Buckeyes have averaged a whopping 7.27 yards per play, but this has come against one defense that is in the middle of the pack in the FBS, per S&P+, (Bowling Green, 66th) and another that was among the 10 worst (Tulsa, 121st).
Quarterback JT Barrett has been brilliant, and there is little debate about that. Barrett looks to be putting together the foundation for a Heisman résumé, rolling up 498 yards passing with 6 touchdowns and a 66 percent completion rate. He's added 98 yards and another 3 scores rushing.
While Ohio State entered the season with questions about who would emerge at the skill positions, H-back Curtis Samuels appears to be the Buckeyes' next star. Samuels has caught all 14 of his targets and is averaging 7.7. yards per rush and 17.1 yards per target.
If there is a potential concern to track, it is whether the Buckeyes offense can put together big plays. Through two games against presumably bad defenses, the Buckeyes have lacked explosiveness, ranking just 84th in the nation in IsoPPP.
The defense, on the other hand, has not shown the hint of a weakness. The results are even more impressive when you consider they are doing it against teams that are known for pace and points. In their first two games, Ohio State has yielded just 3.06 yards per play, fourth in the FBS, and created an FBS-best 9 turnovers. What may be even scarier for opponents is that the defensive dominance has yet to feature sacks and disruptions in the backfield.
Amazingly, this defense could get better.
Oklahoma
The Sooners' Week 1 loss to Group of 5 darling Houston have done Oklahoma no favors in the eyes of college football pundits or the betting public. The Tom Herman-led Cougars pushed Oklahoma around, and the Sooners never really threatened to mount a comeback in the second half after getting down by as many as 16 points.
But after crushing an undermanned Louisiana-Monroe team last week, Oklahoma is only two games removed from College Football Playoff berth. The Sooners ended the 2015 regular-season campaign as numberFire's second-best team, according to our nERD efficiency ratings.
| Efficiency Rankings | FEI | ESPN FPI | Power Rank | numberFire | S&P+ | Average |
| --- | --- | --- | --- | --- | --- | --- |
| Oklahoma Preseason | 4 | 3 | 5 | n/a | 4 | 4 |
| Oklahoma Week 3 | 6 | 4 | 7 | 30 | 5 | 10.4 |

The advanced statistics suggest there has been an over-adjustment on the Sooners. Looking more closely at the Houston game, the Sooners were far more efficient on offense: 6.3 yards per play versus Houston's 5.0. Field position and special teams plays proved to be a differentiating factor, but lost in the Houston hype was the fact that Stoops' defense made significant adjustments in the second half.
The Sooners yielded only 83 yards in the second half after giving up 337 in the first 30 minutes.
Oklahoma's offense also has not gotten the fanfare of Ohio State's, but their efficiency numbers actually eclipse the Buckeyes'. At 10th in the nation, Oklahoma averages 7.33 yards per play. Two horses in the backfield, Samaje Perine and Joe Mixon, drive the offense. The problem against Houston was that Oklahoma went away from the run after falling behind, and Perine and Mixon combined for only 12 carries. This should improve against the Buckeyes.
The big question mark for Oklahoma will be slowing down Ohio State's prolific offense. Like Ward, Barrett is mobile and can make plays via designed runs and when moving around the pocket.
The good news for Sooners fans is that the rush defense comes in ranked 20th by numberFire. And with the Houston experience just two weeks earlier, Oklahoma should be better prepared for this dynamic "Power Read" option offense. "They have a lot of similarities, of course," Stoops said. "Each will do a few things a little bit different, but overall there's a lot of carry over."
Coaching Matchup
To read all premium content, upgrade to a Premium account with numberFire
If you're not a Premium subscriber, it takes just a few seconds to sign up. You'll get access to all of our insider information, game projections, handicapping advice, DFS tools, advanced statistics, and more.