New York Knicks Stat Monkey Brief: Knicks/Pistons (2/4/13)
A picture is worth 1000 words, or in this case, a shot chart can summarize how the Knicks went from down 12 with five minutes to go in the first quarter to a 23 point lead by halftime.
5 Minutes Left in First Quarter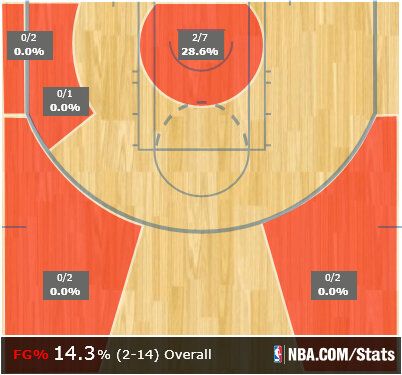 Halftime

This is a Knicks squad that clearly had something to prove after losing to Sacramento on a last second shot in late December. The Knicks won't beat anyone by 40 anytime again, but they're doing what good teams to: Beat the teams they're supposed to.
Amar'e: Back And Better Than Ever?
Amar'e Stoudemire has a special place in the hearts of Knicks fans. You can debate the merits of giving a $100 million uninsured contract to a guy with bad knees, but the fact is Stoudemire was the first star to play for the Knicks since Stephon Marbury. Which is why Stoudemire's recent stretch of good games is all the more special for Knicks fans. On Saturday night, Stoudemire went 10-10 from the field, 1-1 from the line, for 21 points. His 10-10 shooting performance fell one made basket short of the Knicks record for most field goals made without a miss (11, Bernard King and Johnny Newman).
Most importantly, Stoudemire is playing better than he was prior to the arrival of Carmelo Anthony. In 53 pre-Anthony games in 2010-2011, Stoudemire averaged a 109.7 ORtg. In the next 81 games, with both players starting, Stoudemire's ORtg dipped slightly to 106.8. This year, in Stoudemire's 15 appearances off the bench, he is averaging a 124.2 ORtg, including a 176 ORtg from Friday night. With Stoudemire and J.R. Smith coming off the bench, the Knicks have the most potent offensive bench in the NBA.
Scouting Detroit: Jose Calderon's Debut
These two squads played several weeks ago in London, with the Knicks cruising to a 102-87 win. Since then, the Pistons were involved in a three-team trade that sent Tayshaun Prince to Memphis and in return received Jose Calderon from Toronto. Calderon is by no means an elite NBA guard (he ranks 20th in our power rankings), but he will be useful to the Pistons. He'll provide veteran leadership to a young team, and he can ball a little bit too. Calderon ranks seventh in the NBA in eFG% and eighth in assists per game with 7.4. He may be gone for cap room after the season ends, but he could make the Pistons competitive for the eighth spot in the East.