Oklahoma City Thunder Stat Monkey Brief: Thunder/T'Wolves (1/9/13)
One of the more confusing sporting events I have watched over the past year took place Monday night. I'm not talking about Alabama destroying Notre Dame. No, the jaw-dropper in the sports world on Monday night took place in the District of Columbia where the Wizards actually beat the Thunder in the final second.
Yes, Bradley Beal's final second pump fake was a great highlight, but the Wizards were good on offense all night. Averaging 88.9 points per game headed into Monday, Washington scored 101 against the Oklahoma City. The Thunder defense gets another chance at a slumping offense in the Timberwolves tonight, but the most recent contest in that series did not go Oklahoma City's way either.
Onward and Downward: Three Point Shooting
Oklahoma City went 6-25 from three point range against Washington. That is 6 more threes than the team usually attempts per game and one fewer make than it averages. Although most of the Thunder struggled to drain deep shots, the main culprits were Russell Westbrook (1-6) and Kevin Martin (0-6).
Although he still ranks as a top three point shooter, Martin's recent performance has been less stellar. Through the first 25 games of the season, he went 54-118 from deep. That translated into 45.8 percent shooting on the 4.72 threes he took per game. Over that stretch, Oklahoma City's winning percentage was .840. During the last eight games, the winning percentage has dropped to .625 percent, while Martin has taken 5.9 threes per game and made only 38.3 percent of those. Martin is hardly the main reason why the Thunder have been less dominant, but it is worth watching to see if he continues to take more threes and make fewer of them.
A Random Walk: Minnesota's Shooting
Assuming Martin and the Thunder bounce back from the bad shooting night, they will still need to play better defense tonight. Theoretically Minnesota, which ranks just ahead of Washington with an effective field goal percentage of .464, should present another test of Oklahoma City's ability to shut down a bad offense. But what the Thunder can expect to see from the Timberwolves tonight in the shooting department is anyone's guess. Here are the eFG% figures over the last eight games, in which Minnesota has gone 4-4.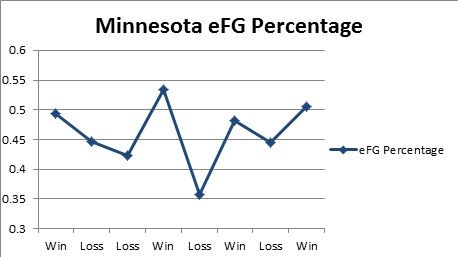 This is the Dr. Jekyll and Mr. Hyde of shooting performances. As one of the best rebounding and defensive teams, Minnesota does not have to shoot great each night to win, but it seems to follow up decent shooting efforts with terrible performances from the floor. Stay tuned to see how it shoots tonight against Oklahoma City.
The Timberwolves have been wildly up and down the past couple of weeks, but the Thunder have not exactly been a model of consistency in 2013 themselves. They whiffed against the lowly Wizards, but now have a chance to get rolling against a battered Minnesota squad before heading to Los Angeles this weekend.