Oklahoma City Thunder Stat Monkey Brief: Thunder/Hawks (12/19/12)
So, the Thunder are a third of the way to the 33 game win streak of the 1971-72 Los Angeles Lakers. The Thunder have not lost in nearly a month en route to 11 consecutive wins, an incredibly successful run. And as good as they have been, they would have to win every game until February to extend the winning streak to 33. The very idea seems absurd. So a tip of the cap to Wilt, Elgin, Goodrich and The Logo this morning.
Let's now turn to how the Thunder got to 11 straight wins and what they need to do to stretch it to 12.
Never a Down Night
Even the best teams are prone to struggling at times. Oklahoma City is no exception.
However, during the win streak, the team has compensated for whatever struggles it is having in one area by excelling in another. On their worst turnover night during the last 11 games (a turnover percentage of 19 against the Jazz) the Thunder compensated by snagging 45.7 percent of all available offensive boards, their best offensive rebounding percentage in any game of the season. Last game against the Spurs, the Thunder had an effective field goal percentage of .471, their worst of the win streak, but they had above average performances in turnover percentage, offensive rebounding percentage and free throw-to-field goal attempts.
As the chart shows, peaks in one stat often coincide with valleys in another for the Thunder on any given night.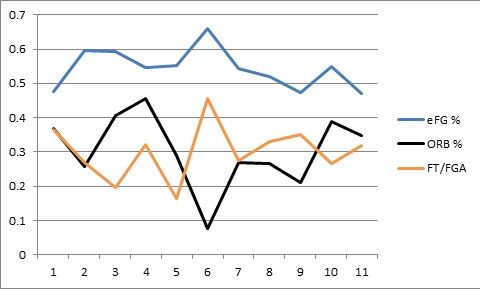 Incremental Improvements
The Hawks who play host to the Thunder tonight, have forced a turnover percentage of 15.8 on the year, third highest in the NBA. On the one hand, that could be bad news for Oklahoma City, which still ranks worst in turnover percentage at 15.0. However, during the 11 game winning streak, the Thunder are actually greatly improved in this department. Yes, they have still had some awful days, but in the team's first 13 games it had an average turnover percentage of 15.8. Since then, it has averaged 13.0 and not lost a game. And as pointed out above, if if Atlanta can cause problems for Oklahoma City's ball control, it will still have to watch out for the Thunder going off for a huge night in some other area.
As indicated by their top spot in the numberFire team nERD rankings, the Thunder are playing team basketball better than anyone right now. Sooner or later they will have a hiccup. Atlanta beat them once, so maybe they can cause problems again.