Bulls by Numbers: Magic at Bulls (11/6/12)
The absence of Derrick Rose hasn't fazed the Bulls, as they are off to a solid start to their 2012-2013 campaign. Though Thibs and the Bulls would like to have beaten a unibrow-less Hornets, they are showing they can still play after the departure of a large portion of their "Bench Mob," and they have a chance to stay relevant until the 2011 MVP can return.
Replacing Rose
The person covering most of Rose's missed minutes, Kirk Hinrich, so far has been a major liability on offense. Despite averaging 5.7 dimes a game, he is taking too many ill-advised shots which have led to his abysmal Offensive Rating (ORtg) of 87. (ORtg takes a player's effectiveness and places it on a scale where 100 is the average. So 87 is really not good, especially when Rose has averaged 110 for his career.)
On the other hand, Captain Kirk is making up for his poor offense with a strong showing on defense, averaging 2 steals a game and a Defensive Rating (DRtg) of 91, which is significantly lower than Rose's career DRtg of 107. Look for him to keep the Orlando backcourt in check tonight.
Workin' Hard for the Money
In the front court, Joakim Noah is leading all scorers with 14.7 PPG. Despite only shooting 47% from the field, he is doing a good job of finding himself at the charity stripe and is converting on those trips. However, Noah is much less efficient than in years past. Currently using 17.9 of possessions while on the floor, the largest of his career, Noah has found his efficiency to be suffering.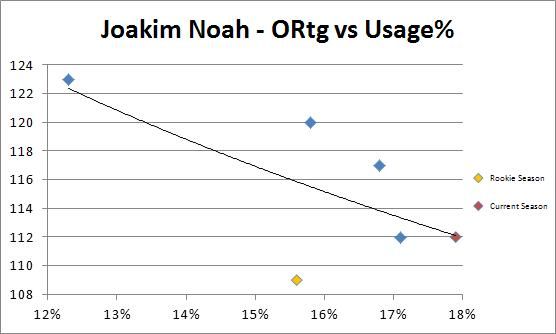 Ignoring his first season in the league, you can see that his current season ORtg is tied for lowest in his career, and as expected his efficiency is decreasing as his usage increases. During the past two seasons, Rose commanded a usage percentage of over 30% which is forcing Noah and others to work overtime to fill in.
Magical Season?
Written off after the departure of Dwight Howard, the Magic have found great success from F Glen Davis. Davis has been able to take on a big chuck of Howard's previous offensive output as he is using a whopping 34.6% of possessions (up from 22.4% last year). He is doing so while maintaining an ORtg of 113, which is 11 points above his career average. The season is still young, but it will be interesting to see if Davis can continue to manage such a large workload while maintaining a solid efficient. Also keep an eye on deep threat J.J. Reddick who has started the season shooting lights out from deep, and as a result has been extremely efficient with an ORtg of 149.