The James Harden-Russell Westbrook MVP Debate Came Full Circle in the Playoffs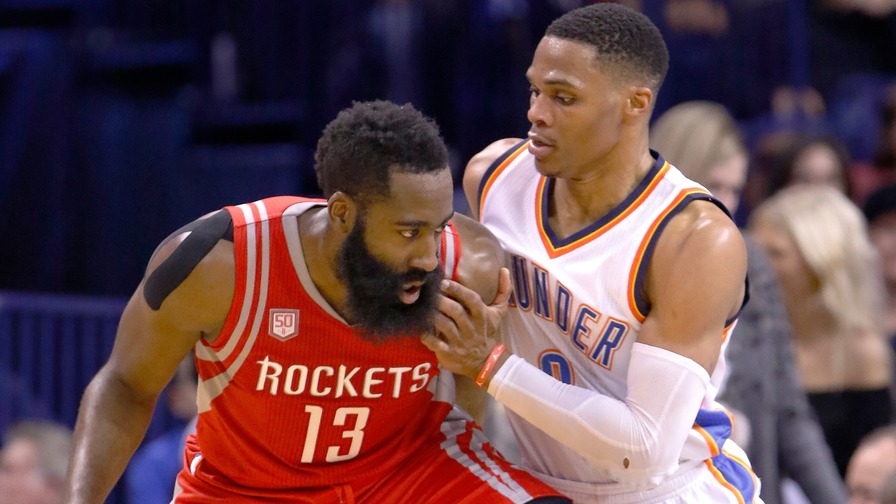 How often do we get the two leading MVP candidates facing off against one another in the opening round of the NBA Playoffs?
The basketball gods shined down on us, offering Russell Westbrook's raw power and ferocity versus James Harden's cooler-than-the-other-side-of-the-pillow approach. One MVP candidate led his team to a 4-1 series win to advance to the second round, and it wasn't the likely league MVP.
How did these two titans fare through their first-round matchup?
Harden's Impact
Harden has his Houston Rockets prepping for the second round by simply overwhelming the Oklahoma City Thunder with dribble drives and passes from every conceivable angle. Through the first round, Harden slapped up 7.0 assists per game (down from his regular season average), but there's more to it than sheer numbers.
When the game slows in the playoffs, defenses ratchet up the pressure and every possession becomes a grind. Harden's offensive wizardry makes the game so much easier for the guys around him. He's averaging 52.8 passes per game -- compared to Westbrook's 64.4 -- creating 16.8 points per game for his teammates.
For the series, Harden averaged 33.2 points, 7.0 assists and 6.4 rebounds per game. Oh, and his team is moving on in their pursuit of a championship.
But Russ Averaged a Triple-Double
That is right, he did. But it wasn't all that efficient.
Can you blame him, though?
Westbrook has been both phenomenal and part of the reason for the Thunder's playoff loss. Who can forget his epic triple-double in Game 2? It had everything that makes Westbrook, Westbrook -- a insane stat line (51 points, 13 assists, 10 rebounds), head-scratching narcissistic play (18 shots in the 4th quarter; only 4 makes), and even a Westbrookian postgame quote.
Help, Please?

Westbrook's 37.4 points, 10.8 assists and 11.6 rebounds per game is amazing, but it comes with a price.
There had been moments where he was the best player on the court, doing whatever he wants and whenever he wants. But the problem was simple -- when he wasn't on the court, all hell broke loose.
Per Basketball-Reference, the Thunder were 21.2 points per 100 possessions worse when he sat during this series. In the 46 minutes Westbrook was on the sideline, the Rockets' offensive rating was an absurd 148.9, compared to OKC's 88.8. For those keeping count at home, the Thunder are a plus-2.7 when Westbrook is on the court, compared to (gulp) a minus-60.1 when he rode the pine.
Houston scored 135.8 points per 100 possessions when Harden took a break (53 minutes without him) and were a plus-24.1. Harden is surrounded by teammates who can run an NBA-level offense when he is off the court. Conversely, it speaks to how bad the Thunder's bench was. Not only were they inept offensively, but they were also giving up points like Oprah hands out free merchandise.
So, yeah, Westbrook had been an unstoppable force that occasionally crashed and burned, but I forgive him -- he didn't get any help from his teammates. I know we think he never gets tired, but guess what -- he does!
There is no way you could rationally watch the Oklahoma City Thunder play and conclude Russell Westbrook was the problem.
So, Who's Been Better?

According to NBA.com, Westbrook is first in assists (10.8), first in assist points created (25.0), and second in potential assists (20.4) while making 64.4 passes per game (4th). Believe it or not, Westbrook was the more efficient passer than Harden in their matchup, but Harden was just sharing the court with better players.
Just like the regular season MVP award, it depends on what you value more.
Do you put stock into the player doing literally everything for his team to have a chance? Or do you penalize the better all-around player because he plays in a system tailor-fitted to his strengths?
I don't know the answer to those questions, but I do know I can watch these two play basketball against each other every day for the rest of my life and be happy.