Daily Fantasy NASCAR Track Preview: Quaker State 400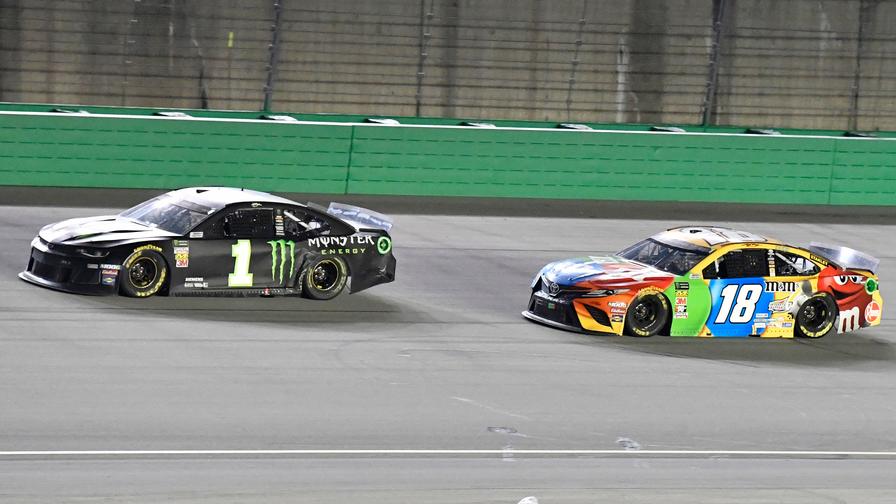 After emphasizing starting position for the past month, we can finally take a breath and relax this weekend.
The NASCAR Cup Series is heading to Kentucky, the first time they've been to a track shorter than 2.5 miles since June 14th. The bigger tracks feature fewer laps, forcing us to target drivers starting further back in pursuit of place-differential points.
Kentucky brings a more laid-back approach. There are 267 laps, giving us 26.7 FanDuel points for laps led, much closer to the median for NASCAR DFS. Additionally, the track type gives us flexibility and allows us to target drivers based on their speed rather than their starting slot.
Let's dig into past races at Kentucky and tracks like it to see why this is the case and what optimal rosters for Sunday will look like.
A Wide Range for Laps Led
With 267 laps on Sunday, there will be upside in drivers who can run out front and lead laps. This means it should be an emphasis of ours within our process. But we don't necessarily have to target drivers starting right at the front to find them.
This chart shows the percentage of laps led by drivers in races at 1.5-mile tracks since the start of last year and where they started the race. These are the races using the current rules package that will be in place this weekend at tracks the same length as Kentucky.
Part of the story here is that laps led are pretty evenly distributed. Only twice in 15 races has a driver led more than half the laps, and only six drivers have led more than 40% of the laps. There aren't a ton of "can't-miss" drivers in races like this.
The other takeaway is that you don't need to start in the top five to run out front. Three of the six drivers to lead more than 40% of the laps started ninth or lower. Seven of 15 to lead at least 30% of the laps started eighth or lower. It doesn't hurt to start up front (pole-winners tend to get a decent bump), but it's not a prerequisite for leading laps.
This has been especially true since the end of the COVID-19 layoff with no qualifying sessions. We've had two races at 1.5-mile tracks in this span that used the same method for setting the starting order that will be in place this weekend. Four drivers have led at least 20% of the laps in that time (equivalent to 53.4 laps on Sunday), and three of them started ninth or lower.
It is worth noting, though, that none of those four drivers started outside the top 12. The top 12 drivers in the starting order will be the top 12 in owner points entering the race, meaning they've been the best cars throughout 2020. If you want a driver with the upside to win and lead laps, they probably need to come from that group.
As a result, our best bet for Sunday will likely be to lock in two of those top-12 starters who we think will be fast during the race. It just doesn't really matter where they start within that top 12. This way, we're accounting for the number of laps in the race without having a super narrow focus.
We can see the profitability in this approach from the perfect lineups at Atlanta and Homestead, the two races at 1.5-mile tracks with the same starting methods as this weekend. Here's the Atlanta perfect lineup.
| Perfect Lineup | Salary | Start | Laps Led |
| --- | --- | --- | --- |
| Kevin Harvick | $14,000 | 9th | 151 |
| Martin Truex, Jr. | $12,200 | 11th | 65 |
| Ryan Blaney | $10,500 | 7th | 2 |
| Austin Dillon | $7,500 | 16th | 0 |
| Cole Custer | $5,500 | 31st | 0 |

And this is the one from Homestead.
| Perfect Lineup | Salary | Start | Laps Led |
| --- | --- | --- | --- |
| Denny Hamlin | $12,200 | 1st | 137 |
| Ryan Blaney | $11,300 | 11th | 70 |
| Aric Almirola | $8,500 | 21st | 0 |
| Tyler Reddick | $8,300 | 24th | 3 |
| Christopher Bell | $6,600 | 36th | 0 |

Both had multiple drivers who got noteworthy bumps from laps led, and both had at least two drivers starting in the top 12. We should use this as our template for this weekend.
The other thing of note is that both lineups had one driver starting outside the top 30. These are teams that have struggled in 2020 and are outside the top 24 in owner points. However, because of the value of place-differential points for value plays, they've been profitable DFS plays.
For this weekend, there are still several drivers outside the top 24 in owner points who will be competitive on Sunday. As long as you are comfortable with the speed they've had in individual races, you can and should feel free to target them. The same is true for teams starting in the bottom end of the tier ranked 13th through 24th. We want place-differential points out of our value plays, and the range from 20th through 36th has produced four high-quality plays in this two-race span.
Judging Speed
Combining everything together, we know that we have some freedom with where our drivers start, both for the studs and the value plays, though we should give a bump up to value plays who start deeper. Our key deciding factor is speed. But how do we know which drivers will have said speed?
Thankfully, we've got quite a bit of data to lean on here. This will be the sixth race of the season at a 1.5-mile track. Although those tracks have differences (largely banking and tire wear), we can learn plenty from looking at results there.
The two tracks most similar to Kentucky on the schedule thus far have been Las Vegas and Homestead. All three tracks have lower banking, and none of them have extreme tire wear. So if you want to predict who will be fast on Sunday, lean most on those two races.
We can also loop in some of what we saw in Atlanta and the two Charlotte races. Although they're not the same banking as Kentucky, they are 1.5 miles in length, and we can gain some knowledge out of that. You can use Racing Reference's fantasy tool to see which drivers have had the best performances between the five races combined, and that will let us know whether a driver is worth targeting or not.
This data can help inform whom we target for both our studs and value plays. For the studs, it'll tell us who has the speed to run out front and lead laps. For the value plays, it'll show us who has the juice to finish better than where they're starting. It'll also give us a signal on whether any value plays who are starting closer to the front have the upside for a top-10 finish. In that case, we can downplay where they're starting and lock them in.
All in all, we've got flexibility this weekend, a welcome sight after the past four races. We can feel free to just target the drivers we think will be fastest with minor tweaks based on the starting draw. Once the starting order is announced on Wednesday, you'll be all set to fill out lineups with confidence whenever you please, and you should bask in this freedom while you have it.