Kris Bryant Had a Record-Setting Performance on Monday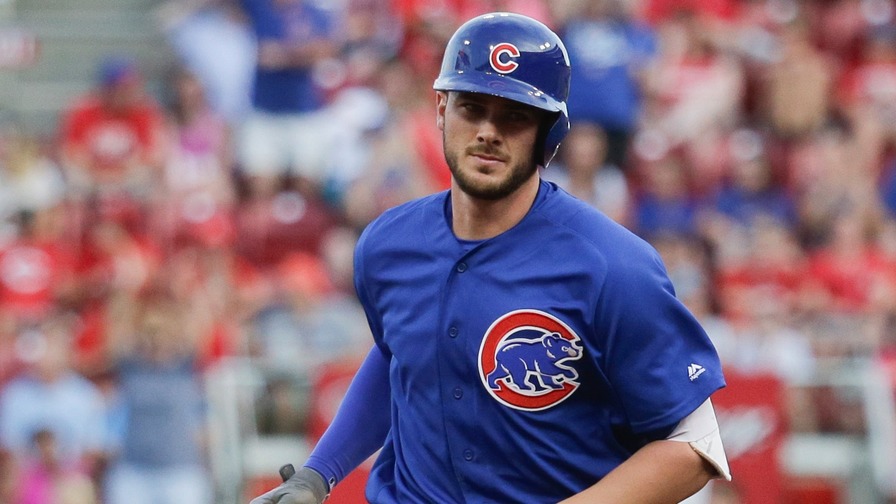 Hall of Famer Henry Aaron once said, "My motto was always to keep swinging. Whether I was in a slump or feeling badly or having trouble off the field, the only thing to do was keep swinging."
It seems Chicago Cubs third baseman/outfielder Kris Bryant used this same approach on Monday night against the Cincinnati Reds to help break out of a stretch of 13 games during which he recorded just 7 hits in 56 plate appearances (.167 batting average).
Although "break out" is putting it loosely. Just watch.
The youngest player in #Cubs history to hit three home runs in a game: @KrisBryant_23https://t.co/YNn9ohUVVn
— #VoteCubs (@Cubs) June 28, 2016

Bryant's three-home-run game would have been impressive enough -- besides becoming the youngest player to do that for the Cubs -- but he also managed to hit doubles in both of his other plate appearances, becoming the first player in modern history with that stat line.
Bryant is the first player in Major League history with 3 home runs and 2 doubles in the same game.
— Reds Media Relations (@RedsPR) June 28, 2016

To lay it all out for you, Bryant finished the game 5-for-5 with 3 home runs, 2 doubles, 6 RBI, and 4 runs scored. He was already having a good season, but check out how much this single game bumped up his overall numbers.
| Point in Season | AVG | OBP | SLG | ISO | wOBA | wRC+ |
| --- | --- | --- | --- | --- | --- | --- |
| Prior to Monday's Game | 0.265 | 0.357 | 0.520 | 0.254 | 0.370 | 132 |
| After Monday's Game | 0.278 | 0.367 | 0.567 | 0.289 | 0.391 | 146 |

Those are massive swings for a single game, especially considering he had more than 300 plate appearances this season entering Monday's game, but that's what happens when you record 16 total bases in one game.
Kris Bryant's 16 total bases (3 HR, 2 doubles) are most in a game by a Cubs player in the last 100 seasons. 😯 pic.twitter.com/9SdVB5Wr9P
— SportsCenter (@SportsCenter) June 28, 2016

Anytime you can join the record books for a franchise as storied as the Cubs is a special feat, but Bryant's versatility also helped create something that's never been done before.
Kris Bryant is the only player in last 100 years to hit 3 HR and play 3 different positions in the same game pic.twitter.com/mohPL7A35k
— ESPN Stats & Info (@ESPNStatsInfo) June 28, 2016

Bryant began Monday's game at third base but then moved to right field in the seventh inning before sliding across to play left field in the eighth inning. I think Reds' starter Dan Straily summed things up best with his look after Bryant's second home run of the game.
TFW you were asked to retire Kris Bryant multiple times. pic.twitter.com/T9UhASc4gj
— Brett Taylor (@BleacherNation) June 28, 2016

Bryant's 21 home runs this season are second-most, and his Wins Above Replacement of 3.9 is sixth-most among hitters. Our rankings have him as the 14th-best hitter, with a 3.02 nERD, but regardless of the metric you want to use, he's already garnering consideration for the National League's Most Valuable Player award, and it's deserved.
He posted top-20 numbers in both Weighted On-Base Average (wOBA) and Weighted Runs Created Plus (wRC+) last season but could finish this season with even better totals.
Thanks to an eight-percent decrease in his strikeout percentage, an almost three-percent decrease in his swinging strike percentage, and the 12th-highest hard-hit rate so far this season, Bryant is making the jump from Rookie of the Year to MVP.
Per Cody Pace of MLB.com, Bryant's "first four hits came on the first or second pitch of the at-bat. Through his first four at-bats, he saw six strikes and hit four of them."
I guess he really did use Aaron's slump-busting approach.