Fantasy Baseball Mailbag: Tuesday 5/24/16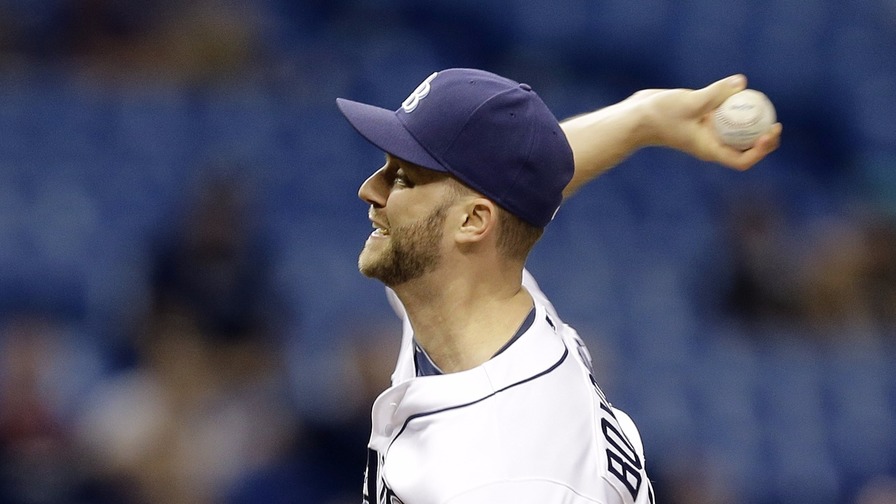 We're starting a new little diddy here on numberFire to try to help you navigate the ever-changing landscape that is fantasy baseball. It's not easy to keep up with all of the day-to-day fluctuations, so it can help to have someone to bounce ideas off of. That's what our daily mailbag will look to do.
Feel free to shoot us any questions you may have throughout the day on Twitter, and then we'll try to answer as many as we can in the form of a post. If you prefer, you can also send an email to Jim.Sannes@FanDuel.com. These questions can be anything fantasy baseball related. That means daily fantasy baseball, season-long, dynasty, and everything else are all in play.
Obviously, we won't be able to get to all questions because there's a lot to cover. For additional questions, be sure to check out our new MLB DFS tools along with our daily and season-long projections, which should help out more times than not.
Now, enough of that. Let's dig into today's mailbag and see what's popping in the world of fantasy baseball.
@numberFire trade ?: altuve desmond for correa, yelich, salazar or altuve desmond moose edwin for correa, chris davis, tanaka, beltre yelich
— Adam Faucheux (@Afaucheux70) May 24, 2016

First of all, you must be in a dope league because that is a ginormous trade. Kudos on that. Second, I'd do either of those trades, but the haul you get in the second one is tantalizing.
This isn't a knock on Jose Altuve, who is tremendous, but he's one of the more intriguing guys to sell high right now. Those of you who drafted him have benefited from the surprise power, but that aspect of his game doesn't seem overly sustainable. He has a 19.1% home run to fly-ball ratio, which is nearly three times as high as his 7.4% mark from last year. A good part of that is due to a leap in his hard-hit rate to 34.2%, but that number is still due for some serious regression.
Carlos Correa, on the other hand, is due for some regression on the opposite end. His 25.1% strikeout rate is a bit of a buzzkill, but that doesn't explain the sizable drop in his slugging percentage. Most guys with a 36.4% hard-hit rate, 15.7% soft-hit rate, and 32.2% fly-ball rate aren't going to have a .418 slugging percentage. You'd expect that number to be much higher, and that should inspire some confidence that the Correa we see going forward will be better than the one who has been on the field thus far.
The reasons for favoring the second trade center around Masahiro Tanaka and Chris Davis, even though it will force you to give up a bit more. Let's focus on Tanaka first because his first nine starts this year have been stupidly intriguing.
A quick glance at Tanaka's 3.35 skill-interactive ERA (SIERA) would make you think he's the same pitcher that he was last year, in which his SIERA was 3.36. That couldn't be much further from the truth. Tanaka has made himself more immune to the downsides of playing at Yankee Stadium by jacking his ground-ball rate up to 55.4%. His most effective pitches his first two seasons were his slider and his split finger, and he has shown recognition of that by increasing the usage of both this year. That split finger makes his ground-ball rate seem sustainable, and the combo has made it appear as if more strikeouts could be in his future.
Although Tanaka's 21.3% strikeout rate is actually lower than his mark last year, his swinging-strike rate is a significant amount higher. That's up to 12.5% from 11.4%, and his contact rate is down to 74.5%. All of this seems to indicate that his strikeout rate is going to rise. This is for a guy who is already inducing ground balls and holding a low walk rate; if he adds in more strikeouts, dude will be unstoppable.
As for Davis, I don't blame you if you're down on him after his start. However, at the end of the day, he's still a guy with a disgusting hard-hit rate playing in a great offense in one of the best hitter's parks in the league. You could say similar things about Edwin Encarnacion, but Encarnacion's hard-hit rate (32.6%) is a significant amount lower than Davis' (40.4%). That would make Davis the more likely candidate to snap out of his (relative) slow start and provide you with some sick production the rest of the year.
@LateRoundQB I need a closer, anyone who might be coming up that I could stash?
— Caleb Richardson (@CalebR79) May 24, 2016

If fantasy could be done without relievers and catchers, I think I'd live at least 10 years longer. Alas, that's not how the world works, but there are a few options you may be able to snag.
Before anything else, check to make sure Sam Dyson isn't available. The Texas Rangers made him their closer last week, but he's still only owned in 40.5% of ESPN leagues. He has a grotesque ground-ball rate to make himself a reliable option, and that's a job he should be able to hold down with his 2.81 SIERA.
If you don't need the saves immediately, then Brad Boxberger should likely be at the top of your list. He is owned in 37.0% of ESPN leagues, but he's nearing the end of his rehab stint and should be back soon. Once he gets the call back to the bigs, you can bet that number will be much higher than 37.0%. Boxberger had a 3.50 SIERA and a 27.3% strikeout rate last year with 41 saves, and with the Tampa Bay Rays up to ninth in our team power rankings, he's going to make owners very happy in the not-so-distant future.
With Huston Street still on the disabled list for the Los Angeles Angels, Joe Smith is a viable short-term solution to fill some gaps for a bit. Smith isn't great, but his 4.09 SIERA shows that he is at least not going to completely throw your ERA or WHIP down the pipes. Street is set to begin a rehab assignment soon, so Smith's run as the Angels' closer doesn't figure to be long-lived, but he can work for the immediate future.
Want to have your questions answered in our mailbox? Submit your questions by tweeting @numberFire, or send an email to Jim.Sannes@FanDuel.com.