6 Daily Fantasy Baseball Studs to Target on 5/3/16
With 14 games on FanDuel's main slate, there are are plethora of different ways to build a lineup on Tuesday. As always, when playing any sport on FanDuel, it's imperative to hit on high-priced players, especially when it comes to pitching.
Let's take a look at three hitters and three pitchers, who, despite costing a good chunk of change, are worth the investment.
Pitchers
Matt Harvey, New York Mets
FanDuel Price: $9,500
Matt Harvey is really good at pitching, and the Braves are not very good at hitting.
I can prove it to you.
While Harvey is off to a slow start this season, posting a 4.32 SIERA through 28 1/3 innings, he recorded a SIERA of 3.23 and 2.63 in each of his last two seasons. Atlanta, meanwhile, finished 2015 dead last in wOBA with a .296 clip, and they've taken it to a new low this year.
| Team | wOBA |
| --- | --- |
| Braves | .263 |
| Phillies | .284 |
| Padres | .285 |
| Reds | .290 |
| Athletics | .291 |

We project Harvey to amass 36.36 FanDuel points, and he is our second-ranked pitcher for the day. Our models have Harvey allowing 2.20 earned runs on 5.89 hits while punching out 5.69 hitters over 6.39 innings. The Braves have a measly implied runs total of 2.84, the night's lowest mark.
Jake Arrieta, Chicago Cubs
FanDuel Price: $12,100
Here's how good Jake Arrieta is -- He's playing on the road against a Pittsburgh team with the second-best wOBA in baseball (.356), and he's still day's most expensive pitcher by $2,400. He's also still our top-ranked hurler.
Our models project Arrieta to score 37.8 points against the Pirates. We see him permitting 2.19 earned runs on 5.87 hits and 1.70 walks while striking out 6.29 hitters over 6.70 frames.
Last time Arrieta faced the Pirates, he threw a complete-game five-hitter, striking out 11 with no walks as the Cubs won the one-game wild card showdown last season.
Pittsburgh handled it well.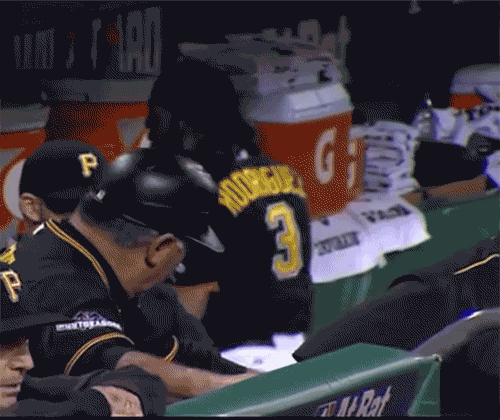 Pittsburgh is a very good team -- they sit eighth in our team rankings -- but the Pirates' high wOBA is boosted by a league-high .342 batting average on balls in play. Their 25 long balls rank 15th in the league.
Michael Wacha, St. Louis Cardinals
FanDuel Price: $8,700
While Harvey has the night's best matchup, Michael Wacha comes in a close second. Wacha gets a home date with the Phillies, whose .284 wOBA bests only Atlanta's lowly mark.
Wacha's career numbers -- 3.82 SIERA, 21.1 strikeout percentage, and 7.5 walk percentage -- aren't going to blow anyone away, but he's been remarkably consistent in his ability to turn in slightly above average numbers through 382 1/3 innings in the bigs.
Philadelphia's 3.15 implied runs total is the second lowest of the night, and it doesn't hurt that Busch Stadium slightly favors pitchers, according to the three-year averages of ESPN's Park factors.
We project Wacha to score 33.99 points, allowing 2.15 earned runs while fanning 5.18 hitters over 6.38 innings.
Hitters
Mike Trout, Los Angeles Angels
FanDuel Price: 4,800
Let's be honest: Mike Trout is never a bad play. This is a dude who has a chance to go down as the greatest baseball player of all time, for goodness' sake. While he's always a solid option, he's an especially good play Tuesday as he checks in as our top-ranked hitter.
Trout will face off with Milwaukee's Junior Guerra, a 31-year-old righty who has pitched all of four innings in the bigs, and those four innings came last season. Being the all-world player he is, Trout has no discernible splits. For his career, he's crushed righties to the tune of a .410 wOBA while putting up a .397 wOBA against left-handers.
The Angels' star is slashing .313/.396/.563 this year, and we project him to rack up 15.47 points with the best odds (.30) of going deep among today's hitters. It doesn't hurt that Trout is coming off a monster 4-for-5 night with a jack, 3 RBI, 2 runs, and a steal.
Yoenis Cespedes, New York Mets
FanDuel Price: $4,400
Yoenis Cespedes dealt with a leg issue in late April, which forced him to miss nearly a week of action, but he's started four consecutive games and appears to be 100 percent healthy. Since returning from the leg ailment, he's hit 3 homers in his last 18 plate appearances, including this tater on Monday.

Similar to Trout, Cespedes is a man without meaningful splits for his career, but he had some lopsided numbers in his monster 2015 season.
| 2015 | Plate Appearances | wOBA | Home Runs |
| --- | --- | --- | --- |
| vs. LHP | 155 | .313 | 8 |
| vs. RHP | 521 | .383 | 27 |

Those numbers should come in handy tonight as he squares off against Atlanta right-hander Matt Wisler. Cespedes is our second-ranked hitter, coming in with a projected point total of 14.94.
Bryce Harper, Washington Nationals
FanDuel Price: $4,900
With Trout, Cespedes and Bryce Harper, this is truly a studs of the day piece. Harper is our third-ranked hitter for the day as we peg him to total 14.66 points in his matchup with Royals' pitcher Chris Young.
Harper mashed everything in sight en route to a .463 wOBA last season, but he was especially lethal against right-handed pitchers, although I'd hesitate to say he struggled against lefties.
| 2015 | Plate Appearances | wOBA | Home Runs |
| --- | --- | --- | --- |
| vs. LHP | 189 | .421 | 7 |
| vs. RHP | 465 | .478 | 35 |

Young, a righty, has posted a SIERA over 5.00 in each of the last two seasons, and his SIERA sits at 4.04 through his first 25 frames this year. So not only does Young throw from Harper's preferred side, but he's also not very good.