Christian Yelich Is Having His Breakout Season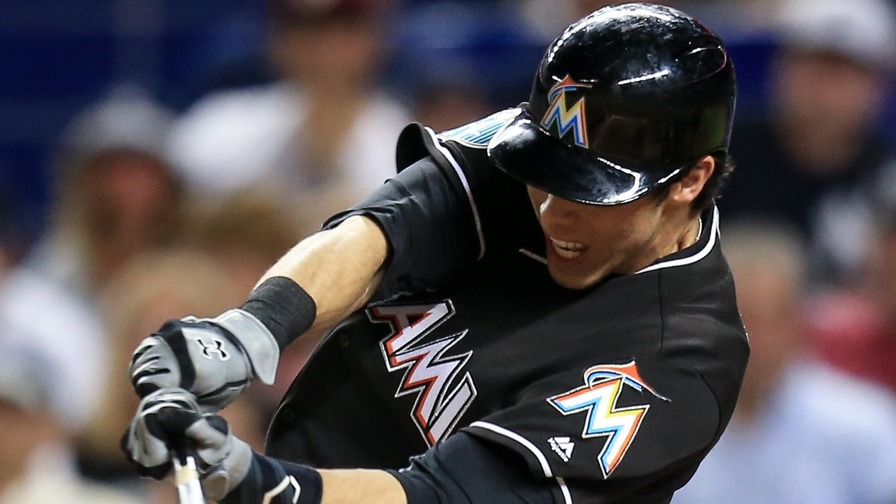 At this time last year, Miami Marlins outfielder Christian Yelich was on the Disabled List battling a lower back injury after hitting .200 in the month of April.
Upon his return, however, Yelich began to heat up and ended the 2015 season hitting .300 thanks to a .342/.392/.473 slash line during the second half.
Yelich hit an incredible .367/.429/.525 over his last 30 games of the season. Fast forward to the start of the 2016 season, and Yelich is continuing from where he left off last season.
A Red-Hot Start
So far, through 23 games, the Marlins' young outfielder is hitting .346 with a .471 on-base percentage and a .481 slugging percentage.
Yelich's batting average ranks eighth in all of Major League Baseball, and his on-base percentage is the second-best, trailing Dexter Fowler's .474 by just a few points. Additionally, he's successfully gotten on-base at least once in all 23 games he's played in and is tied with Paul Goldschmidt for most times on base all season, reaching safely 48 times.
Yelich has always had a good eye at the plate, walking 9% of the time last season and 10.6% of the time in 2014. But, this season, he's being even more selective, and it's paid off.
Yelich has drawn the 5th-most walks in the league, with 18, and owns a 17.6% walk percentage, a career-best and good for 11th-best in all of baseball.
But now, the question is whether can he sustain this level of production.
Is It Luck?
Yelich currently owns an insane .422 BABIP (batting average on balls-in-play), which is the fourth-highest in all of baseball. Interestingly, Yelich's teammate Martin Prado owns the second highest BABIP at .439
The league average for BABIP is right around .300, but in 2014, Yelich's BABIP was .356, and last season, he registered a .370 BABIP. Yelich hits the ball hard, hits many line drives, and is relatively fast, so those two BABIP values are realistic.
However, a BABIP of over .400, as Yelich has had thus far, is not sustainable. It won't be surprising if Yelich comes back down to earth a little bit and finishes the year in the .350 to .360 range for batting average on balls in play.
Batted Ball Profile
Take a look at Yelich's slight bump in line drive percentage and slight decrease in ground ball percentage.
| Year | Line Drive % | Ground Ball % |
| --- | --- | --- |
| 2013 | 23.0% | 63.2% |
| 2014 | 21.2% | 61.0% |
| 2015 | 22.5% | 62.5% |
| 2016 | 24.6% | 60.0% |

Yelich is hitting a line drive 24.6% of the time this season, a career high, and hitting the ball on the ground less often than ever before. This bodes well for his future performance because line drives are hit harder and more likely to fall in for a hit than ground balls.
Finally, breaking down Yelich's soft, medium, and hard hit percentages prove a little troublesome.
| Year | Soft% | Med% | Hard% |
| --- | --- | --- | --- |
| 2013 | 17.1% | 48.6% | 34.3% |
| 2014 | 15.8% | 50.0% | 34.2% |
| 2015 | 17.1% | 49.9% | 33.1% |
| 2016 | 20.0% | 47.7% | 32.3% |

Yelich is hitting the ball softly more often than ever before (20% of the time), while both his medium and hard-hit percentages have been knocked down a few percentage points. Eventually, those soft hit balls will stop falling in for hits and Yelich's average will decrease.
A Bright Outlook
The Marlins have one of the best young outfielders in all of baseball in Yelich, and his hot start has been great to watch.
It seems, however, with an abnormally high BABIP, his batting average will come down a bit in the near future.
But, with an improved line-drive percentage, Yelich's batting average should still be higher than last season, and finishing the season around .320 is realistic.
Throw in Yelich's great eye at the plate, and he may be pushing an on-base percentage of .400 at the end of this season.
Yelich is a great player, and his fourth season may be his breakout year.