4 Daily Fantasy Baseball Stacks for 7/26/18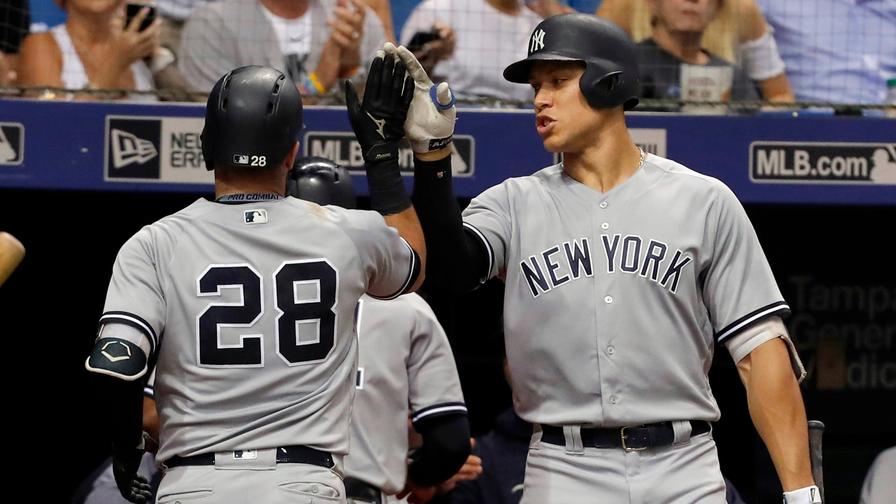 Stacking can be a controversial topic in many daily fantasy sports, but you can count baseball as a glaring exception. Here, it's universal.
Using multiple players on the same team on a given day presents you with the opportunity to double dip. If one of your players hits an RBI double, there's a good chance he drove in another one of your guys. When you get the points for both the run and the RBI, you'll be climbing the leaderboards fast.
Each day here on numberFire, we'll go through four offenses ripe for the stacking. They could have a great matchup, be in a great park, or just have a lot of quality sticks in the lineup, but these are the offenses primed for big days that you may want a piece of.
Premium members can use our new stacking feature to customize their stacks within their optimal lineups for the day, choosing the team you want to stack and how many players you want to include. You can also check out our hitting heat map, which provides an illustration of which offenses have the best combination of matchup and potency.
Now, let's get to the stacks.
New York Yankees
It hasn't exactly been a banner season for Kansas City Royals right-hander Jake Junis. His ERA has bloated beyond 5.00 due to poor batted-ball data. This includes a 42.1% fly-ball rate and 41.7% hard-hit rate, a perfect recipe for stacking. And his 9.3% swinging-strike rate isn't high enough to have you worried that the New York Yankees' recently dormant bats fail will fail to connect on enough pitches either.
They should be set to break out against Junis, after slumping in the power department of late.
The Yankees have not hit a home run in 3 straight games.

It's the longest they've gone without a home run since September 22-24 in 2016, where they were shut out in 3 straight games. pic.twitter.com/LGGMOLhUGN
— ESPN Stats & Info (@ESPNStatsInfo) July 25, 2018

The Yankees rank third in baseball with a 110 wRC+ against right-handed pitching. They also rank 7th in fly-ball rate (37.6%) and 10th in walk rate (9.2%) against right-handed pitching, so their season-long stats against righties are all pretty encouraging.
Aaron Judge ($4,400) has a 48.3% hard-hit rate this year, and a career 162 wRC+ against right-handed pitching. Giancarlo Stanton ($4,200) had hits in 18 of his past 20 games before last night's 0-for-4 performance. He has a 41.9% hard-hit rate this year.
Rookie sensation Gleyber Torres ($3,500) has a 44.0% fly-ball rate and 42.5% hard-hit rate on the year. Didi Gregorius ($3,500) has been tremendous against right-handed pitching this year, with a 12.3% strikeout rate, 44.5% fly-ball rate, and 38.7% hard-hit rate against them. And in this exact situation, he has a 154 wRC+ against righties at home.
Miguel Andujar ($3,400) has 44 extra-base hits along with a 17.7% strikeout rate and 36.0% hard-hit rate this season. To round things a bit further down the order, Aaron Hicks ($3,300) has a 40.8% fly-ball rate and 42.8% hard-hit rate while Greg Bird ($3,100) is an excellent player to roster for cheap exposure to this high-flying offense; he has a 46.8% fly-ball rate and 41.3% hard-hit rate in 2018.
To read all premium content, upgrade to a Premium account with numberFire
If you're not a Premium subscriber, it takes just a few seconds to sign up. You'll get access to all of our insider information, game projections, handicapping advice, DFS tools, advanced statistics, and more.