Can Anthony Rendon Repeat His Monster Season?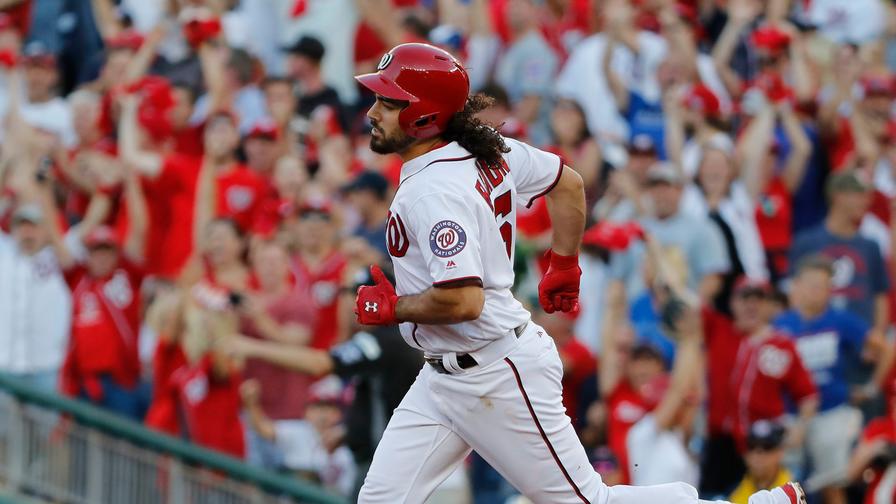 Anthony Rendon's excellent 2017 season hardly came from nowhere. Rendon was a standout in high school in the Houston area, and he garnered quite a few accolades as a Rice Owl. He tore through the Washington Nationals minor league system after being drafted sixth overall in 2011, making his major league debut in 2013.
The talent was obviously there for the 27-year-old third baseman.
But 2017 was the first time Rendon really put it all together for a full year (although he was pretty good in 2016, too), and he has a legitimate shot to move into the ranks of the elite if he can do it again in 2018. Can he do just that?
A Career Year
Rendon's major league career has been defined by inconsistencies.
He has two seasons of average-at-best play (100 wRC+, 1.9 fWAR in 2013, 97 wRC+, 0.9 fWAR in 2015) buoyed by two excellent seasons (130 wRC+, 6.5 fWAR in 2014, 111 wRC+, 4.7 fWAR in 2016, the latter giving him Comeback Player of the Year honors) before his banner year in 2017. Last year saw him slash .301/.403/.533, with a 142 wRC+, 6.9 fWAR -- all of which were career-high clips by significant margins.
Rendon also had a career-high in home runs (25) and walk-rate (13.9%), all while maintaining a career-low strikeout rate (13.6%). He was one of five players in all of baseball to walk more than he struck out -- alongside impressive company such as Mike Trout, Justin Turner, Joey Votto, and Anthony Rizzo.
Rendon's walk and strikeout rates were not the only things that put him in impressive company in 2017. His wRC+ was tied for 13th in all of baseball, and his fWAR was tied for third (although Trout put up the same fWAR in 33 less games, so a full season of Trout would see him place fourth). Among third basemen, Rendon's wRC+ ranked fourth, and his fWAR topped the list. Rendon was an elite player compared to both other third baseman and every positin player in baseball.
His underlying statistics suggest it was not a fluke, either.
Examining Sustainability
Rendon's numbers do not hint at anything that would suggest he can not sustain it.
He finished with a .314 BABIP, which is basically identical to his career number (.312). He did this while making excellent contact. He limited his soft-hit rate to an impressive 13.0%, well below the league average (18.9%) -- and that's nothing new for him seeing as his career soft-hit rate is 13.4%. Rendon coupled that with an above-average hard-hit rate (34.3%, compared to a 31.8% league average).
He also made more contact last season. The chart below shows his 2017 contact rates when compared to the league average.
| Year | Contact Rate | Swinging-Strike Rate |
| --- | --- | --- |
| 2017 | 87.2% | 5.1% |
| League Average | 77.5% | 10.5% |

Rendon's contact rates dwarf the league averages, and it puts him in great shape moving forward. His ability to make contact with balls in the zone (zone contact rate of 92.0%) is impressive, and pairing that with his very low soft-hit rate is a recipe for long-term success for Rendon.
It's pretty simple -- if a guy makes great contact when he connects and he doesn't swing and miss often, he's going to produce a lot of hard-hit balls.
Moving Forward
Rendon's outstanding 2017 campaign kind of flew under the radar a bit, but if Rendon can repeat it in 2018 -- and looking at the numbers, there is no reason why he shouldn't be able to, barring health -- he will put his name amongst the elite of the elite in the MLB.