Ian Happ Has Made a Major Rookie-Year Impact With the Chicago Cubs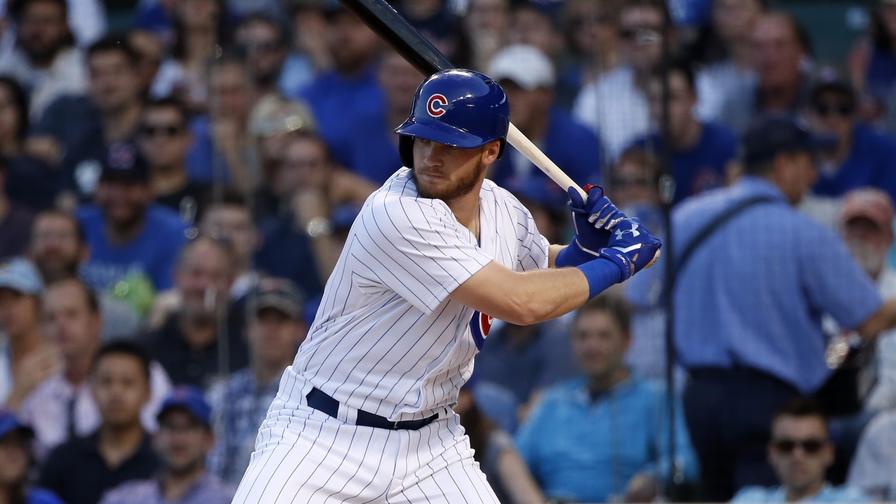 Ian Happ hit his 20th home run Wednesday night, and he made some history with it. He was the sixth Chicago Cubs' player to hit at least 20 home runs on the season, setting a franchise record. He also became the quickest Cub to 20 home runs to start his career, doing so in just 89 games.
Even before promoting Happ, the Cubs were overflowing with young talent. Happ's big year has only added to their riches.
2017 #Cubs: 1st team in MLB history with 5 players to hit 20+ HR in age 25 or younger season. Báez, Bryant, Contreras, Schwarber, Happ
— Christopher Kamka (@ckamka) August 31, 2017

Happ has been a very productive player for the Cubs, racking up 1.5 fWAR in basically a half season's worth of playing time. Not only does he mash, he has shown the positional versatility that the Cubs have required from their young players (as well as their veterans).
The Cubs, fresh off their first World Series win since 1908, added yet another first-round selection to their lineup when they promoted Happ midway through this season. Happ is the latest in a long line of young studs -- Kris Bryant, Javier Baez, Kyle Schwarber, Addison Russell and Willson Contreras to name a few -- the Cubs' farm system has churned out, and he's given the Cubs a big lift this season.
The Rich Get Richer
Happ was the ninth overall pick in 2015 out of the University of Cincinnati. He flew through the minor leagues, making his major league debut on May 13th of this year, less than two years after he was drafted.
He has been a very productive player from the jump, going yard in his debut and continuing to produce on a consistent basis.
The 23-year-old has slashed .252/.327/.524, with a .273 ISO and 115 wRC+ through his first 323 plate appearances. His offense has seamlessly transitioned from the minors to the majors, giving the Cubbies yet another above-average offensive bat to add to an already talented crop of young players.
Happ has actually been one of the best hitters on the Cubs. His wRC+ is sixth among his teammates, and his fWAR is fifth (among offensive players). The majority of his playing time has been split between second base and center field (highlighting that versatility that this Cubs' regime salivates over), and his bat definitely plays at both spots.
| Split | OPS | ISO | wRC+ |
| --- | --- | --- | --- |
| Ian Happ | .852 | .273 | 115 |
| League Average for Second Basemen | .736 | .147 | 93 |
| League Average for Center Fielders | .769 | .168 | 102 |

Happ is well above the average at each spot, especially a position as light-hitting as second base. If he can stick there (and there were pre-draft concerns that he could not), then he would be an elite bat for the position.
Even if Happ has to move off of second in the future, he would still be an above-average option in center field, too. He has also seen some time in the corner outfield spots, and he is an above average option there, as well. The average wRC+'s for right and left field are 105 and 102, respectively, both of which Happ is comfortably above.
Happ is not a perfect offensive player, of course. His biggest problem lies in his strikeouts. He has a gaudy 30% strikeout rate, although he does offset it a bit with an above-average 9.3% walk rate, which is pretty impressive for a young guy.
As one would expect from a strikeout rate as high as 30%, Happ's swinging-strike percentage is 16%, and his contact rate is just 67.5%. (For reference, the league average swinging-strike rate is 10.4% while the average contact rate is 77.6%.) Those numbers show a ton of swings and misses from Happ, which holds back his offense a tick. While it does not tank his offense completely, as his numbers show, he can become an even better hitter if he makes more contact, something that could happen down the road as he logs more experience.
A Flexible Fielder
Happ has played mainly two positions early in his career, and that is far from uncommon for the young Cubs who led the organization to a championship in 2016.
So far this season, he has played 212.2 innings at second base and 289.1 innings in center field. He also has spent 78 innings in left field and 47.2 innings in right. This has been a pattern with the current Cubs regime, from the front office down to manager Joe Maddon.
Bryant has played 3,059.2 innings at third base, 399.1 in left field and 184 in right in 2017. Contreras split his rookie season between catcher (389.2 innings) and left field (180.2 innings), before transitioning to the full-time starting catcher role. Baez does this to a lesser extent as he has played significant innings at second base, third base and shortstop. The Cubs even had Schwarber split time between catching and left field before he transitioned to the outfield full time after the 2015 season.
The Cubs are clearly not afraid to move people around the diamond, and they will even do it to top prospects like Happ, Bryant and Contreras. When the Cubs went out and signed the ultra-versatile Ben Zobrist prior to the 2016 season, Maddon discussed the super-utility role as a position of sorts, and the ability to play multiple spots is particularly useful in the National League, giving Maddon several options when he makes late-game moves.
Happ has shown that he has the positional versatility -- not to mention the offensive ability -- to fit in perfectly with the organization, and like a lot of the Cubs' recent top prospects, he's put up big-time numbers right out of the gate. In a season in which the Cubs haven't blown away the National League Central the way most expected them to -- our models still give them an 89.4% chance of winning the division -- Happ has given the team a big lift, and he's another in a lengthy line of guys who could be producing on the North Side for a long time.