Fantasy Baseball: Nate Karns Is Secretly Pitching Like an Ace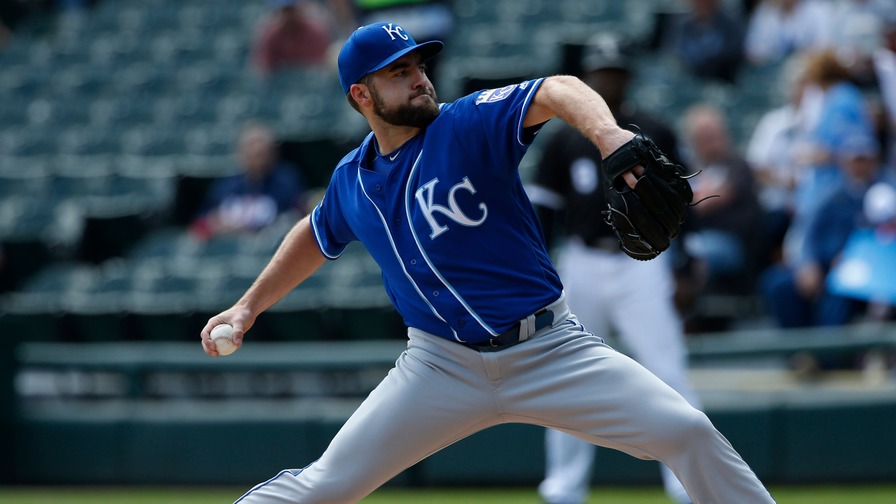 The start of the 2017 season has not been good for the Kansas City Royals. Although they are playing better baseball as of late, they are 16-22 and in last place of the American League Central. Per our models, they are the second-worst team in the bigs with a 2.6% chance of making the postseason. Like I said, not good.
They could be even worse off if not for an offseason trade for starting pitcher Nate Karns, which may seem a bit surprising given that some wondered if Karns even had a role in the starting rotation when the deal was made.
Karns has been excellent for Kansas City and one of the most effective starting pitchers early on this year. That sounds outlandish for a guy with a 4.46 ERA, but Karns' peripherals are that good.
What's behind his red-hot start, and can Karns really keep performing like one of the game's top arms?
Let's find out.
Breaking Down Karns Versus His Peers
When looking at Karns' statistics over his first seven starts, the numbers may actually be a bit surprising. Comparing Karns to a group of three other top starters this season, he's perhaps a diamond in the rough so far.
Take a quick look at the table below. Three of the pitchers in this blind comparison are Max Scherzer, Jacob deGrom, and Zack Greinke, and one of them is Karns, who ranks in the top 12 among qualified starters in strikeout rate, swinging-strike rate, and SIERA.
| | Strikeout Rate | SIERA | Hard-Hit Rate | Swinging-Strike Rate |
| --- | --- | --- | --- | --- |
| Player A | 32.6% | 2.84 | 24.8% | 15.5% |
| Player B | 28.4% | 3.20 | 30.2% | 13.0% |
| Player C | 28.6% | 2.98 | 37.7% | 13.2% |
| Player D | 32.4% | 3.16 | 36.7% | 15.3% |

Player A and Player D stand out from the group in terms of strikeout rate while Player A and Player C are a notch ahead in SIERA. Player A leads the pack by a fairly wide margin in hard-hit rate, with Player B coming in second, a healthy margin ahead of the others. Player A and Player D are also a cut above the others in swinging-strike rate.
Player A is Scherzer, Player B is Karns, Player C is Greinke, and Player D is deGrom.
Keep in mind there's one major factor to consider from a fantasy perspective -- as incredulous as it may seem to rank Karns amongst the league's elite starters, what was the cost of drafting these players in season-long leagues? Here's the 2017 average draft position (ADP) from over at NFBC.
| Pitcher | Average Pick | Round |
| --- | --- | --- |
| Max Scherzer | 13.3 | 2nd |
| Jacob deGrom | 57.4 | 5th |
| Zack Greinke | 109.2 | 9th |
| Nate Karns | 402.1 | 34th |

Given Karns' struggles last season and a change in teams, his draft value was certainly pushed down, but in a 12-team league, even if there were 34 rounds, Karns went far later than the others, if not undrafted altogether. He's giving owners a pretty great return on investment right now.
What's Driving These Numbers?
Karns' current marks would be his best across the board in several metrics.
| Season | Innings Pitched | SIERA | Strikeout Rate | Swinging-Strike Rate |
| --- | --- | --- | --- | --- |
| 2015 | 147.0 | 3.90 | 23.4% | 9.2% |
| 2016 | 90.1 | 4.23 | 24.2% | 10.9% |
| 2017 | 40.1 | 3.20 | 28.4% | 13.0% |

Just recently, Karns set a career-high with 12 strikeouts over 5 innings pitched, which was also a Royals record for most strikeouts over 5 innings.
Karns has always had a strong curveball and changeup as part of his arsenal. Over the last three seasons, Karns slugging percentage allowed against those two pitches show they are his best offerings.
Unlike other breakout pitchers, Karns hasn't seen a jump in velocity -- he's barely up one-tenth of a mile per hour. Instead, what Karns has done is throw his most effective pitches more often. A look at his usage data from over at Brooks Baseball reveals a spike in his changeup at the expensive of his curveball and his sinker.
His changeup has been downright filthy. Karns has allowed only a .152 batting average against his change this year while generating a 20.6% swinging-strike rate against the pitch.
His shift in strategy is paying off in a big way.
Now Is the Time to Buy
Only 2-2 with a 4.46 ERA, Karns doesn't exactly stand out by many traditional metrics, and those metrics are important to consider from a fantasy perspective since a majority of leagues use traditional stats for scoring.
A deeper dive, though, reveals that Karns has been pretty outstanding. He's breaking out right in front of our eyes, and his traditional stats should start to better represent his actual performance. Karns' advance metrics compare favorably to hurlers who a majority of fantasy owners would consider to be among the game's top pitchers, which is not what many folks expected heading into the 2017 season.
A change in approach is fueling a massive step forward for Karns, and fantasy owners should buy now before the price gets too expensive.