The White Sox Signed Tim Anderson to a Very Team-Friendly Deal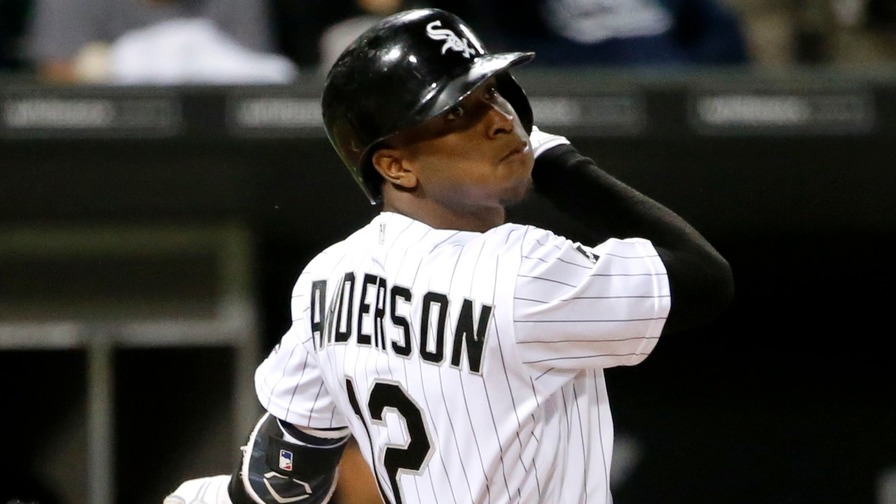 While the Chicago White Sox offseason will be defined by the blockbuster trade sending Chris Sale to the Boston Red Sox, there is another -- much smaller -- move the White Sox made may wind up being important for years to come: extending young shortstop Tim Anderson to a six-year extension, worth $25 million. The contract also has two team options worth $12.5 million and $14 million, respectively, which can make it an eight-year deal.
While this is not a big investment of money, there is still some risk involved. Anderson's lack of experience -- which makes this a unique extension -- and his extremely interesting statistical output are part of the risk involved, but this deal could turn out to be a huge bargain for the White Sox.
The Contract
Before we discuss the type of player Anderson is, the contract itself should be discussed in more detail.
It is quite a creative contract, one can make Anderson a huge bargain for the White Sox. It gives the organization flexibility, as well, if he does not work out, though it is not without its risks. In 2017, he will earn $800,000 followed by $1 million in 2018, $1.4 million in 2019, $4 million in 2020, $7.2 million in 2021 and $9.5 million in 2022.
Most of this contract is cheap, but it starts to get a little pricey towards the end of the deal -- not enough to ruin a team's finances but still risky. If Anderson does not reach his potential and becomes a below-average player, the White Sox are, for lack of a better term, stuck with him for the foreseeable future at a rising -- albeit still very affordable -- salary that will be harder to trade the deeper they get into the deal.
There are also the two team options, which are a little more pricey, coming in at $12.5 million in 2023 and $14 million in 2024. These carry little risk, though, since both have a meager $1 million buyout the White Sox could exercise.
One of the interesting things about this deal is that is the most expensive deal given to someone with less than one full year of MLB experience. The White Sox and Anderson agreed to this deal a mere 99 games into his MLB career, which is an incredible leap of faith by the White Sox. And as his statistics show, Anderson is an interesting player to invest in.
A Truly Intriguing Player
Anderson is a very interesting player. He is very fast -- with 94 total stolen bases in the minors from 2013 to 2016, including 49 in 2015 in Double-A), and he has a quality glove at shortstop, but his hitting ability is where things good weird.
Anderson is clearly talented with the bat, but he showed no interest in plate discipline throughout the minors, only once posting a walk rate above 4.4%. That continued into the majors as Anderson ended his first season in the bigs with a stat line of .283/.306/.432 with 9 home runs, 10 stolen bases and a 95 wRC+. He had a 27.1% strikeout rate and a 3% walk rate (13 walks in 431 plate appearances).
The free-swinging mentality of Anderson is something to note, because it is a pattern. His highest-walk rate during any extended stay at a minor-league level was 7.6% in Single-A in 2013. In 2014, he managed to walk in only 2.3% of his plate appearances in High-A in 2014. While this is not a death sentence for his offensive contributions, it will mean he will need an elite tool one way or another.
Here is Anderson compared with two good players who have success despite low walk rates. For Anderson to break that 100 wRC+ -- and really make this contract for the White Sox a bargain -- he either needs to develop more power (like Rougned Odor) or make contact at a much higher rate (like Starling Marte).
| Player | BB% | Average | OPS | ISO | wRC+ |
| --- | --- | --- | --- | --- | --- |
| Rougned Odor | 3.00% | .271 | .798 | .231 | 106 |
| Starling Marte | 4.30% | .311 | .818 | .145 | 121 |
| Tim Anderson | 3.00% | .283 | .738 | .149 | 95 |

Right now, Anderson is a bit in between the both of them. His average is higher than Odor's, but it is a pretty empty .283 -- only 37 of his 116 hits were extra base hits. He was primarily a singles hitter, and he'll have to hit a lot more of them to be a 100+ wRC+ player.
He is unlikely to develop .231 ISO power, considering the highest of his minor-league career came in 2014 when he had a .175 ISO. Anderson's best bet is to make more contact; he had a 70.7% contact rate last season, which is behind Marte's 76.3% and Odor's 77.8%.
If Anderson is going to be a free-swinger, he has to hit the ball more often to be successful, especially since his wheels give him a good chance to rack up a high batting average on balls in play. Plus, Anderson will be an even bigger demon on the basepaths if he is on base more often.
Worth the Risk?
His age is a bit of a concern, considering the White Sox are throwing all these years of commitment at someone who has only logged 99 games at the MLB level. Anderson is 23 now, and the contract could end when he is 29 or 31, depending on if the options are exercised. That is a long time to commit to a rather small sample size, and Anderson was below-average offensively in that sample.
However, also with that age comes the likelihood of improvement down the line. Anderson could certainly improve his contract ability and wind up being a guy who puts up 100 wRC+. If you add that to his defensive prowess (plus-6 defensive runs saved, plus-6.3 Ultimate Zone Rating last season) and his speed ability, the White Sox could catch a huge bargain.
That's what the Sox are counting on, but, as with every contract, there is risk involved. The upside here, though, outweighs the risk given that the average annual value of this deal, even with the more costly team options exercised, is still just $6.31 million. If Anderson doesn't pan out, it won't cripple the White Sox, and if he ends up being a solid regular, this deal will be a nice bargain for a rebuilding team.