Fantasy Baseball: Is Francisco Liriano Being Overlooked?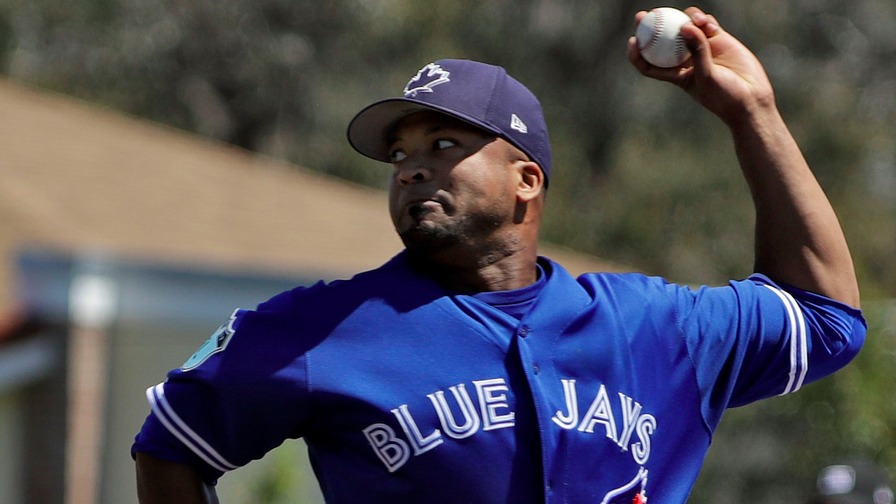 Perception isn't always reality, and Francisco Liriano's 2016 season is a testament to that.
On the surface, it looks like he's starting to decline following a mid-career renaissance with the Pittsburgh Pirates. After posting a 3.26 ERA, 3.23 Fielding Independent Pitching (FIP), 1.24 WHIP and 9.2 strikeouts per nine innings (K/9) between the 2013 and 2015 seasons, he looked like a completely different pitcher last year, and not in a good way.
In 163 total innings between the Pirates and Toronto Blue Jays, the southpaw posted a disappointing 4.69 ERA, 4.89 FIP, 1.49 WHIP and 9.3 K/9.
His current fantasy baseball value shows the apprehension in selecting him as he prepares for his age-33 season -- National Fantasy Baseball Championship (NFBC) drafts tab him as the 83rd pitching coming off the board with an average draft position of 306.16, with the best-case scenario having him come off the board at pick 205.
A Tale of Two Seasons
To just look at Liriano's overall 2016 stats and draw conclusions about his performance wouldn't be fair. His sample size with the Blue Jays was much smaller than what he did in Pittsburgh, but it's such a stark difference that they need to be separated from one another.
| 2016 | IP | Record | ERA | FIP | WHIP |
| --- | --- | --- | --- | --- | --- |
| Pirates | 113.2 | 6-11 | 5.46 | 5.28 | 1.62 |
| Blue Jays | 49.1 | 2-2 | 2.92 | 3.98 | 1.18 |

Pitchers normally see an uptick in production upon going to Pittsburgh, not leaving there, but things clicked for Liriano when he got a fresh start with an old friend.
Russell Martin, who was his batterymate in Pittsburgh for a couple seasons, is still in Toronto, and it's hard to argue the changes the southpaw made to his game. His K/9 didn't move much (9.2 to 9.5), but the biggest changes came in his control and how it impacted his walks per nine innings (BB/9) and hits per nine allowed (H/9).
With a career BB/9 of 3.9 through 1,513 big league innings, Liriano is never going to be known as a great control guy, but it got out of hand last year with the Pirates, climbing to 5.5. If that held through the end of the season, that would've been a new single-season career high, but it dropped to 2.9 with Toronto. That would've been his lowest since 2010 had it been done over a full season.
We saw a similar trend in the H/9 department, as well. It climbed up to 9.1 with Pittsburgh in 2016, which would've been his second-highest ever over a full season. It was encouraging to see it drop to 7.7 with the Blue Jays, which was more in line with his numbers from 2013 to 2015 (7.4).
Continuing Into Spring
As always, spring training stats should be taken with a grain of salt (although you can pull some things from them), but it's encouraging to see Liriano's late-season production continue during Grapefruit League action. He has a 1.86 ERA over 9.2 innings of work, but, more importantly, he's allowed just 6 hits and 2 walks while striking out 18.
To give these stats a little more perspective, it was the complete opposite last spring before struggling in Pittsburgh. In 13.1 innings of work, the lefty produced a 6.08 ERA while allowing 19 hits and 2 walks while striking out 16.
So, he's at least got the confidence-booster of a strong spring under his belt with the regular season approaching.
Finding the Right Price
Overall, Liriano has been a frustrating player for fantasy owners because he can be so erratic. But now that his stock is so low, his situation in Toronto is good enough that it's worth investing in him at the right price.
Late-round picks should be predicated on both opportunity and upside. Despite the up-and-down 2016 season, the southpaw possesses each of those things.
He's projected to be the Blue Jays' fifth starter, and he looks entrenched in that role based on the team's depth. This offense will look different without Edwin Encarnacion in the middle of it, but it's not like Josh Donaldson, Jose Bautista and company won't be scoring runs.
Our projections have Liriano tabbed for 164 innings this season with 10 wins and a 3.96 ERA. That's pretty good production from a fifth starter, and the small samples we've seen from Liriano show there's at least some potential for him to outperform those projections.
It wouldn't be outrageous to start putting him on your radar around the 230th pick, which would be the 19th round in 12-team drafts. The potential inconsistency is mitigated by where he's getting selected in drafts, but the upside of getting real value from a pitcher in a good situation is pretty high.