Fantasy Baseball: Is Kevin Gausman Ready to Be an Ace?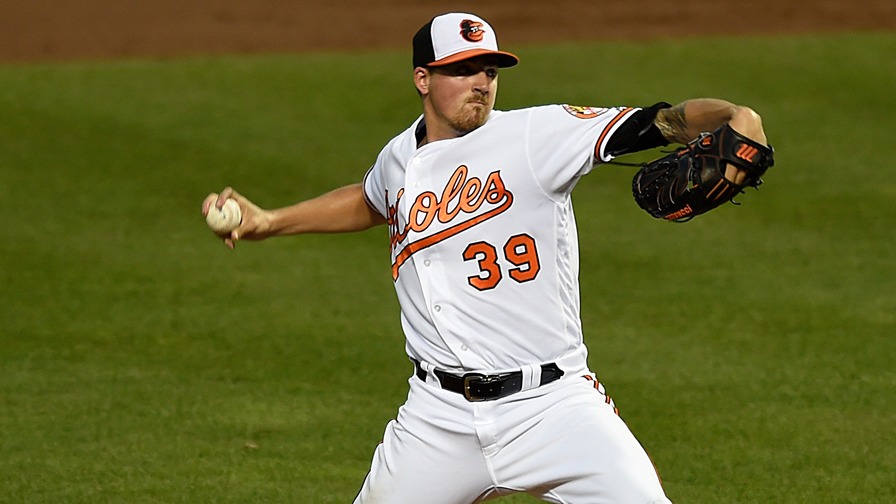 Every year, when putting together their draft boards, fantasy owners look for those players who they think are ready to make "the leap."
These are typically players who were pretty good the season before, are still in the mid-20s, and appear ready to ascend into the upper echelon at their positions. Baltimore Orioles' righty Kevin Gausman may be one of the next players to do it.
Gausman has been a highly-rated prospect and one of the better young arms in Baltimore's organization for years, but he had never been able to put it all together until the second half of last year. The big right-hander really seemed to find his groove after the All-Star break, posting better numbers across the board in the second half.
| Split | ERA | AVG | OBP | SLG | WHIP | FIP |
| --- | --- | --- | --- | --- | --- | --- |
| First Half | 4.15 | 0.269 | 0.314 | 0.458 | 1.30 | 4.27 |
| Second Half | 3.10 | 0.250 | 0.310 | 0.402 | 1.26 | 3.95 |

Gausman finished the season with a 3.61 ERA and 4.10 FIP, striking out a career-high 8.72 batters per nine innings while maintaining an excellent walk rate of 2.35 per nine. In his last 10 starts, he posted an ERA of 2.83, and he was a 3-win pitcher, per Wins Above Replacement, in 2016, a big step forward for the 25-year-old.
This week, Gausman ran into the star-studded Dominican Republic lineup in a Baseball World Classic tuneup, and he was brilliant.
He pitched three hitless innings and walked just one batter against a lineup that featured Jose Reyes, his teammate Manny Machado, Robinson Cano, Jose Bautista, Carlos Santana and Nelson Cruz. His fastball reached 96 miles per hour, and he did what he does best -- get those ground balls, something he did 44.1% of the time last year, tied for 34th among 73 qualified MLB starters.
With Chris Tillman on the shelf to start the season, it's likely Gausman will be the team's Opening Day starter in a few weeks, and so far this spring, he's showing he's earned the gig. But one problem area remains.
The dinger.
Gausman has a tendency to give up the gopher ball, which he did 28 times last season, tied for the 15th-most in baseball. And he did it in a park that, while it traditionally does give up its fair share of homers, was actually a bit stingy last season, just 18th among the 30 stadiums in dingers allowed per game.
Gausman's current average draft position shows while many owners have already taken notice of the big righty, but there is also some value here. According to FantasyPros, he's the 44th starting pitcher off the board, going 151st overall. In a 12-team league, that's the middle of the 12th round. In numberFire's recent 14-team mock draft, Gausman was selected in the middle of Round 10 with the 134th overall selection, the 47th starting pitcher selected.
In our 2017 fantasy projections, Gausman comes in as the 74th pitcher in our rankings (which includes 24 relief pitchers ahead of him) with a 0.94 nF score. That means over a nine inning game, Gausman would save 0.94 runs when compared to a league-average pitcher. He's also projected to have a 3.94 ERA and a 1.31 WHIP with 168 strikeouts and 11 wins in 176 innings.
Gausman is one of those starters who could outperform his ADP, making him worthy of a little bit of a reach in your season-long fantasy drafts.