The Yankees Didn't Need to Give Aroldis Chapman a Boatload of Money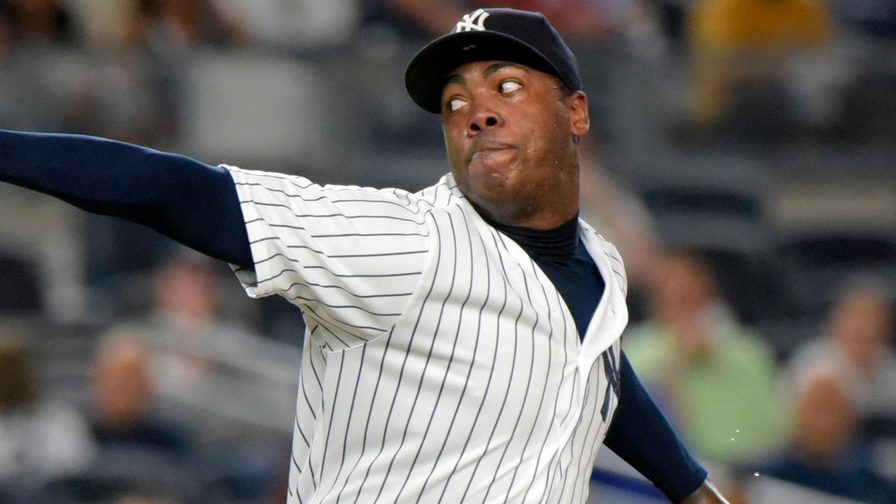 The New York Yankees are reuniting with star relief pitcher Aroldis Chapman, who agreed to return to the Bronx on a massive five-year, $86 million deal during the Winter Meetings.
BREAKING: Aroldis Chapman has agreed to a 5-year, $86 million deal with the Yankees. (via @FOXSports) pic.twitter.com/l6abcmdRu0
— SportsCenter (@SportsCenter) December 8, 2016

This contract easily breaks the record for relief pitchers, which was set just a few days before by Mark Melancon after he signed with the San Francisco Giants for four years and $62 million.

The Los Angeles Dodgers and Miami Marlins were also vying for Chapman's services, with Miami offering him a deal that would've paid $87 million over five years. The Dodgers were quickly out of the running, however, as Chapman made it known he preferred to stay on the East Coast (His contract with the Yankees contains a no-trade clause to any team in California).
The MLB is certainly a "copy-cat" league, so, after watching the Cleveland Indians' usage of Andrew Miller, and the Chicago Cubs' usage of Chapman, it is not surprising to see these top-end relievers earn astronomical contracts.
The Free Agent Targets
This offseason, the three clear targets for bullpen help were Melancon, Chapman and Kenley Jansen.
Here's how they stacked up last season, including their three-year WAR.
| | | | | | | | | |
| --- | --- | --- | --- | --- | --- | --- | --- | --- |
| Player | Age | IP | Saves | K/9 | BB/9 | ERA | FIP | 3-year WAR |
| Mark Melancon | 31 | 71.1 | 47 | 8.2 | 1.5 | 1.64 | 2.42 | 5.3 |
| Kenley Jansen | 29 | 68.2 | 47 | 13.6 | 1.4 | 1.83 | 1.44 | 7.0 |
| Aroldis Chapman | 28 | 58.0 | 36 | 14.0 | 2.8 | 1.55 | 1.42 | 8.0 |

Chapman is the youngest and most productive from a WAR perspective over the past three seasons of this trio. He can struggle with command at times, but his ability to post elite K/9 numbers with 100-mph heat every night shows why he just obliterated the relief pitcher contract record.
The Risk
This deal is risky for the Yanks, as relief pitchers can sometimes flame out quickly. A five-year deal is a long commitment -- even though he can opt out after the third year. As a pitcher ages, how long can New York expect Chapman's fastball to hold up?
Let's not forget that as a reliever, he'll only be providing the Yankees with about 70 innings per year. Few other hurlers can match what he does on the mound, but it's something we must keep in mind. Just because he got a huge pay day doesn't mean his usage will increase.
Lastly, the organization already has a great and cheap relief option in their bullpen: Dellin Betances. He's thrown 254 innings over the last three seasons, posting a 2.16 ERA and 2.06 FIP, which has been worth 8.5 WAR. He's also striking out 14.3 batters per nine innings thus far in his young career.
Could the Yankees have spent this money more wisely elsewhere? Potentially, but at the end of the day, they did receive the best relief option on the market.
The Re-Loaded Yankees
General manager Brian Cashman absolutely killed it during last year's non-waiver trade deadline. The Yanks weren't true contenders, so he sold off some veterans for a bunch of top prospects.
The Cubs gave up a large package for just a few months of Chapman, including 19-year old shortstop Gleyber Torres -- a top-30 prospect in all of baseball -- and OF Billy McKinney, who was a pre-2016 top-100 prospect.
The Cubs are certainly satisfied with Chapman's help in winning their first World Series title in 108 years, but the Yankees are in a prime position to be a great team in the near future. With Chapman back with the Bronx Bombers, they essentially added two promising prospects at the deadline for free. Outside of that $86 million they just committed to him, of course.
They really didn't need to reunite with their old closer, but they did it anyway and grabbed this offseason's top relief target in the process.