Billy Hamilton Would Be a Great Fit for the Texas Rangers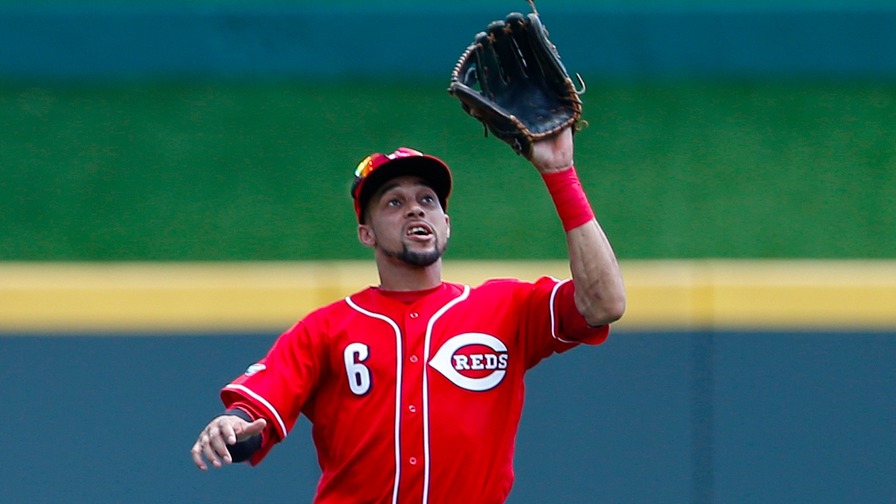 The 2016 Winter Meetings are in full swing, and there are countless rumors flying around to keep us occupied. One that's gained some traction includes the rebuilding Cincinnati Reds listening to offers on all players, including speedy center fielder Billy Hamilton.
Since he's arbitration-eligible for the first time this winter and isn't slated to hit free agency until 2020, it won't be easy for interested teams to pry him from Cincy's grip. That doesn't mean general managers won't at least ask, though.
While the free agent market is a bit underwhelming compared to years past, it's flush with outfield options, including guys who can patrol center, like Dexter Fowler, Ian Desmond and Carlos Gomez. Current reports are indicating Texas isn't likely to sign a "big ticket" free agent, meaning they could find a solution in the trade market, which also has plenty of options in addition to Hamilton, like Andrew McCutchen and Lorenzo Cain.
The Rangers are interested in Hamilton, and it's easy to see why.
Elite Defense
When it comes to pegging the game's elite defenders in center field, Hamilton is at the top of this list. Since becoming an everyday player in 2014, his DRS (Defensive Runs Saved) and UZR (Ultimate Zone Rating) numbers are amongst the best in baseball:
| Year | DRS | MLB Rank | UZR | MLB Rank |
| --- | --- | --- | --- | --- |
| 2014 | 14 | 4th | 20.1 | 1st |
| 2015 | 8 | 7th | 14.5 | 2nd |
| 2016 | 15 | 2nd | 13.3 | 2nd |

Acquiring a center fielder who is an asset with the glove should be at the top of general manager Jon Daniels' wish list because his projected starting rotation is a bit in flux. Cole Hamels and Yu Darvish is one of the league's better one-two punches, but it's a lot less certain after that.
According to Roster Resource, the last three spots of the rotation are currently occupied by Martin Perez, Andrew Cashner and A.J. Griffin. Improving the outfield defense would go a long way in helping the pitching staff perform at a higher level. In 2016, the Rangers' outfield produced a cumulative -11 DRS (21st in MLB) and 10.3 UZR (9th).
Improving Offense
When anyone talks about Billy Hamilton, "offensive juggernaut" is probably the last thing that comes to mind, and a career .631 OPS backs that up. However, he is starting to trend in the right direction. Posting a career-high .664 OPS last season is nothing worth writing home about, but for Hamilton, the most important statistic is on-base percentage (OBP).
With his speed, it's crucial to get on base any way possible to put pressure on opposing pitchers and defenses. After producing an anemic .285 OBP from 2014-15, that number jumped to a much more respectable (and productive) .321 last year.
Hamilton's plate discipline numbers are also improving, which helped fuel a career-high 7.8% walk rate in 2016.
| Year | O-Swing% | Z-Swing% | Swing% | O-Contact% | Z-Contact% | Contact% |
| --- | --- | --- | --- | --- | --- | --- |
| 2014 | 29.6% | 61.1% | 44.5% | 72.9% | 88.4% | 83% |
| 2015 | 27.6% | 63.5% | 44% | 72.5% | 89.3% | 83.6% |
| 2016 | 25.3% | 64.4% | 44% | 67.1% | 88.8% | 82.3% |

Again, there's nothing Earth-shattering here, but there's at least progress for the 26-year-old and more hope that he can eventually figure out how to be an adequate hitter at the big-league level. With that expectation, one can anticipate his stolen base totals to continue increasing -- he hasn't stolen less than 56 bags since 2014.
More offense is always nice and there are better players with the bat currently available for Texas, but they already have a pretty good offense with the likes of Jonathan Lucroy, Rougned Odor, Adrian Beltre and others on board, along with whatever Daniels does to fill the current holes at first base and designated hitter.
The Only Problem
Outside of other teams inquiring and potentially bidding for his services, what's a potential roadblock to the Rangers and Reds getting a hypothetical deal done? According to Evan Grant of the Dallas Morning News, it could be what the Reds want in return:
Rangers would love Billy Hamilton, but most valuable realistic trade piece (Profar) isn't fit right now for Reds. So what do you offer?
— Evan Grant (@Evan_P_Grant) December 5, 2016


Jurickson Profar could be a valuable piece in any negotiation, but he doesn't really mesh well with the Reds' current needs, as they have Jose Peraza and Dilson Herrera waiting in the wings for opportunities in the middle infield. And with a pitching staff that produced a cumulative fWAR of -0.5 last year (worst in baseball), it's understandable if Cincinnati is in search of young, team-controlled arms.
The Rangers may not have much to offer with regard to starting rotation options, but they could leverage a couple bullpen arms and then replenish that part of the roster via free agency. Or try and get creative by bringing another team into the mix.
It all depends on how interested Texas really is in Hamilton.
Conclusion
Plenty of things can change in a short period of time -- especially when a bunch of executives are under one roof like they are this week -- but there doesn't appear to be a real match between Texas and Cincinnati.
It would've already been tough to convince the Reds to trade him away, but the lack of similarities between the demand and supply of prospects on either side increases the difficulty. Whichever route the Rangers go down to fill their void in centerfield, the potential impact on the pitching staff should be at the forefront of everyone's mind.
Hamilton would fit in nicely, but it seems unlikely to happen.