3 Daily Fantasy Baseball Hitters to Avoid on 8/12/16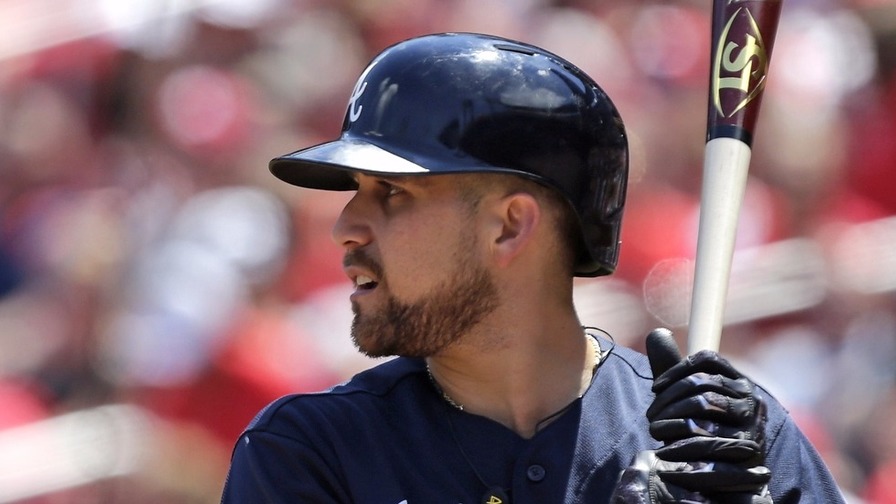 As is the case in most daily fantasy sports, finding information on players you might want to roster is a lot easier than finding players to avoid.
While you can get away with a zero from a hitter in daily fantasy, you certainly don't want to target guys whose matchups aren't enticing.
Here are three hitters you may want to lessen your exposure to or even fade altogether on Friday.
Ender Inciarte, OF, Atlanta Braves
FanDuel Price: $2,400
Ender Inciarte has been pretty good at the plate over the last few weeks, posting a .359 wOBA against right-handed pitching in the past four weeks. He only has one game in the last 10 where he has failed to record a hit, but tonight he has a very tough battle with the Nationals' Stephen Strasburg.
Throughout his career, Strasburg has been very good against left-handers, and this season has been no different. Lefties own a .243 wOBA against him this season. He has a 32.6 percent strikeout rate against left-handers, and with a 25.3 percent hard hit rate, most of the Braves' lefties look like landmines here on Friday night.
Inciarte has a .297 wOBA against right-handers this season -- well below his career .326 wOBA against righties -- but his career hard hit rate against them is just under 27 percent, so with a meeting with Strasburg on Friday, it's definitely an avoidable matchup.
Andrelton Simmons, SS, Los Angeles Angels
FanDuel Price: $2,300
Andrelton Simmons is another player with a very avoidable matchup on Friday night as the Angels continue their series with the AL Central-leading Indians. After dominating the Angels on Thursday behind Corey Kluber, the Angels have another tough battle ahead of them with Carlos Carrasco taking the hill for the Tribe.
Carrasco has been very good this season since coming off the disabled list, and he has been especially good against right-handed hitters. Righties own a .277 wOBA against Carrasco this season, and with a hard hit rate of just 31.4 percent against them, Simmons is surely a player you'll want to leave off your rosters.
Simmons has a .281 wOBA across 217 at-bats against right-handed pitchers this season. He has just a 25.5 percent hard hit rate against them in 2016, so with how well Carrasco has pitched against righties, leave Simmons off your rosters Friday.
James McCann, C, Detroit Tigers
FanDuel Price: $2,000
James McCann has been solid at the plate, too, over the last few weeks, and after a day off on Thursday the Tigers' catchers is running up against Yu Darvish in a matchup you'll surely want to avoid.
McCann has not hit right-handers well this season. He has just a .182 wOBA over 140 at-bats against righties this year, as well as an isolated power of just .029. With a 29.8 percent strikeout rate and a hard hit rate of less than 25 percent against righties, McCann isn't worth even the minimum price against a pitcher like Darvish.
Darvish has a .262 wOBA against right-handers this season. He has been striking out everyone, but against righties his strikeout rate is 35.9 percent. With a 25 percent hard hit rate against them as well, leave McCann off your DFS rosters on Friday and look for value elsewhere.