5 Under-the-Radar Daily Fantasy Baseball Hitters for 5/3/16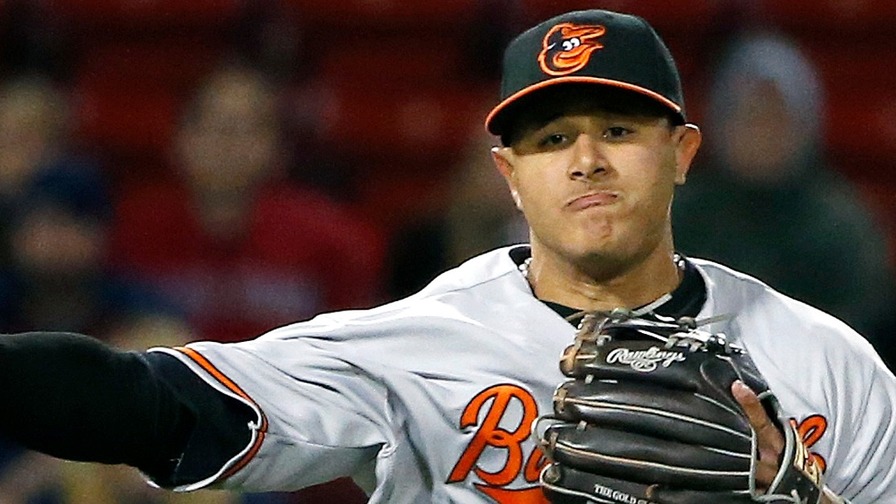 If you have played daily fantasy sports for a while, you realize by now the importance of being contrarian, especially in large-field tournaments. Being able to recognize which players are going to be owned by the majority of the field and to find players who you think have a similar point projection but will come at much lower ownership can really separate yourself from your opponents.
The purpose of this article will be to bring you some high-upside players who will likely go overlooked and give you an edge.
Manny Machado, 3B, Baltimore Orioles
FanDuel Price: $4,200
Why He Will Go Overlooked:
It seems foolish to assume Manny Machado will be low-owned in a great matchup, but Josh Donaldson has an even more favorable matchup, and Toronto is implied for the most runs on the slate.
Why You Should Use Him:
Machado has multiple hits in four straight games and has an excellent opportunity to keep that streak alive in a matchup against the struggling Luis Severino.
Severino has a career 3.80 SIERA and has struggled more with right-handed batters than lefties. Through his first four starts this season, Severino has a 6.86 ERA and 1.78 WHIP.
Machado has also posted reverse-splits throughout his career, posting improved numbers across the board against right-handed pitching. The Orioles' team total might not be quite as lofty as Toronto's, but 4.4 runs is still plenty appealing. Target Machado liberally in tournaments tonight.
Jose Abreu, 1B, Chicago White Sox
FanDuel Price: $3,600
Why He Will Go Overlooked:
Jose Abreu has shown signs of life at the plate, but with Chris Davis and Brandon Belt both also being in excellent spots tonight, Abreu is unlikely to be heavily owned.
Why You Should Use Him:
Abreu has now hit safely in six straight games and has multi-hit games in five of the six. We're still waiting on the big power numbers we have seen from him in the past, though.
Abreu and the White Sox will take on right-hander Steven Wright today, who boasts a career 4.17 SIERA and has pitched worse to right-handed batters than lefties. Vegas has Chicago implied for 4.2 runs, which is the eighth-most on the slate.
Similar to his counterpart Wright, Abreu posted some reverse-splits last year, hitting right-handed pitching much better than left-handed pitching. Against righties, he elevated his slugging percentage from .352 to .548, his ISO from .120 to .240, and his wOBA .288 to .384. He also posted a 33.1 percent fly-ball rate and 34.2 percent hard-hit rate against righties, which helps to explain why 27 of his 30 home runs came against right-handed pitching.
Mitch Moreland, OF, Texas Rangers
FanDuel Price: $3,400
Why He Will Go Overlooked:
Mitch Moreland was under five percent owned in FanDuel's MLB Squeeze yesterday and went 1-for-4 with 3 FanDuel points. With Texas seeing a decrease in their implied team total from yesterday, it is unlikely Moreland is highly owned tonight, either.
Why You Should Use Him:
Texas squandered a terrific opportunity against R.A. Dickey last night, totaling just two runs. Moreland and the Rangers will attempt to bounce back today against righty Marco Estrada, who posted a 4.64 SIERA last season and has struggled with lefties historically.
Moreland crushed right-handed pitching last season, elevating his slugging percentage from .387 against lefties to .528 against righties, his ISO from .142 to .234, his wOBA from .297 to .372, his hard-hit rate from 34.5 percent to 36.7 percent, and his fly-ball rate from 31.9 percent to 35.9 percent. He also cut down on his strikeout rate from 24 percent to 20.7 percent.
He should put up big numbers tonight against Estrada and comes at a discounted price tag and ownership.
Byung-Ho Park, 1B, Minnesota Twins
FanDuel Price: $3,300
Why He Will Go Overlooked:
The Twins have a decent 4.2 implied team total, but it's not one that demands your attention. Byung-Ho Park is in a righty-righty matchup and there are tons of ways to go at first base. He's unlikely to be popular.
Why You Should Use Him:
Park is finally beginning to display the upside we were told so much about prior to the season. Park has put up some very impressive numbers over his past 14 games after a slow start to the season. During that time, he has a .298 batting average, .446 wOBA, .426 ISO, and .723 slugging percentage, along with a 40.8 percent hard-hit rate.
He's also hit much better against righties in his short career, albeit in limited time. That bodes well against his opponent today, the right-handed Collin McHugh, who has struggled mightily to begin 2016.
McHugh currently sits on a 6.65 ERA through his first five starts and has actually pitched worse to right-handed batters throughout his career than lefties. Park will likely hit in the middle of the lineup for Minnesota in a potential run-scoring barrage against the reeling McHugh. He is a very intriguing tournament play.
Nomar Mazara, OF, Texas Rangers
FanDuel Price: $3,200
Why He Will Go Overlooked:
Similar to Moreland, Nomar Mazara is unlikely to be a hot commodity with Texas implied to score 4.1 runs.
Why You Should Use Him:
Mazara was one of the few Rangers to put up numbers yesterday, launching his third home run of the year. He has a chance to build on that performance tonight against another average righty.
In his short career, Mazara has hit much better against right-handers, elevating his hard-hit rate from 16.7 percent to 27.9 percent. Obviously, those numbers came in a small sample size, but they aren't too surprising considering he is a lefty.
He also has a 7.5 percent strikeout rate and a 11.3 percent walk rate against righties, as opposed to a 33.3 percent strikeout rate and 3.3 percent walk rate against lefties. Again, these are obviously small sample sizes. The extremity of the splits are certainly telling that he hits righties quite a bit better at this point in his career.