Fantasy Baseball: Is Felix Hernandez Ready for a Bounce-Back Season?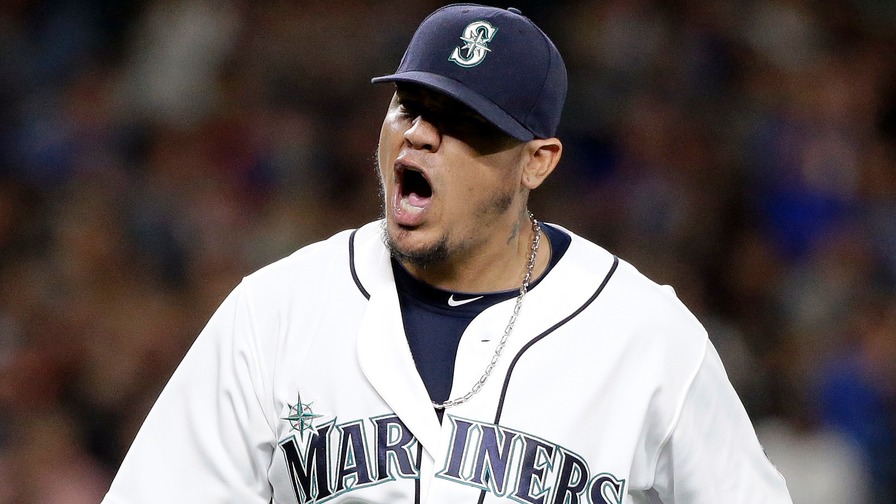 The decline of Felix Hernandez was one of the sadder developments of the 2016 season. The young fireballing ace who once averaged more than 95 miles per hour (MPH) on his fastball was gone, replaced with a pitcher entering his 30s who was coming to the mound with significantly less in his arsenal.
And while King Felix's velocity has been dropping steadily over the last few years, last season was the first time it drastically affected his stat line.
In 2017, Hernandez will not be turning one year younger. Time is undefeated in baseball, as in everything else. But one of the things a pitcher can do is learn how to pitch with diminished stuff and find new ways to be effective. Once in a while, a starter can recover just a small amount of giddy-up on his fastball, enough to make him just a little less hittable.
On Wednesday night, Hernandez pitched for Team Venezuela against Team USA in the World Baseball Classic. He was dominant. Felix pitched five innings of shutout ball and gave up just three hits and no walks while striking out three. He got himself into a bases-loaded jam in the first, but he made a sweet pitch to Adam Jones to wriggle himself out of it.
Jones and the US got their revenge later in the game, hitting a game-tying home run that helped the US team rally for four runs in the 8th inning to beat Venezuela 4-2. But for fantasy purposes, Hernandez' showing may have been as important as anything else that happened last night.
Yes, those five shutout innings against a lineup loaded with star players was impressive, but one of the more encouraging signs was that he was showcasing a little more oomph on his fastball.
Felix Hernandez got one up to 93.6 mph tonight. He only touched 93 the one time, but it was his hardest tracked pitch since Aug 2015.
— Mike Petriello (@mike_petriello) March 16, 2017

Last year, he averaged 90.5 MPH on his four-seamer, which, as the chart below shows, was easily a career low.
| Season | Fastball Velocity (in MPH) |
| --- | --- |
| 2005 | 95.8 |
| 2006 | 95.2 |
| 2007 | 95.6 |
| 2008 | 94.6 |
| 2009 | 94.0 |
| 2010 | 94.1 |
| 2011 | 93.3 |
| 2012 | 92.1 |
| 2013 | 91.9 |
| 2014 | 92.4 |
| 2015 | 91.8 |
| 2016 | 90.5 |

Hernandez' velocity is never going to return to where it once was, but getting his average heater back up over 91 MPH would definitely help. And there are a couple other reasons why Hernandez has a chance to be better in 2017.
The differential between his fastball and changeup, his second-most used pitch, has not changed. Since 2011, according to Brooks Baseball, there has been a 3- to 5-MPH difference between the two pitches. Ideally, that number would be around 8 to 10 MPH, but Hernandez also has a number of other pitches that he uses to keep hitters off balance.
His curveball, which he threw around 20% of the time last season, per Fangraphs, is still about 10 MPH slower than his fastball, and he also mixes in a slider for good measure. Both are still good pitches that should help keep hitters off his diminished four-seamer.
Also, Hernandez' 1.12 home-run-per-fly-ball rate last season was the highest of his career, and it was probably higher than what you would expect from a pitcher-friendly park like Safeco Field. Seattle's home park yielded an uncharacteristically high 1.158 homers per game last year, sixth-most in baseball. In 2015, Safeco was 22nd in dingers per game, in 2014 they were 12th, and in 2013 they were 21st.
Felix also dealt with a calf injury in June that may have hindered his performance a bit. It should be noted he had a 1.38 ERA in the first month of the season last year, with opponents posting a meager .164/.284/.252 slash line against him. But his numbers weren't as good in May, which was supposedly before the calf injury occurred as he recorded a 4.45 ERA that month. It's unclear exactly how much of an effect his calf had on his performance in 2016.
The big concern about Hernandez are his strikeout (K%) and walk (BB%) rates, both of which went in the wrong direction last season.
| Season | Strikeouts Per 9 | K% | Walks Per 9 | BB% |
| --- | --- | --- | --- | --- |
| 2016 | 7.16 | 18.6 | 3.82 | 9.9 |
| 2015 | 8.52 | 23.1 | 2.59 | 7 |
| Career | 8.43 | 22.9 | 2.59 | 7 |

Hernandez can live with a dip in strikeouts, but not the dramatic increase he saw in walks. That was the most encouraging thing about his performance against Team USA -- no walks in five innings against an All-Star lineup of mashers.
In season-long fantasy drafts, Hernandez' average draft position, according to FantasyPros, is currently 121st overall, the 31st starting pitcher selected. numberFire's projections for 2017 see him putting up a 3.68 ERA in 180 innings with 177 strikeouts, 70 walks and 13 wins. That would be a significant improvement over last year, when he had an ERA of 3.82 in 153 1/3 innings with 120 strikeouts, 65 walks and 11 wins.
Taking one start in the pressurized setting of the World Baseball Classic against a powerful lineup shouldn't lead anyone to overreact and draft Hernandez any earlier than you ordinarily might have. But it could give fantasy owners, and Seattle Mariners for that matter, reason to hope things will be better for The King this season.